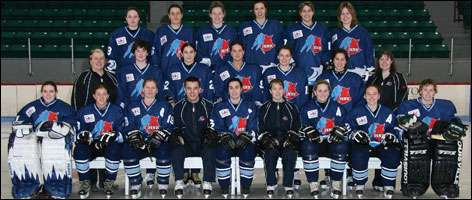 » Roster

TEAM NEW BRUNSWICK: The 2007 edition of Team New Brunswick will be a mix of players who possess speed and strength and they will be looking to continue New Brunswick's climb up the women's hockey ladder in this country.
The New Brunswick Senior Women's Program has gained momentum over the past four years and the team's improvement at the Esso Women's Nationals shows the passion and commitment that the players have for this great game. Women's hockey in general continues to grow within the province of New Brunswick and this team is comprised of players who serve as role models for the younger players of today and the senior players of tomorrow.
The strong tradition of women's hockey in New Brunswick is something in which these players take a lot of pride and they will be looking to continue this tradition at the 2007 Esso Women's Nationals. New Brunswick will have 15 players on its roster who have past experience at this event and each of the players have been involved in various Canada Games, University, NCAA, CIS and National Championships. Team New Brunswick believes that its experience at this level will be an asset to the team as it looks to take the next step.
Team New Brunswick would like to thank Hockey Canada and the local host committee for their countless hours in organizing this first-class event and wish all participants the best of luck as the team looks to gain the title of National Champions!