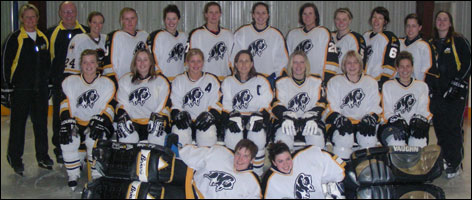 » Rosters

TEAM MANITOBA : Manitoba had a weekend tryout in November to select the players to represent the province at the Esso Women's Nationals. This is the third year in a row for this particular program.
We will be returning the same coaching staff as last year, with the addition of a trainer. The number of players attending the tryout weekend this year was almost double from one year ago, with 46 players on the ice.
This year's team features eight returning players, along with 11 newcomers. The excitement about the program we're building is evident. To be eligible, players much be over the age of 18. We like to keep this program and provide an opportunity for those players to move on to national teams.
The women come from senior and junior leagues in Winnipeg, as well as a rural team not playing in an organized league. Many of the women have played competitive hockey in college and/or university in Canada and the U.S.
The players have been practising together on a monthly basis and also have played some exhibition games prior to travelling to B.C. We are very excited about the team and its potential. We look forward to a good showing and improving on our finish and results from last year.