BFL Female Coach of the Year
---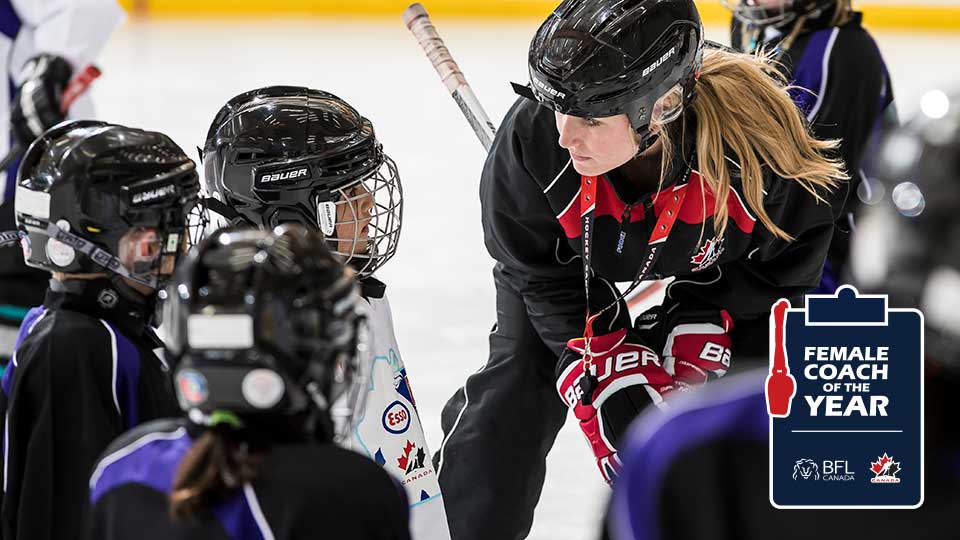 There is arguably no more important role in hockey than that of the coach, who is tasked with guiding young players not only on the ice, but off it as well. They are leaders in hockey, and leaders in life.
Hockey Canada and BFL CANADA are on the hunt for the country's best women's hockey coaches, and they are calling on players and parents from coast to coast to nominate coaches who have made significant contributions to the game.
This year, Hockey Canada and BFL CANADA want to recognize a coach who has made a career out of coaching hockey through our new and redefined High Performance category. This works with athletes above the age of 16 who compete at the U SPORTS, Canadian collegiate hockey and Professional Women's Hockey Players Association levels.
For our Community, Competitive and High Performance categories, the nominee:
Leads by example in demonstrating fair play and sportsmanship.
Places the emotional and physical well-being ahead of a personal desire to win.
Places an emphasis on equitable participation of all players registered on the team.
Demonstrates a commitment to the development of every player and staff member.
Treats each player as an individual and understands the range of emotional and physical development.
Does her best to provide a safe playing situation for all players.
Uses the coaching techniques that are appropriate for all of the age and skill level of her players.
Must be actively coaching at the female hockey, minor hockey or high-performance levels within the province the nomination originates from.
Must be trained and/or certified in the National Coach Certification Program.
Must have completed all elements required to be an active coach.
Must be a Member in good standing within the province the nomination originates from.
Congratulations to the 2022 provincial and territorial winners:
Hockey Canada and BFL Canada are recognized the country's best women's hockey coaches with the BFL Female Coach of the Year awards. In 2022, 22 deserving women were honoured for their efforts.
COMMUNITY
COMPETITIVE
Alberta

Lesley Burton

Mandy Layden

British Columbia

Heather Neale Furneaux

Brittany Kirby

Manitoba

Amy Doerksen

Tess Houston

New Brunswick

Katie Peddle

Abby Clarke

Newfoundland & Labrador

Monique Organ

Grace Hatcher

Nova Scotia

Erin Crowell

Josanne Deveau

Hockey North

Jessica Cox

Tori Spencer

Ontario

Kiara Jefferies

Stephanie Pascal

Prince Edward Island

Nadine Moore

Rebecca Babiak

Quebec

Laetitia Létourneau

Laurence Beaulieu

Saskatchewan

Barb Bryden

--
What do the winners receive?
National winners of the BFL Female Coach of the Year award in the Competitive and Community categories will receive a $2,500 bursary and a Hockey Canada merchandise package.
The national winner in the High Performance category will receive a $5,000 bursary and an invitation to Canada's National Women's Team training camp in the summer of 2022.
Provincial and territorial winners will receive a $1,000 bursary.
Who chose the winners?
The selection committee included a trio of Canadian women's hockey leaders – Olympic gold medallists Cassie Campbell-Pascall, Gina Kingsbury and Caroline Ouellette. They were joined by Sacha Vaillancourt, vice-president and national practice leader, sports and leisure, with BFL Canada, and Teal Gove, manager of hockey operations with Hockey Canada.
About BFL Canada
Founded in 1987 by Barry F. Lorenzetti, BFL CANADA is one of the largest employee-owned and operated Risk Management, Insurance Brokerage and Employee Benefits Consulting Services firms in North America. The firm has a team of over 1000 professionals located in 23 offices across the country. BFL CANADA is a founding partner of Lockton Global LLP, a partnership of independent insurance brokers who provide Risk Management, Insurance and Benefits Consulting services in over 140 countries around the world. For more information, visit bflcanada.ca or follow on LinkedIn, Twitter and Facebook.