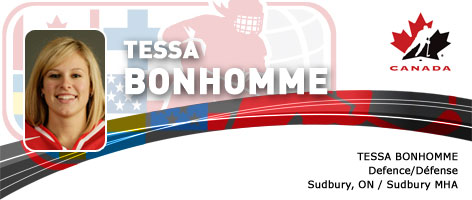 Tessa Bonhomme, a 2010 Olympic Winter Games gold medallist and member of Canada's National Women's Team for the 2010 4 Nations Cup, gives HockeyCanada.ca her point-of-view from St. John's and Clarenville, N.L.
Monday, November 8, 2010
Consider me a Newfoundlander! Team Canada has officially been screeched in! It was quite the experience, for those of you who have yet to be "welcomed." We had a great dinner after our exhibition game Sunday evening, with good food and great company. We were disrupted right before dessert by a man dressed in a yellow rain hat and jacket. Prancing around while holding a cane, he was speaking Newfoundland slang. We were all entertained and wondering what was going on! We caught on quick, however, as mini shot glasses of Screech were passed around. We toasted and when asked, "Is ye an honorary Newfoundlander?," we all answered, "Indeed I is me ol' cock, and long may your big jib draw."
And then we did the unthinkable … We all kissed a dead codfish! Some of us went back for a second smooch, while others got more than enough on their first go around! At the end of the ceremony, we were presented with our mini certificates and we all walked home to our hotel happy and proud to officially be named Newfoundlanders! It was an experience we'll never forget.
As I mentioned, we had an exhibition game Sunday evening versus the St. John's Midget AAA Pennecon Privateers boys' team. My usual routine before a game involves taping my stick, eating a snack, getting a good laugh or two in, and then juggling with my old teammate Colleen Sostorics (recently retired) before warming up. I never really planned for her absence until I realized I had no juggling partner at the rink! This kind of threw me for a loop, so I was a little lost for time and was ready super early before the game. I'm the type of player that likes to finish getting dressed right in time to walk on the ice. So I got to thinking, clearly I'm going to have to fill this time with something along the lines of my juggling routine, but I wasn't sure what it could be yet. If anyone out there has interesting ideas or routines to share, send them in! I'm open to suggestions! Some of the girls joked that I could hire a cute French masseuse for a pregame massage, but I don't have the kind of money for that. I look forward to hearing your ideas!
On Monday morning, we decided to skip practice and have a little team fun. We hit the town and took part in one complete hour of intense laser tag! Like I've said in my previous blogs, we don't deal with losing very well, so it was war out there! We geared up in painters' outfits and were all running, rolling and diving over obstacles left, right and centre. Some girls were sweating, some were accused of cheating and some were straight up All-Stars out there! I'm not going to tell you what team won, because I can honestly say there were ACTUAL cheaters on all of them (lol!). In the end, we left with smiles on our faces and a good memory for the day, so who can really complain!? It was a great last day before our tournament starts!
Our first game is tomorrow, Tuesday, November 9, against the United States at 7:30 p.m. NT. You can catch the game on FastHockey at hockeycanada.fasthockey.com, so please feel free to tune in!
Cheers to you all!
Chat soon,
Tess
Twitter: @tessab25
Facebook: Tessa Bonhomme