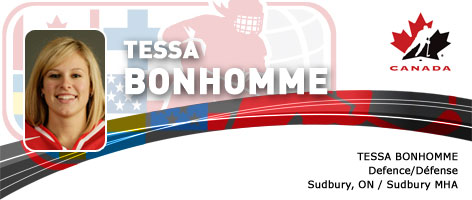 Tessa Bonhomme, a 2010 Olympic Winter Games gold medallist and member of Canada's National Women's Team for the 2010 4 Nations Cup, gives HockeyCanada.ca her point-of-view from St. John's and Clarenville, N.L.
Thursday, November 11, 2010
Two games into the tourney and our record is 1-1-0. Our first game versus the United States was an action-packed, fast-paced game! It definitely didn't end the way we wanted it to (a shootout loss), but we learned a lot about each other, and our game. More confident, we went into our second game versus Sweden on fire and came out with an 8-1 win. Natalie Spooner (a fellow Buckeye) had an unbelievable start to her tourney, scoring a hat trick to help us to victory!
Today we had the opportunity to be a part of a Remembrance Day ceremony here in St John's. The ceremony was very well organized and was put on with great pride. I felt very lucky to meet all the veterans and their families, especially one woman named Brenda and her 93-year-old father, who was eager to show us his chest, which was decorated with medals. He had so many, I couldn't help but point out that he has more medals then Hayley does! She had to agree. :)
We also had the chance to meet the Honourable John C. Crosbie, the Lieutenant Governor of Newfoundland and Labrador, which was an exciting surprise. A very friendly gentleman, he joked with us that he wasn't the best skater but loved watching our games. I invited him to watch our pre-game skate, so hopefully he shows up for a quick (and free!) lesson.
The number of people that showed up for the Remembrance Day ceremony blew me away! As I looked down from the National War Memorial in the heart of downtown St. John's, I saw a sea of people all wearing red poppies over their hearts. It was a clear day, a little chilly, but that didn't matter. Everyone stood in silence to honour and in respect of those who gave their lives for our country.
As the ceremony came to an end, we made our way back to our bus. We drove 20 minutes to Cape Spear, the farthest eastern point in Canada! It was rather windy and super cold, but we managed to gather and take some fun pictures together. The waves were crashing up against the rocks below as some of us reenacted the scene from The Titanic with Jack and Rose ("I feel like I'm flying, Jack!").
Practice time came, and it was time to get back to business. An hour of hard work and focus, and we were back to our fun tricks off the ice. Our fine list has been growing like crazy the past couple of days, so I'm almost sure we're going to be the biggest supporters of Movember!
We had the evening off to spend time with our family and friends, which was nice. One family that wasn't able to make it that is definitely missed here on The Rock is Gillian Apps's parents, Anne and Syl! They're a fun couple and are always up for a good time, which is why we are disappointed they couldn't make it here this time. We miss you guys!
Well, I'm off to bed to get some rest for our game versus Finland tomorrow!
Cheers to you all!
Chat soon,
Tess
Twitter: @tessab25
Facebook: Tessa Bonhomme