CANADA SCORES COOL 5-1 WIN OVER SEAC TIGERS AT ICEBREAKER
CALGARY, Alta. – Rebecca Johnston (Sudbury, Ont./Toronto, CWHL) scored two sweet goals Friday night, including one on the power play, to help Canada's National Women's Team skate to a cool 5-1 win over the South East Athletic Club Tigers from Medicine Hat on Day 2 of the Icebreaker Tournament.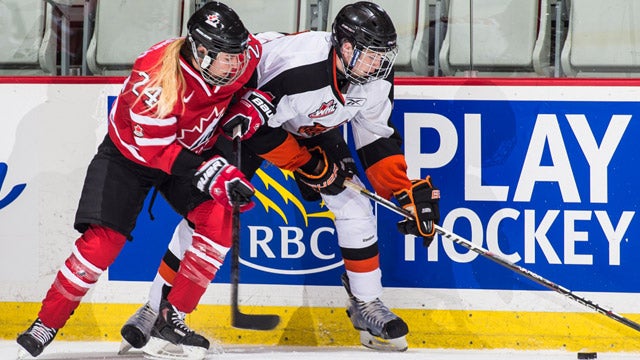 The Canadian ladies came out cool and confident in the first, backed up by focused netminder Shannon Szabados (Edmonton, Alta./Northern Alberta Institute of Technology, ACAC), giving them the strong start they needed coming off a close 3-2 loss to the Calgary Flames on the opening day of the early season tournament featuring three Midget AAA teams.

Forward Caroline Ouellette (Montreal, Que./Montreal, CWHL) kicked off the scoring at 11:45 in the opening frame, with help from fellow veterans Jayna Hefford (Kingston, Ont./Brampton, CWHL) and Meaghan Mikkelson (St. Albert, Alta./Alberta, CWHL). Johnston followed suit with her first of the night just 17 seconds later, with assists from Haley Irwin (Thunder Bay, Ont./Montreal, CWHL) and Catherine Ward (Montreal, Que./Montreal, CWHL) to make it a quick 2-0 for Canada (1-1) over the SEAC Tigers (0-2).

A boarding penalty later in the period cost the Tigers dearly, with Melodie Daoust (Valleyfield, Que./McGill University, CIS) scoring her first goal wearing a Canada's National Women's Team jersey at 17:01 on the clock and Mikkelson again assisting along with blueliner Lauriane Rougeau (Beaconsfield, Que./Cornell University, ECAC), to make it 3-0 going into intermission.

The red and white continued its quick momentum going into the second, with Mikkelson notching her third point and Johnston snagging her second goal on another power-play opportunity to make it 4-0 at 16:30 in the period, a score they held onto for the remainder of the period.

Irwin added another midway through the third to make it 5-0, and it looked like Canada might skate away with a shutout, but a last ditch effort on a power play in the dying minutes of the game gave the SEAC Tigers the chance they needed to finally put the puck past the steadfast Szabados. Nevertheless, by the time the final whistle sounded, Canada had climbed its way to a comfortable 5-1 win over the team from Medicine Hat, earning its first win of the Icebreaker Tournament at Hockey Canada's home arena in Canada Olympic Park.
The SEAC Tigers look for their first Icebreaker win Saturday at 12 p.m. MT when they face the Calgary Flames, while Canada's National Women's Team plans to make it two straight when they take on the Strathmore Bisons at 3 p.m. MT on Day 3 Saturday. Follow all the action live from the Markin MacPhail Centre in Calgary at www.Twitter.com/HC_Women.
Game Information/Renseignements sur le match
Game #/No. de match
4

Round/Ronde
Icebreaker
Arena/Aréna
Markin MacPhail Centre – Rink A
Location/Lieu
Calgary, Alta.

Date
Friday, September 20, 2013

Time/Heure
21:00 MT

| Box Score/Compte | 1 | 2 | 3 | Total |
| --- | --- | --- | --- | --- |
| CAN | 3 | 1 | 1 | 5 |
| SEAC | 0 | 0 | 1 | 1 |
Goals & Penalties/Buts et pénalités
First Period/Première période
Goals/Buts :
11:45 CAN Caroline Ouellette (Jayna Hefford, Meaghan Mikkelson)
12:02 CAN Rebecca Johnston (Haley Irwin, Catherine Ward)
17:01 CAN Mélodie Daoust (Meaghan Mikkelson, Lauriane Rougeau) PP/AN

Penalties/Pénalités :
09:18 CAN Brigette Lacquette (Hooking/Accrocher)
16:55 SEAC Austin Wong (Boarding/Donner de la bande)
Second Period/Deuxième période
Goals/Buts :
16:30 CAN Rebecca Johnston (Meaghan Mikkelson) PP/AN

Penalties/Pénalités :
07:38 CAN Jocelyne Larocque (Holding/Retenir)
14:55 SEAC Jaeger White (Hooking/Accrocher)
Third Period/Troisième période
Goals/Buts :
08:13 CAN Haley Irwin (Laura Fortino)
17:25 SEAC Ryan Fauth (Nic Purkusic, Mitch Hallas) PP/AN

Penalties/Pénalités :
04:54 SEAC Michael Doneff (High-sticking/Bâton élevé)
05:59 SEAC Cody Verge (Cross-checking/Double-échec)
16:21 CAN Bailey Bram (Delay of Game/Retarder le match)
Goaltenders/Gardiennes de but
CAN
Shannon Szabados
SEAC
Xavier Burghardt; Kyler Komistek (in 2nd/12:32)
| Shots on Goal/Tirs au but | 1 | 2 | 3 | Total |
| --- | --- | --- | --- | --- |
| CAN | 11 | 7 | 8 | 26 |
| SEAC | 3 | 4 | 5 | 12 |