Strathmore Bisons 4 - SEAC Tigers 2
TWO GOALS IN THIRD LEAD BISONS OVER TIGERS IN ICEBREAKER OPENER
CALGARY, Alta. – Mackenzie Bauer scored twice and added an assist to help the Strathmore Bisons to a 4-2 win over the SEAC Tigers in the opener of the Icebreaker Tournament on Thursday night.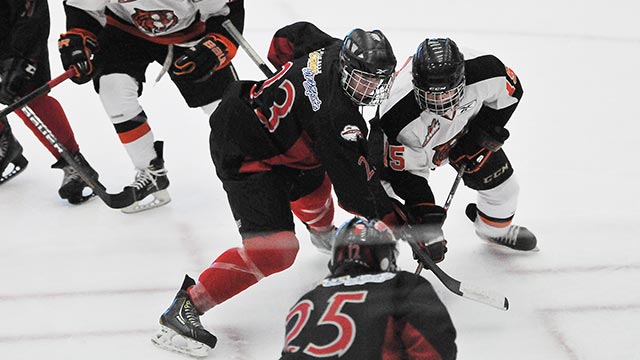 Ryan Zeniuk and Carter Hill had the other goals for the Bisons (1-0), who took a 2-0 lead early in the second period at the Markin MacPhail Centre before giving it all back before the end of a penalty-filled middle frame.
Nic Purkusic and Josh Dorn scored for SEAC (0-1), with both goals coming on the power play in the second period.
The teams combined for four goals and 61 penalty minutes in a wild second period.
The Bisons will be back on the ice in Friday's first game, taking on the Calgary Flames (6 p.m. MT), while the Tigers meet Canada's National Women's Team in the day's late contest (9 p.m. MT).
The tournament includes the national side and a trio of Alberta Midget Hockey League teams, and is a preview of Canada's National Women's Team Midget Series, a 26-game schedule to help Team Canada prepare for the 2014 Olympic Winter Games.


Game Information/Renseignements sur le match
Game #/No. de match
1
Round/Ronde
Icebreaker
Arena/Aréna
Markin MacPhail Centre – Rink A
Location/Lieu
Calgary, Alta.

Date
Thursday, September 19, 2013

Time/Heure
17:30 MT

| Box Score/Compte | 1 | 2 | 3 | Total |
| --- | --- | --- | --- | --- |
| STR | 0 | 2 | 2 | 4 |
| SEAC | 0 | 2 | 0 | 2 |
Goals & Penalties/Buts et pénalités
First Period/Première période
Goals/Buts :
None/Aucun

Penalties/Pénalités :
02:38 STR Joshua Bishop (Head Contact/Contact avec la tête)
03:30 SEAC Donoven Quintin (Boarding/Donner de la bande)
04:57 STR Brayden Biccum (Hooking/Accrocher)
19:40 STR Austin Cameron (Charging/Assaut)
Second Period/Deuxième période
Goals/Buts :
00:24 STR Mackenzie Bauer (Matthew Forchuk) SH/DN
05:07 STR Mackenzie Bauer (Matthew Forchuk)
06:24 SEAC Nic Purkusic (Donoven Quintin, Zac Gladu) PP/AN
14:15 SEAC Josh Dorn (Austin Wong, Ryan Grant) PP/AN

Penalties/Pénalités :
01:29 STR Joshua Bishop (Cross-checking/Double-échec)
01:29 SEAC Zac Gladu

(Cross-checking/Double-

é

chec)
02:20 SEAC Carter Hill

(Cross-checking/Double-

é

chec)
05:31 STR Joshua Bishop (Holding/Retenir)
06:42 SEAC Carter Hill (Head Contact/Contact avec la tête)
06:42 SEAC Carter Hill (Head Contact/Contact avec la tête)
09:59 STR Clay Murray (Interference/Obstruction)
10:38 STR Chad Harrison (Major - Head Contact/Majeur - Contact avec la tête)
10:38 STR Chad Harrison (Game Misconduct/Inconduite extrême)
10:38 STR Troy Van Tetering (Roughing/Rudesse)
10:38 STR Troy Van Tetering (Misconduct/Inconduite)
10:38 SEAC Nic Purkusic (Roughing/Rudesse)
10:38 SEAC Nic Purkusic (Misconduct/Inconduite)
10:38 SEAC Tash Bowles (Head Contact/Contact avec la tête)
10:38 SEAC Tash Bowles (Head Contact/Contact avec la tête)
13:22 STR Davis Sheldon (Hooking/Accrocher)
15:52 STR Ryan Zeniuk (Slashing/Coup de bâton)
Third Period/Troisième période
Goals/Buts :
07:37 STR Ryan Zeniuk (Troy Van Tetering, Austin Cameron)
16:39 STR Carter Hill (Mackenzie Bauer)

Penalties/Pénalités :
05:05 STR Robbie McLean (Tripping/Faire trébucher)
05:33 SEAC Mitch Hallas (Tripping/Faire trébucher)
09:05 STR Noah Bigland (Slashing/Coup de bâton)
17:08 SEAC Tash Bowles (Head Contact/Contact avec la tête)
18:08 STR Ryan Zeniuk

(Head Contact/Contact avec la tête)
18:08 STR Ryan Zeniuk

(Head Contact/Contact avec la tête)
18:08 SEAC Carter Hill

(Head Contact/Contact avec la tête)
18:08 SEAC Carter Hill

(Head Contact/Contact avec la tête)
Goaltenders/Gardiennes de but
STR
Carter Seminuk; Garrett Mason (in 2nd/09:59)
SEAC
Chad Bachmeier; Dan Maier (in 2nd/09:59)
| Shots on Goal/Tirs au but | 1 | 2 | 3 | Total |
| --- | --- | --- | --- | --- |
| STR | 12 | 9 | 12 | 33 |
| SEAC | 8 | 5 | 11 | 24 |