Canada suffers tough 4-1 loss to Lloydminster; AMHL games "critical" Olympic preparation
by Kristen Lipscombe
LLOYDMINSTER, Alta. – Charline Labonté (Boisbriand, Que./Montreal, CWHL) made an incredible 34 saves over three periods, and Marie-Philip Poulin (Beauceville, Que./Boston University, HE) notched a pretty goal in the first period, but unfortunately it just wasn't enough for Canada's National Women's Team on Thursday night.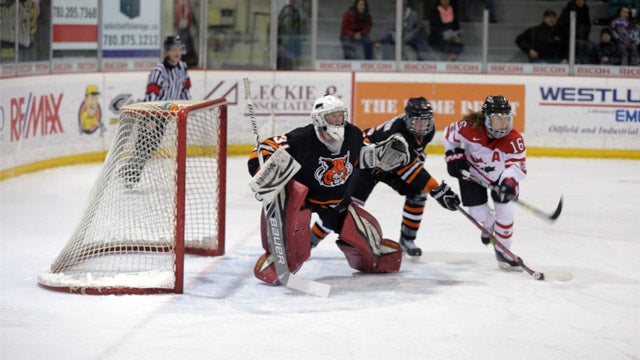 The ladies in red and white suffered a tough 4-1 loss to the Lloydminster Bobcats, in front of a packed house inside the Centennial Civic Centre. It was their second game against Alberta Midget Hockey League competition in three days, in the midst of a busy road trip and full pre-Olympic schedule.
Lloydminster opened and close the scoring, with Mason Shaw feeding Kale Clague, who put it past Labonté at 5:26 in the first. Canada replied with its lone goal of the game less than two minutes later, when Poulin carried the puck down the ice, battled through both Bobcat defenders, kept skating hard to the net and slipped it past the Lloydminster goaltender to tie it up at one-apiece.
The score remained 1-1 going into the second, but it didn't take long for Clague and Shaw to create another nice offensive play, with both assisting Cole Johnson, who made it 2-1 for Lloydminster over Canada at 2:51 in the middle frame. Labonté remained cool and collected between the posts though, making some impressive saves that included doing the splits in the crease a couple of times, and playing a key role in the close gap on the scoreboard.
Canada kept it at 2-1 going into the third, but Lloydminster's Shaw made it 3-1 at 2:51 in the period with help from Johnson and James Hilsendager, while Andrew Korp added an empty-netter with 14 seconds left on the clock when Labonté was pulled from the net for one last offensive push. But time ran out before Canada could add another to the scoresheet, and Lloydminster skated away with the 4-1 win.
Canada's National Women's Team players and coaching staff agreed the Bobcats provided some excellent on-ice competition, which, win or lose, is important to preparation for the 2014 Olympic Winter Games in Sochi, Russia.
'I thought the Lloyd team was really strong," head coach Dan Church said following the game. "You can see why they've had some early success in the league this year."
Church acknowledged Olympic centralization is "tough" on his players due to an intense schedule both on and off the ice, and several long road trips throughout the season. "We've had a lot of travel and good teams to play against, and they keep us honest. We have to play A+ hockey every night."
"So it's really good for us," Church said. "We have to play above our level all the time."
Blue-liner Meaghan Mikkelson (St. Albert, Alta./Calgary, CWHL) agreed playing games against Midget AAA teams is "critical, absolutely critical, in our preparation."
"At times you feel exhausted (and) it's a grind," she told reporters. "But when you get to the Olympics and you know that you've put in all those hours and trained as hard as you did - that's when it all pays off."
Team Canada has one more game on the road this week, with the puck dropping at 8:15 p.m. MT on Friday, Nov. 22 at Bill Hunter Arena in Edmonton. Canada is up against Edmonton CAC in its third game in four days, as part of its 2013-14 exhibition schedule against AMHL teams. Follow all the action this season at twitter.com/hc_women, www.facebook.com/hockeycanada and on Hockey Canada's official website at www.hockeycanada.ca/nwt.
Game Information/Renseignements sur le match
Game #/Match no

13
Round/Ronde
Midget Series
Arena/Aréna
Centennial Civic Centre
Location/Lieu
Lloydminster, Alta.
Date
Thursday, November 21, 2013
Time/Heure
19:30 MT
| Box Score/Compte | 1 | 2 | 3 | Total |
| --- | --- | --- | --- | --- |
| CAN | 1 | 0 | 0 | 1 |
| LLO | 1 | 1 | 2 | 4 |
Goals & Penalties/Buts et pénalités
First Period/Première période
Goals/Buts :
05:26 LLO Kale Clague (Mason Shaw)
07:18 CAN Marie-Philip Poulin (Jennifer Wakefield, Natalie Spooner)

Penalties/Pénalités :
17:32 LLO Taylor Anshelm (Body-checking/Mise en échec corporelle)
Second Period/Deuxième période
Goals/Buts :
02:51 LLO Cole Johnson (Mason Shaw, Kale Clague)

Penalties/Pénalités :
12:29 LLO Jerad Coghill (Tripping/Faire trébucher)

Third Period/Troisième période
Goals/Buts :
05:32 LLO Mason Shaw (Cole Johnson, James Hilsendager)
19:46 LLO Andrew Korp

Penalties/Pénalités :
13:03 LLO Cole Johnson (Interference/Obstruction)
16:57 CAN Meaghan Mikkelson (Interference/Obstruction)
Goaltenders/Gardien(ne)s de but
CAN
Charline Labonté
LLO
Dakota Kenyon
| Shots on Goal/Tirs au but | 1 | 2 | 3 | Total |
| --- | --- | --- | --- | --- |
| CAN | 12 | 10 | 16 | 38 |
| LLO | 11 | 11 | 4 | 26 |