Kohanchuk scores twice as Canada's National Women's Team earns gold at 2013 4 Nations Cup

LAKE PLACID, N.Y. – Jenelle Kohanchuk (Winnipeg, Man./Boston University, HE) saw an opportunity, so she made the best of it at just the right time.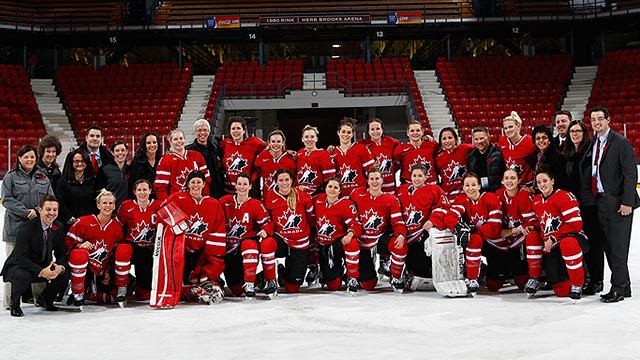 Kohanchuk scored twice as Canada's National Women's Team defeated Finland 6-3 on Saturday for the gold medal at the 2013 4 Nations Cup.
The 23-year-old, who was participating in her first 4 Nations Cup while Hockey Canada chose to leave behind six veterans, was humbled to have such a huge part in her country claiming gold.
"It's such an honour for me to be a part of this," Kohanchuk said. "This is the first time I've been part of any cup. It's true motivation with the Olympics coming up to know we are a gold-medal team."
Canada's head coach Dan Church was more than pleased with Kohanchuk and her linemates Vicki Bendus (Wasaga Beach, Ont./Brampton, CWHL) and Gillian Apps (Unionville, Ont./Brampton, CWHL), who stepped up their games despite playing on the fourth line. Bendus also scored for Canada and earned an assist on each of Kohanchuk's goals.
"Jenelle and her line were really good, maybe the best tonight," Church said. "They outworked whoever they were up against."
Brianne Jenner (Oakville, Ont./Cornell University), Jennifer Wakefield (Pickering, Ont./Toronto, CWHL) and Haley Irwin (Thunder Bay, Ont./Montreal, CWHL also scored for Canada, while goaltender Charline Labonté stopped 19 of 22 shots for the victory.
Riikka Valila, Susanna Tapani and Anna Kilponen scored for Finland.
Goaltender Noora Raty gave Finland ample opportunity to compete with Canada, as she turned away 39 shots.
"She's a game-changer for them," Church said. "She can steal games. (She) may be the best goaltender in the world; you can't take her lightly.''
"She is competing to be the top goalie in the world; she knows her angles very well," Kohanchuk added. "We were told to come in, crash the net and get in front of her.''
Kohanchuk opened the scoring for Canada 2:25 into the opening period; however, Valila responded for Finland less than four minutes later.
The Canadians kept the pressure on, and Bendus regained the lead at 7:37 in the period. Wakefield and Jenner added a goal apiece before the period was finished to make it 4-1.
The three-goal lead was exactly what Church wanted from his team.
"(That) was really important for us," Church said about the early lead. "That cushion allowed us to weather the storm when we weren't playing well a little bit in the second and third."
Kilponen scored early in the second period for Finland and the game remained 4-2 until the third period, as Raty turned back all 17 shots her way in the middle period.
Kohanchuk's second goal of the game came 46 seconds into the third period and gave Canada extra breathing room, as Finland changed its game plan for the final 20 minutes.
Tapani scored for Finland at 6:49 to make it 5-3 and Finland continued to play desperate, outshooting Canada 10-9 in the final period.
"They changed tactics and brought more pressure," Church said. "They (even) pulled their goalie with four minutes left."
Irwin added Canada's final goal with just six seconds left on the clock.
Canada went one for seven on the power play, while Finland scored twice on two chances with the man advantage.
"I would have liked to have done better on the penalty kill and we'll work on that moving forward," Church said.
This was the 13th gold medal Canada has earned at the 4 Nations Cup, while Finland captured silver for the second time in tournament history.
› Summary