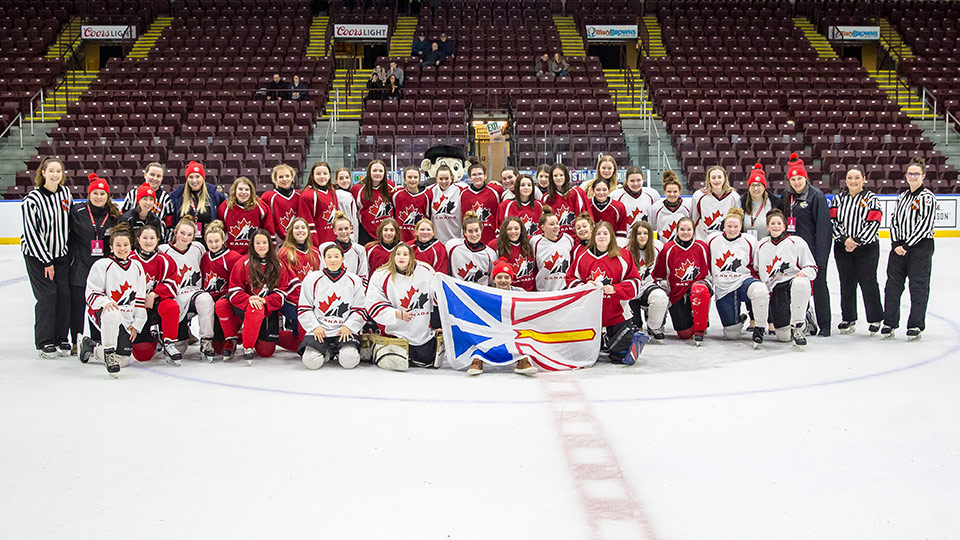 Celebrating girls in hockey with one game around the world.
The Canadian leg of the 2020 IIHF Global Girls' Game, presented by BFL, was hosted in St. John's, N.L., from Feb. 7-9. Hosted by Hockey Newfoundland & Labrador and supported by Hockey Canada and the Hockey Canada Foundation, it was a memorable weekend.
This year, 37 countries participated in the IIHF Global Girls' Game. As the game ended in one federation, it was picked up in the next with the score continuing to grow. The goal of the event was to unite the world in a single effort to showcase women's hockey and raise awareness of the girls' game on a global scale.
Thirty-seven Bantam (U15) players from across the country made the trek through winter storms to take part in the Canadian event. A back-and-forth game finished as an exciting 7-5 victory for Team Blue (in red, since it's Canada), helping Blue to a 127-111 worldwide win over White. The game in St. John's included a full roster of female coaches, officials, game operations and anthem singers, and the players were cheered on by Novice (U9) girls!
More important than the score was the fun the players had on and off the ice. The event extended into a weekend of activities focusing on empowerment and team-building to foster greater self-confidence, learn from one another and form friendships while taking in the rich culture and hospitality of the host province.
A huge thank you to Hockey Newfoundland & Labrador, its leadership and all the volunteers who helped make the 2020 Global Girls' Game in St. John's a success!
Check out the video recap of the 2020 IIHF Global Girls' Game!