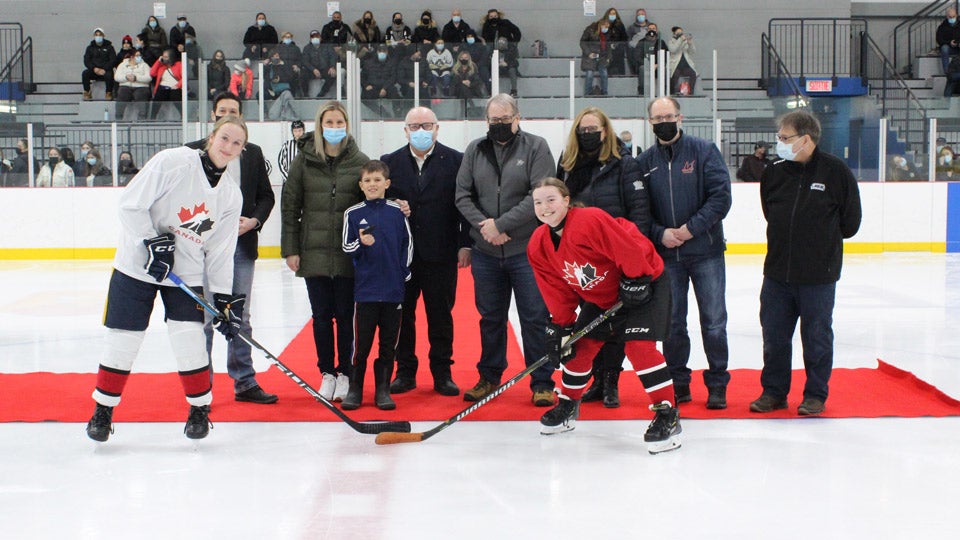 Celebrating girls in hockey with one game around the world.
The Canadian leg of the 2022 IIHF Global Girls' Game, presented by BFL Canada, was played in Laval, Que., on March 6. Hosted by Hockey Quebec and the U15 AAA division of the Ligue de hockey d'excellence du Québec (LHEQ), the Remparts du Richelieu and Amazones de Laval-Montréal faced off at Place Bell.
The Remparts (representing Team White) and Amazones (representing Team Blue) went down to the wire. The Remparts took leads of 2-1 and 3-2 to the intermissions, and led 4-2 after Sarah Bonhomme scored in the first minute of the third period. But Fanny Taillon pulled the Amazones back within a goal and Tessa Dalterio counted on a late power play to bring Laval-Montréal even as the game finished 4-4.
Click here for the full game summary.
Due to the ongoing COVID-19 pandemic, the Canadian game looked different than in previous years; instead of players gathering from across the country, Hockey Quebec was randomly chosen from interested Members to represent Canada. Three-time Olympic gold medallist, Hockey Hall of Fame member and Canada's National Women's Team alum Kim St-Pierre served as honorary president of the event and gave the players a pep-talk before they hit the ice.
This year, 37 countries participated in the IIHF Global Girls' Game on March 5-6; as the game ended in one federation, it was picked up in the next with the score continuing to grow. The teams in each game contributed to the worldwide Blue-White tally. The goal of the event was to unite the world in a single effort to showcase women's hockey and raise awareness of the girls' game on a global scale. In the end, it was White earning a narrow 182-177 victory.
Click here for more on the Global Girls' Game.
A huge thank you to Hockey Quebec and the LHEQ for making the 2022 Global Girls' Game a success!