Preliminary | Wed. Nov. 6
Ontario Red opens nationals with 6-0 win over Saskatchewan; netminder Amelia Boughn earns shutout
by Melissa Boisvenue
CALGARY, Alta – The 2013 National Women's Under-18 Championship tournament kicked off Wednesday morning, with seven-time champions Ontario Red shutting out Saskatchewan 6-0 inside the Markin MacPhail Centre.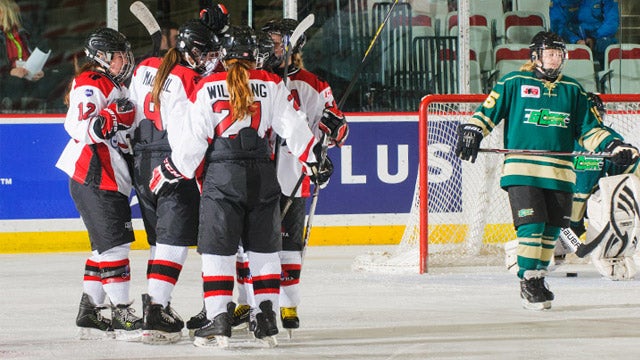 Both teams scrambled to win the first face-off and then the game, along with the five-day tournament, officially started.
Ontario Red quickly gained control of Saskatchewan's defensive end. Ontario Red's Amanda Titus (Stittsville, Ont./Ottawa, PWHL) notched one first, only 1:34 into the game, assisted by Hailey Noronha (Newmarket, Ont./Whitby, PWHL).
Both teams continued to skated hard through the first period. At 3:54, Ontario Red's Rebecca Leslie (Ottawa, Ont./Ottawa, PWHL) made it 2-0, with an assist from Taylor Murphy (Corbeil, Ont./North Bay, LLFHL).
Ontario Red finished off the period by scoring their third goal by Victoria Bach (Milton, Ont./Mississauga, PWHL(, assisted by Stephanie Sucharda (Mississauga, Ont./Mississauga, PWHL), to make it 3-0 after the first 20 minutes.
The beginning of the second period had fans sitting on the edges of their seats. Ontario Red won the face-off and they kept the puck in Saskatchewan's end of the ice. Saskatchewan goalie Jane Kish (Weyburn, Sask./Weyburn, SFMAAHL) made a huge save as an Ontario Red player took a slap shot from the blue line. She quickly cupped the puck to force a face-off.
But it only took Leslie 5:40 into the second period to score her second goal of the game. Murphy and Breanne Wilson-Bennett (Markham, Ont./Toronto, PWHL) assisted Leslie with her goal, making the score 4-0.
With 10 minutes left in the game, Ontario Red received two penalties for tripping and body-checking. With two of Ontario Red's players in the penalty box, Saskatchewan's five players dominated the ice for a couple of minutes. Ontario Red netminder Amelia Boughn (Toronto, Ont./Mississauga, PWHL) managed to save every shot made on her net.
As the final period began, the girls rushed to get control of the puck. Wilson-Bennett scored for Ontario Red, assisted by both Murphy and Wildfang. This marked Murphy's third assist of the game.
Saskatchewan captain Britannia Gillanders (Kyle, Sask./Warner School, JWHL) helped her goalie defend the net as Ontario Red looked for another opening. Ontario Red forward Mackenzie MacNeil (Richmond Hill, Ont./Toronto, Ont.) finally added another to the scoreboard with the help of Bach and Kelly Mariani (Mississauga, Ont./Mississauga, PWHL).
Despite some solid chances from Saskatchewan late in the game, the final score was 6-0 in favour of Ontario Red.
The players of the game were Jaycee Gebhard (Plenty, Sask./Notre Dame, JWHL), who had several shots on net and Ontario Red goalie Boughn, who stopped 19 shots en route to earning the shutout win.
Saskatchewan battles it out again Thursday at 1 p.m. MT against Manitoba, while Ontario Red looks for its second straight win against host team Alberta at 7 p.m. MT on Thursday. Follow all the action at www.twitter.com/hc_nwu18 and watch live on FASTHockey right here at www.hockeycanada.ca/nwu18.
› Summary