CAROZZA'S HAT TRICK LEADS ROUSSEAU ROYAL TO SECOND STRAIGHT BIG WIN
SAULT STE. MARIE, Ont. – Massimo Carozza scored three times and added an assist to pace the offence in the Rousseau Royal de Laval-Montréal's 7-1 win over the Valley Wildcats at the 2013 TELUS Cup on Wednesday afternoon.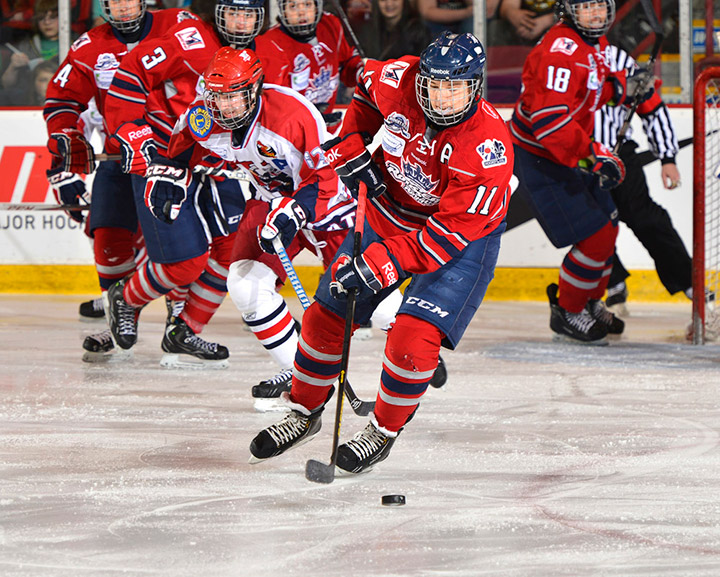 It's the second straight day the Rousseau Royal has converted a touchdown – it beat the Saskatoon Contacts 7-0 on Tuesday. Laval-Montréal (2-1) is the second team in the last 10 years to score at least seven goals in back-to-back games at the national championship; Saskatoon had 9-1 and 7-5 wins last year.
Julien Gauthier, James Phelan, Kevin Domingue and Julien Nantel had the other goals for the Quebec champions, who scored the game's final seven goals.
Gauthier, Domingue and Nantel finished with a goal and an assist each.
Eli Hughes scored the lone goal for Valley (0-3), getting the Wildcats on the board first just 2:49 in.
Despite the one-sided loss, the Wildcats actually held a slight advantage in shots on goal, 28-25.
After Hughes' goal, it took Laval-Montréal just seven minutes to pull even on Carozza's first of the game on the power play, and Gauthier's goal with 65 seconds left in the opening frame gave the Rousseau Royal the lead heading to the intermission.
The second period was all Laval-Montréal – they scored four goals on six shots to take a commanding advantage to the final 20 minutes, where Carozza finished his hat trick early in the period.
Alexandre Duckett picked up his second win in as many days. The Rousseau Royal netminder has allowed just one goal in his past 120 minutes of work.
Justin Ritcey and Michael Pettet shared the goaltending duties for Valley; Ritcey allowed the first three goals before being replaced by Pettet, who gave up three of his own, early in the second period. Ritcey returned to the net for the third, surrendering Carozza's hat trick goal.
Laval-Montréal looks to keep its offence rolling when it takes on Ottawa on Thursday afternoon (4 p.m. ET), while the Wildcats will make a fourth attempt at their first win when they face Red Deer (noon ET).