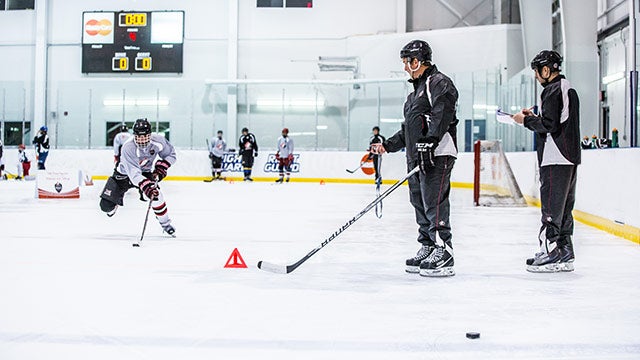 During the 1999 Molson Open Ice Summit on Player Development in Canada, delegates close to the game at the grassroots level recommended that Hockey Canada investigate ways to celebrate skill development in hockey. In Canada today there is no nationally organized program that tests or recognizes skill acquisition and skill improvement within the Canadian hockey system.
In Canadian minor hockey, coaches should be encouraged to foster the development of the fundamental skills required to play the game at the minor levels by measuring and providing positive individual feedback on skill development. It is essential that minor hockey associations and parents have a method of measuring success beyond wins and losses
Hockey Canada believes in celebrating skill achievement.
Your feedback and remarks are important and will assist Hockey Canada in continuing to develop this program. Please email us with your thoughts.
National Skills Standards
and Testing Program

Hockey Canada created this program for minor hockey aged players with the goal of measuring and providing individual feedback throughout an entire season. The program ensures that skill development should be fun, challenging and accessible to all players. » more

Take the Challenge


Based on the National Skills Standards & Testing program, the National Skills Challenge is a condensed, event focused version developed to be hosted across Canada during development, domestic and international events. » more