WESTLAKE'S HAT TRICK HELPS CANADA TO WIN OVER U.S., FIRST PLACE IN PRELIMS
TORONTO, Ont. – Greg Westlake (Oakville, Ont.) scored a hat trick to pace the Canadian offence as Canada's National Sledge Team wrapped up first place in the preliminary round at the 2013 World Sledge Hockey Challenge with a 4-1 win over the United States on Wednesday night.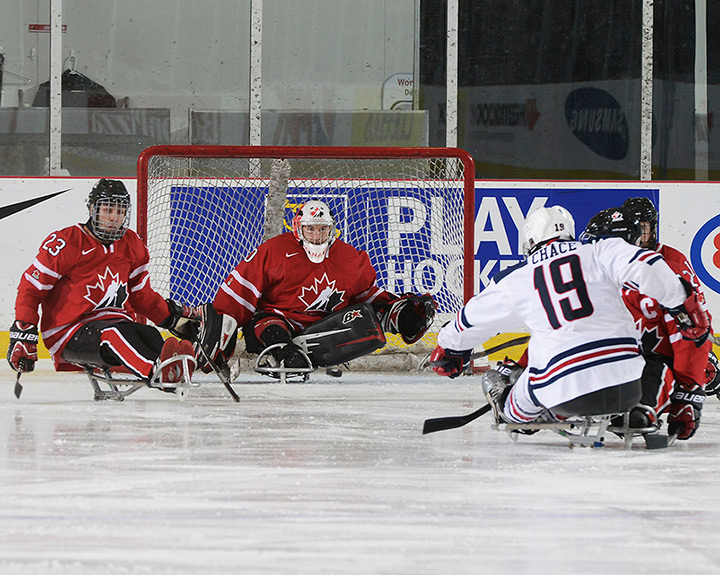 The victory means the Canadians will face Korea in Thursday night's semifinal (8 p.m. ET), while the Americans will take on Russia in the day's early semi (1 p.m. ET).
Tyler McGregor (Forest, Ont.) had the other goal for Canada (3-0), which has won 13 consecutive games overall since dropping two of three to the U.S. in a series in Rockland, Ont., in February, a run that included a gold medal at the IPC Sledge Hockey World Championship last April.
Corbin Watson (Kingsville, Ont.) was a wall in the Canadian goal, making 24 saves, half of which came in the third period, when the Americans held a decisive 13-2 advantage in shots on goal.
Alexi Salamone scored the lone goal for the U.S. (2-1), which outshot Canada 25-19, but lost for the seventh time in as many preliminary round games against the Canadians at the tournament.
It was the two youngest players on the Canadian roster combining for the game's first goal, with 17-year-old rookie Ben Delaney (Ottawa, Ont.) setting up 18-year-old McGregor just 5:09 after the puck dropped to open the scoring.
Captain Canada took over from there, with Westlake scoring twice before the end of the first period to send the Canadians to the dressing room with a 3-0 lead.
It was the first time in the last eight meetings between the two teams, since a 5-1 Canadian win on Feb. 25, 2012, that either team had scored more than two goals in a game, let alone a period.
After a scoreless second period, the U.S. finally put a puck past Watson early in the third when Salamone took a cross-crease feed from Nikko Landeros and hammered a shot past the Canadian netminder.
But the Americans could get no closer, despite controlling play in the final frame, and Westlake finished his hat trick, and the U.S. hopes, with just over five minutes to go. It is the fifth time Westlake has scored a hat trick in a World Sledge Hockey Challenge game.
Canada finished the preliminary round undefeated for the seventh year in a row, and has gone 21-0 all-time in round robin play since the tournament's 2006 inception.
- - -
› Summary