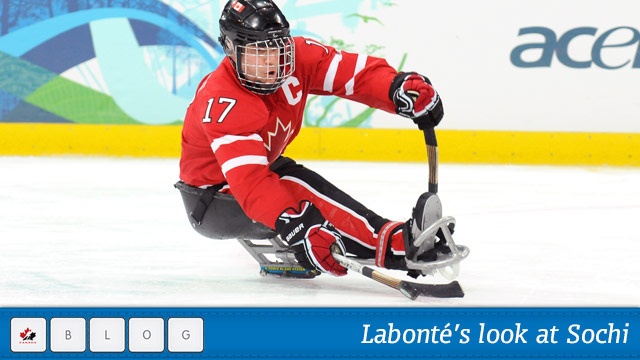 What a pleasure to see our players give such an extraordinary performance in the bronze medal game, and what a joy to see them receiving their medal with a smile on their face!
It was a team effort; the players played the game with pride, and their will to succeed was visible in each and every minute of the game. After the Brad Bowden goal that made it 1-0, it was as if the pressure the team had on its shoulders had disappeared. It never looked back afterwards, leaving the Norwegians behind.
The Sochi journey is now over, so what will the team look like in four years in Korea? What will it look like next year? I don't have a crystal ball, but some veterans may have played their final game. I certainly think some of these players must have been very emotional when they left the rink, and I have a very personal thought for them. Although they're still young and still have what it takes to play a lot of good hockey, they've given more than a decade of their lives to the national team. Whatever they decide, their outstanding journey and their performances talk for themselves, and they can be proud of the road they've travelled.
With the emergence of this team's next generation, the future looks bright. The Larocques, Delaneys, McGregors, Gales and Watsons of Sochi, as well the other Paralympic rookies that were in Sochi, have nothing but success in front of them.
An American gold and a Russian surprise
The U.S. defended its gold medal, beating Russia 1-0 in the final, and it was a fully-deserved gold medal. Despite a preliminary round loss to the Russians, the U.S. was the class of the tournament.
A silver medal for Russia is excellent news for sledge hockey. It shows sledge hockey is not only a three-country game – Canada, Norway and the United States – and it means the game continues to grow around the world.
In just four years, Russia was able to build a team that cannot be ignored. After this extraordinary result, and for the sake of the game, the hope is that the Russians continue to invest in their sledge hockey program and progress even further in the game. To reach such a degree of excellence is one thing, but to maintain it from now on is Russia's greatest challenge.
Paralympic memory
The experience of a Paralympic Games is one very few people have a chance to have. Whether they are breathtaking or painful, the memories occupy a most important place in any athlete's memory and contribute to their growth, as much as a player than as a person.
A huge thank you to Canada's National Sledge Team – the players, coaches and staff – for representing the country with such dignity, and for thrilling us during the Sochi Games and giving us memories to last a lifetime.
As Canadians, we are proud of you!