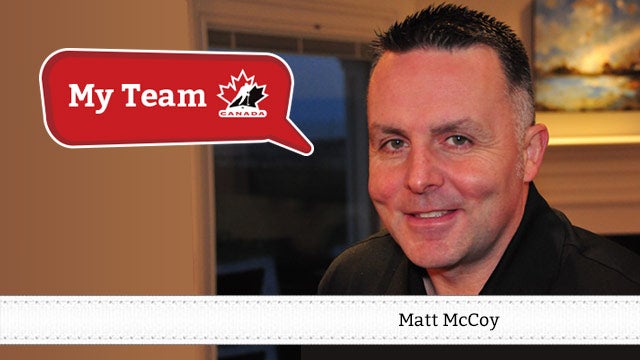 The son of Irish immigrants, Matt McCoy grew up in Prince Rupert, B.C. At the age of seven, he decided he was going to become a professional hockey player and took the steps to achieving his goal, but hung up his skates and focused on his education after his junior career.
McCoy graduated from BCIT with a major in marketing management, but his passion for hockey and desire to play returned, and he launched a pro career that took him to teams in Canada, the U.S. and Europe. After a knee injury forced his retirement, Matt returned to Vancouver to re-establish his career as an executive in the medical, health and wellness industry.
In 2013, McCoy released his new work of fiction, The Kid Who Missed the Bus. He uses his lifetime of experiences and insight from his years as a professional hockey player to deliver a tale that body-checks its way through Canada, Europe and the U.S. through the eyes of his main character, Danny Boy Doyle.
Goaltenders
Corey Crawford
Roberto Luongo
Carey Price


WHY?: I think Luongo is going to prove himself this year, and he wants to go back as the starting goalie. Crawford won a Stanley Cup, and is one of the top up-and-comers, and Price is going to have a bounce-back year and play well.


Defencemen
Jay Bouwmeester
Dan Boyle
Drew Doughty
Duncan Keith
Alex Pietrangelo
Brent Seabrook
PK Subban
Shea Weber


WHY?: Doughty is a returning guy, good young player. Keith and Seabrook are returning, coming off a Stanley Cup, and there's Boyle, another returnee, so you have to go with that experience. Weber is a solid guy, logs a lot of ice time. I took Bouwmeester because he's a great skater, and that's important on the Olympic-size ice; same with Pietrangelo, they need mobile guys on the back end. Subban is a bit of a wild card, offensive guy, plays with an edge, but I think he'd be a great addition.


Forwards
Patrice Bergeron
Jeff Carter
Sidney Crosby
Logan Couture
Ryan Getzlaf
Claude Giroux
Brad Marchand
Rick Nash
James Neal
Corey Perry
Eric Staal
Steven Stamkos
John Tavares
Jonathan Toews


WHY?: Stamkos is a power scorer, and it's his time to come play and earn his wings. Same with a couple other young guys, like Couture, Tavares and Neal. Toews and Staal are returning players, solid veterans, both two-way guys. Perry and Getzlaf, same thing, returning guys, know how to get it done, along with Nash, who always seems to play really well for Canada and steps it up when it counts. Crosby you have to have there, Bergeron is another returnee, the ultimate two-way player, and Giroux and Carter are offensive threats and great skaters. And then there's Marchand, who's a pest with a bit of offensive flair, so I think he'd be great.