by Derek Kelly Neumeier
The Manitoba champion Westman Wildcats continued their hot start to the 2009 Esso Cup Tuesday afternoon, winning their second game in a row with a decisive 6-0 triumph over the Atlantic champion Northern Stars.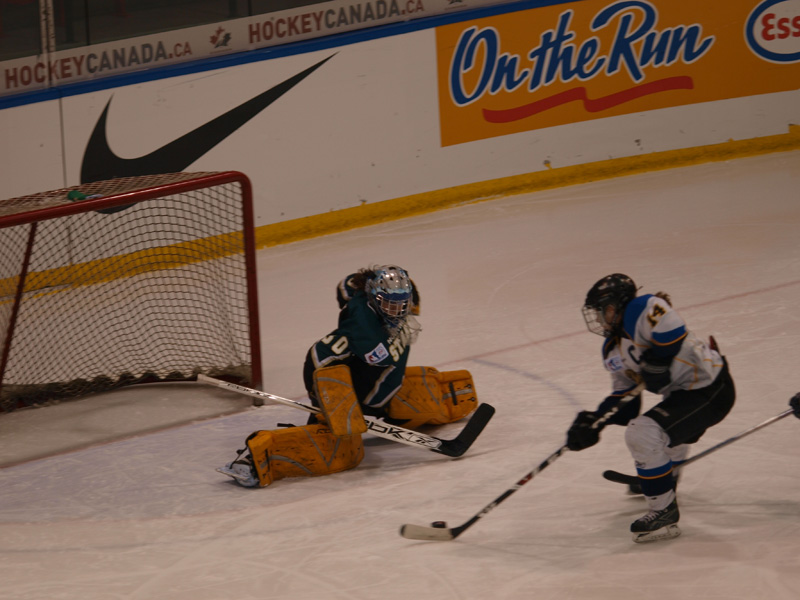 LISTEN ! :
LISTEN ! :
The Wildcats were the dominant team all game long, winning the majority of the puck battles, forcing the most turnovers and creating the best scoring chances. Their supremacy could be seen in the shot count, as the edged the Stars 41-14 in that regard.
After going down 2-0 following the first period the Stars prevented themselves from mounting a comeback in the second due to three consecutive penalties within the span of one minute and thirty-two seconds. The skilled Wildcats powerplay converted on two of those chances, extending their lead to 4-0 and stealing all of the momentum. They would eventually add two more goals in the third to wrap up the well-earned victory.
Wildcats forward Amy Lee led the way offensively, scoring one goal and three assists on her way to winning Player Of The Game honours for her team. Captain Brittany Phillips also had a strong game, scoring one goal and adding two assists.
Westman goaltender Darby Peaslee stopped all 14 shots that she faced, but the better goalie in the match was Northern's Emily Blakely. Despite allowing six goals she kept her team competing with 35 saves, many of which were of the dazzling variety.
The undefeated Wildcats will put their streak on the line Wednesday night against the host Calgary Flyers, who are also undefeated up to this point. The Stars will be looking to counter their losing ways on Wednesday afternoon when they face the also winless Scarborough Sharks.