WILDCATS INTO GOLD MEDAL GAME AFTER WIN OVER THUNDER
by Derek Kelly Neumeier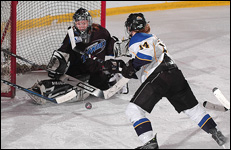 The Manitoba-champion Westman Wildcats are off to the gold medal game at the 2009 Esso Cup following a hard-earned 3-2 semifinal victory over the Edmonton Thunder on Friday.
The match was a back-and-forth, seesaw affair as both teams came out firing, matching each other stride for stride and exchanging scoring chances.
Westman started the scoring early on thanks to a great individual effort by captain Brittany Phillips. While on the penalty kill, Phillips skated to the point, blocked a shot and used her forward motion to carry her past the stationary Thunder defender to a long breakaway.
The leading scorer for the Wildcats made the most of her opportunity, putting a wrist shot top shelf just as the penalty expired to give her team the lead 3:20 into the game.
Westman held the edge until the middle of the second when the Thunder tied it up. The beneficiaries of a lengthy 5-on-3 powerplay, Edmonton tired the opposing penalty killers by cycling the puck around the Wildcats zone before forward Calaine Inglis finally fired home a quick shot from the left circle to tie up the game.
The comeback was short lived, however, as Edmonton was whistled for a penalty seconds afterwards. The Wildcats wasted no time in regaining their lead when Brigette Lacquette's hard slap shot from the blue line ricocheted past Thunder netminder Meghan Witt.
The Thunder tied the game 2-2 early in the third and looked to hold all the momentum, but another untimely penalty set them back. The Wildcats power play struck quickly yet again, a mere 24 seconds after the penalty was called, as Jenna-Marie Durnin restored the lead at 3-2.
Edmonton did everything they could to tie the game for the third time but were unable to overcome the aggressive defence of the Wildcats as the score remained 3-2 at the final buzzer, dashing its hopes of obtaining gold.
The Wildcats will now keep a close eye on the other semifinal contest to see who their opposition will be in the gold medal game, while the Thunder will hope to regroup and win some hardware in the bronze game.