Insure your pathway to hockey event!
---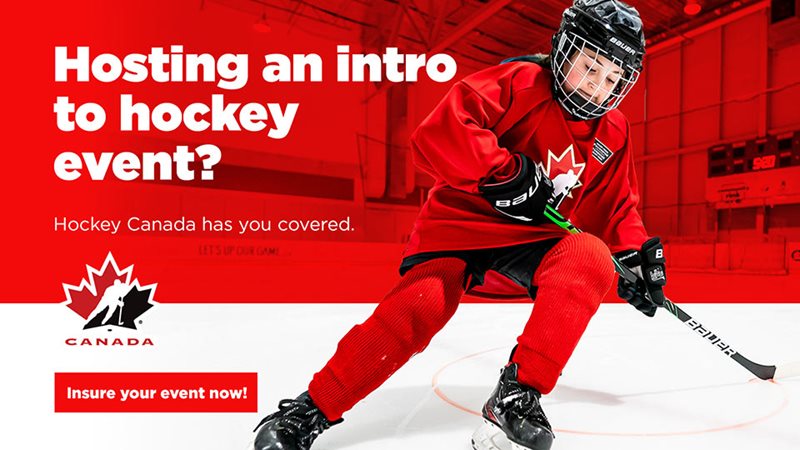 What are Pathway to Hockey programs?
Pathway to Hockey programs (commonly known as try hockey programs) are designed to provide fun, safe and affordable introduction to hockey opportunities to all Canadians. These are programs that are run and managed by Local Hockey Associations – with the objective of growing their membership. Pathway to hockey programs can be a simple ball hockey initiative or a 12-week program that teaches skating or the fundamentals of the game. Key objectives for this initiative are as follows:

Provide an opportunity for Local Hockey Associations to expand their introductory programming offerings, leading to increased accessibility, diversity and inclusiveness
Ensure that all participants and programs are insured and managed in accordance with our shared values and standards
Remove a component of the cost barrier (insurance) for program participants
Track participants and their hockey journey, leading to greater understanding of retention and sustainability
Collect best practices and innovative ideas, including identification of opportunities to share with others and/or scale in other areas
What is the Pathway to Hockey Coverage Form designed for?
The Pathway to Hockey Coverage Form is designed for Local Hockey Associations that wish to run programming which includes children that are not currently registered with a Local Hockey Association and may not have the equipment, experience, financial means or desire to join a rostered team. Hockey Canada has worked with its insurers to adjust or remove restrictions (i.e. length of event, age of participants, etc.) so that a wider variety of programming can be included within its coverage.
What types of programs that are covered by the Pathway to Hockey Coverage Form?
Off-Ice Activities

Off-Ice training: Activities that are held in a gymnasium or outdoors and include activities such as ''dryland training'', stick handling, positioning and more (no equipment required)
Floorball: training and games following the rules of Floorball (no equipment required)
Ball / Street hockey: training or games involving sticks and balls (helmets with cages are required)

On-Ice activities

Learn to skate: Sessions in which participants learn the fundamentals of skating (helmets with cages, gloves and skates required)
Learn to play / Try Hockey: Sessions in which the participants learn the fundamentals of hockey including skills, drills, small areas games, informal scrimmaging (full equipment required)
Skills sessions: Sessions that are focus on individual skills and individual tactics (full equipment required)
Hockey Canada programming: Information on programs may be found on wwwhockeycanada.ca (full equipment required)

Dreams Come True
Esso Fun Days
World Girls' Ice Hockey Weekend
Global Girls' Game
What insurance coverage is provided to APPROVED programs?
Commercial General Liability insurance, which is a personal injury/property damage policy is in place for the registered participants.
Accidental Death and Dismemberment insurance, covers death and very serious permanent injures incurred by the registered participants.
Directors and Officers Liability insurance is in place to cover the directors and officers of the associations and Members overseeing the events.
The above descriptions are meant to be general overviews and do not supersede the language and exclusions found directly within the policies themselves. For more information about these policies, please contact your Member.
How does your Association apply for Pathway to Hockey Coverage ?
When will you be notified if your event is APPROVED for the Pathway to Hockey Coverage ?
Your Provincial Member will provide their decision within 15 days of your application being submitted
Once approved, you will also receive an HCR registration link – this registration link may be used to register your participants and will help us:

Insure participants adequately
Collect valuable information on growth programs
Track participants in HCR
Provide you with a list of all participants
Which criteria does your Association need respect in order to obtain approval and coverage?
Your Association's Board must approve your application in order to receive Pathway to Hockey Coverage
All participants must wear the appropriate equipment in order to be covered

Requirements are listed in the application form

Activities may NOT be organized games with officials
Local Hockey Associations must ensure that their On-Ice leads possess Coach Level I, Respect in Sport Leader Activity (or Speak Out) certification and have undergone a criminal record and vulnerable persons check, and any other requirements established by your Provincial Member
To be covered, your Provincial Member must approve your application

You will be notified by Hockey Canada of their response
If you have any questions, please feel free to contact

[email protected]