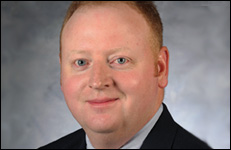 Pat Kelleher was named to the newly-created position of assistant executive director of membership development for USA Hockey in June 2008. In his role, Kelleher leads growth and retention initiatives in youth hockey for the organization.
USA Hockey's membership development department focuses on assisting the country's districts, affiliates and local youth hockey associations in growth and retention efforts, as well as working with NHL clubs and other professional organizations in helping to fully integrate with grassroots programs in their communities.
Kelleher, a native of Belmont, Mass., was tabbed in 2000 to launch Serving The American Rinks, a joint venture of USA Hockey and U.S. Figure Skating. During his tenure as chief operating officer, the organization became the premier rink membership association in the United States and a leader in providing industry education. In addition, STAR turned the North American RINK Conference and Expo (NARCE) into the U.S. rink industry's largest conference and trade show.
Kelleher helped to form key strategic alliances for STAR with the National Hockey League, the NHL facility operators and the OneGoal Association, among others. In his career, the 1992 graduate of Brown University has been active in youth hockey as an association club president, association board member, hockey director and coach.
Source: USA Hockey