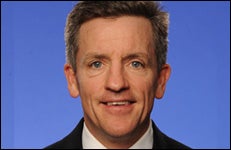 Mark Johnson has enjoyed tremendous success as both a player and coach at nearly every level of hockey.
Most recently, Johnson guided the 2010 U.S. Olympic Women's Ice Hockey Team to the silver medal at the 2010 Olympic Winter Games in Vancouver, B.C. He also served as head coach of the 2009-10 U.S. Women's National Team during its pre-Olympic run and was in the same role when Team USA won gold at both the 2009 International Ice Hockey Federation World Women's Championship and World Women's U18 Championship.
In addition, Johnson served as head coach for the U.S. Women's Under-22 Select Team in 2007-08 and piloted Team USA to a second-place finish at the 2006 4 Nations Cup, in addition to helping the Americans secure a silver medal at the 2007 IIHF World Women's Championship.
Prior to working with the women, Johnson twice served as an assistant coach for the U.S. men's team at the IIHF World Championship (2000, 2002) and was also an assistant coach at the 2001 U.S. Olympic Men's Ice Hockey Orientation Camp.
Beyond his numerous roles with Team USA, Johnson is the head women's ice hockey coach at the University of Wisconsin. There, he has taken the Badger program to national prominence in his first six years at the helm. Under his guidance, the Badgers have advanced to the NCAA Championship game in each of the past four seasons and captured the title in three of those years (2006, 2007, 2009). All three championships resulted in Johnson being named the National Coach of the Year.
Previously, Johnson served as an assistant coach with the UW men's ice hockey program from 1996-2002 and earned Colonial Hockey League Coach of the Year honors in 1995-96 as the head coach of the Madison Monsters.
Johnson has represented the U.S. as a player in 13 international tournaments, including eight World Championships. Most notably, he led the 1980 U.S. Olympic Men's Ice Hockey Team to the gold medal, tallying a team-leading 11 points, including two goals in the "Miracle On Ice" game against the Soviet Union.
Source: USA Hockey