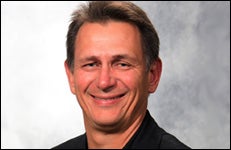 Ken Holland enters his 14th season as general manager of the Red Wings and his 28th year with the organization. He is arguably the most successful general manager in all of professional sports over the last 13 years. Since Holland was appointed to his current position in July 1997, the Red Wings have won more games (687) than any other franchise in the National Hockey League, including 588 regular-season victories and 99 playoff wins. Under Holland's watch the Red Wings have won three Stanley Cups (1998, 2002, 2008), four Presidents' Trophies (2002, 2004, 2006, 2008), nine Central Division titles (1999, 2001, 2002, 2003, 2004, 2006, 2007, 2008, 2009) and five regular-season Western Conference titles (2002, 2004, 2006, 2007, 2008).
Holland, also the organization's executive vice-president, has had a particularly impressive last five seasons. After drastically cutting payroll to comply with the NHL's new salary cap, he assembled a team that won the second-most games in Red Wings' history (58) and the Presidents' Trophy in 2005-06. The Red Wings followed that with a 50-19-13 regular season and a trip to the Western Conference Finals in 2006-07. In 2007-08, the Red Wings posted a 54-21-7 record, and captured the sixth Presidents' Trophy and 11th Stanley Cup championship in franchise history. In 2008-09, Detroit became just the third team in NHL history to record 50 or more wins in four consecutive seasons, finishing with a 51-21-10 mark. This past season, the Red Wings' extended their own NHL record by recording their 10th consecutive 100-point season (44-24-14, 102 points) during an injury plagued campaign. For his efforts, Holland was named the NHL's GM of the Decade (2000-09) by Sports Illustrated in December.
The 11th GM in club history, Holland has worked diligently to secure new contracts with many of the organization's home-grown players. He fully believes in keeping the continuity of the team intact to ensure the future success of the franchise. Holland's role includes overseeing all aspects of hockey operations, including all matters relating to player personnel, development, contract negotiations and player movements. Due to his numerous responsibilities as GM, Holland now plays a less prominent role at the NHL Entry Draft, after being the main point person during his seven years as amateur scouting director.
Holland, 54, was elevated to his present position in 1997. Prior to that time, he handled several different front-office duties for the club over a 15-year period. Holland began his off-ice career in 1985 following a professional career as a goaltender, primarily in the American Hockey League. His first position with the Wings was as a scout in western Canada, followed by five years as amateur scouting director and three years as assistant general manager.
A native of Vernon, BC, Holland played in the junior ranks for Medicine Hat (WHL) in 1974-75. He was Toronto's 13th pick (188th overall) in the 1975 draft, but never saw action with the Maple Leafs. Holland twice signed with NHL teams as a free agent - in 1980 with Hartford and 1983 with Detroit. He spent most of his pro career with AHL clubs in Binghamton, Springfield and Adirondack. He made his NHL debut with one game in 1980-81 with Hartford followed by three games in a Detroit Red Wings uniform in 1983-84. In February of 1998, Holland was inducted to the Binghamton Hall of Fame (N.Y.).
In addition to his responsibilities with the Red Wings this past season, Holland also served as associate director for Hockey Canada at the 2010 Winter Olympics in Vancouver. He was also Canada's general manager at the 2006 IIHF World Championship in Latvia, finishing fourth and Canada's assistant general manager at the 2005 IIHF World Championship in Austria, winning a silver medal.
He and his wife, Cindi, reside in suburban Detroit and have four children: Brad, Julie, Rachel and Greg.
Source: Detroit Red Wings and Hockey Canada