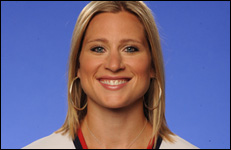 Angela Ruggiero, a native of Simi Valley, Calif., is a four-time Olympic medalist and has played more games for Team USA than any other ice hockey player (251). In those 251 games, the defenseman has registered 205 points (65-140).
Ruggiero's career with Team USA began in 1995, when she was just 15 years old. Not long after, she became the youngest member of the 1998 U.S. Olympic Women's Ice Hockey Team that won the first gold medal ever awarded in the sport at the Olympic Winter Games in Nagano, Japan. She subsequently was a member of the U.S. Olympic Team that won the silver in Salt Lake City, Utah, in 2002; the bronze in Torino, Italy, in 2006; and the silver in Vancouver, B.C., in 2010.
Beyond participating in four Olympics, Ruggiero has played in eight International Ice Hockey Federation World Women's Championships, including in 2005, 2008 and 2009, when Team USA captured gold medals. She was named the top defenseman at three consecutive world championships (2001, 2004, 2005) and again in 2008, also earning top defenseman honors at both the 2002 and 2006 Olympic Winter Games.
Ruggiero graduated cum laude from Harvard University in 2004 with a bachelor's degree in government. She was a four-time All-American and four-time finalist for the Patty Kazmaier Memorial Award. She won the award her senior year and was named one of the top 16 female athletes in the world by ESPN.com in 2004. She finished her collegiate career with 243 points (91 goals, 152 assists) in 127 games.
In addition to her extraordinary athletic accomplishments, Ruggiero is the founder and president of a girl's hockey school and is the author of Breaking the Ice, her inspirational autobiography. She also previously served as the director of the New York Islanders' Project Hope - an organization that provides young Chinese athletes with access to educational opportunities. In addition, Ruggiero appeared on the sixth season of NBC's The Apprentice with Donald Trump.
She is currently pursuing a master's degree in sports management from the University of Minnesota and is a member of the International Olympic Committee Athletes' Commission.
Source: USA Hockey