Janes All In: Vicky Sunohara
One of the members of the original Team Canada in 1990, the two-time Olympic gold medallist has had a front-row seat to the evolution of the women's game
---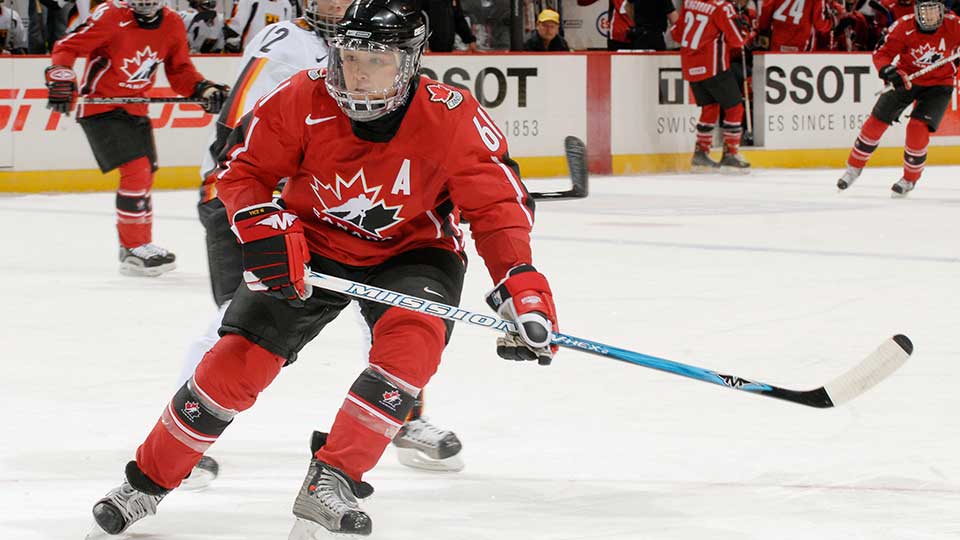 by Chris Jurewicz
There's a scene in The Game of Her Life, a National Film Board documentary that follows Canada's National Women's Team to and through the 1998 Olympic Winter Games, that focuses on Vicky Sunohara's childhood.
The clip includes pictures of Sunohara and her father and the sound of a cassette tape where you hear dad and a two-year-old Vicky in the basement playing hockey. Sunohara's dad, who passed away when she was seven, says "shoot" and then she yells "scores!". That tape is from Nov. 21, 1972 and captures some beautiful moments between father and daughter.
"My dad had me skating, I think I was two or two-and-a-half," says Sunohara. "He made a little rink in the back yard. He took care of the rink at the public school and he used to go and flood the rinks. So I had a lot of access to ice. All of my memories of him are of playing hockey or being outside or being at the rink or being in the basement. I remember I used to wait for him to get home from work to go play hockey in the basement."
Sunohara's father instilled the love of the game in his daughter. That love helped turn her into one of the greatest hockey players Canada has produced. A two-time Olympic gold medallist and seven-time world champion, Sunohara was once described as the Wayne Gretzky of women's hockey. Her career spanned 164 games on the international stage over 18 years, from the first official IIHF World Women's Championship in 1990 through to the 2007 women's worlds.
Like many girls growing up in the 1970s, Sunohara started playing organized hockey with the boys. But at the age of eight or nine, more and more girls were playing the game in her hometown of Scarborough and she joined a league.
"I think the only concern [with the girls' league] was they kept moving me up divisions so I was playing body contact and body-checking when I was fairly young and the other girls were a few years older," Sunohara says. "They were bigger and more experienced with body-checking. But I learned and, eventually, they removed the body contact. I just wanted to play. I didn't care if I was playing in the boys' league, the girls' league, I was playing with girls older than me at the time. I just wanted to play."
When Sunohara was 16, she was chosen as a flag bearer for the United States at the 1987 world women's hockey tournament, the first organized international women's event. Although it wasn't an officially sanctioned IIHF event, the tournament was a stepping stone to the 1990 IIHF World Women's Championship.
"Carrying the flag was a really great experience for me but it wasn't good enough," she says. "I wanted to play so bad. But I was too young at the time. That was when I thought 'if this happens again, I want to be there.'"
Sunohara got her chance in 1990 and still remembers the thrill of lining up with the country's best.
"Being on the ice with France St-Louis and Sue Scherer, Dawn McGuire, Angela James, France Montour – just being on the ice with all of these players that I didn't really know much about. They were so good. They were so experienced," says Sunohara. "They had played at national championships against each other, they knew each other a little bit more. It was my first time. Before that, if anyone asked me who my hockey heroes are, it would be Wayne Gretzky … it was all males. And then I get on the ice with all of them and I think 'Wow, these guys are awesome.'"
Some of that same group, including Sunohara, would play in the first Olympic women's hockey tournament in 1998. Although Canada lost the gold medal game to the U.S., a loss that Sunohara describes as "heartbreaking," the 1998 Games were held in Nagano, Japan, which is about 50 miles from where Sunohara's grandparents on her father's side grew up. She had the opportunity to learn more of her family history and meet relatives she didn't even know about.
Sunohara and Team Canada would avenge the 1998 loss with gold medal wins in 2002 in Salt Lake City and 2006 in Turin, Italy. Sunohara, with unmatched drive and competitiveness, was a major part of those teams.
She still has that drive today but, sadly, can't play the game she loves anymore, due to rheumatoid arthritis, an autoimmune disorder that causes significant pain in the joints. Sunohara is now a coach, both at the minor hockey level with her two 11-year-old twin boys and as head coach of the University of Toronto Varsity Blues women's team, which she says is her dream job.
She says the women's game has made incredible strides, with the girls today bigger, faster and stronger than ever before. She loves what she sees and says it's time for a women's professional league.
"The players are there, the product is there, it just needs to have the infrastructure and the resources to get it off the ground," says Sunohara. "These players are amazing; they're very resilient, they're focused and they're sticking together and that's huge. I believe it's going to happen."