Learn about the Chevrolet Good Deeds Cup
---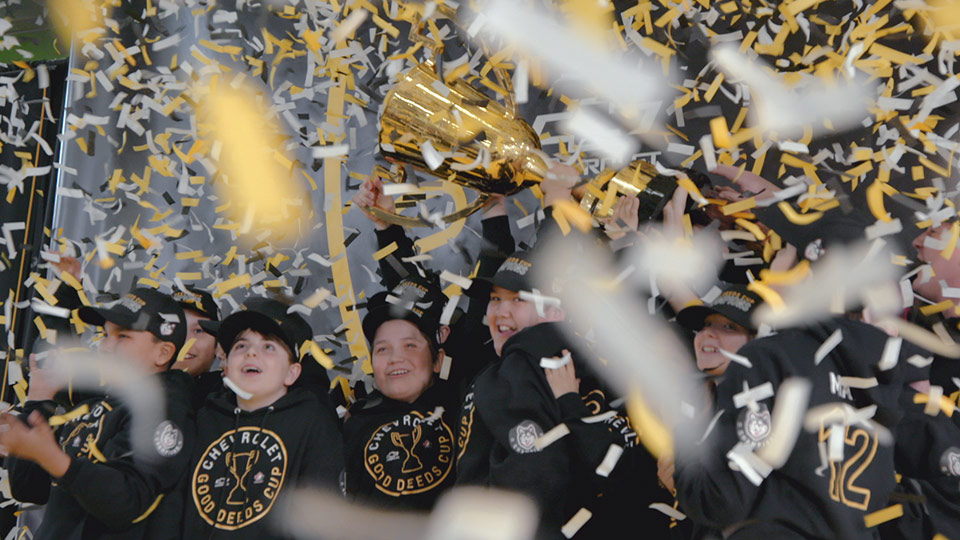 The Chevrolet Hockey program seeks to inspire young Canadians to be better people by promoting the positive values learned through hockey, and acting on them by performing Good Deeds in their community. Along with our partners at Hockey Canada, our goal is to develop our future hockey players on and off the ice.
Through the Chevrolet Good Deeds Cup, Chevrolet makes donations to causes on behalf of Peewee Hockey teams across the country.
The Chevrolet Good Deeds Cup program was launched for the 2016-17 site. Since then, hundreds of Good Deeds have been completed by teams in communities big and small. We can't wait to see what this year brings.
CLICK HERE to sign up.
The Good Deeds Cup Champions Receive:
A feature profiling the team on a nationally broadcast hockey game
Winners ceremony in the team's home town with our hockey ambassadors and the Good Deeds Cup
A monetary donation from Chevrolet on behalf of the winning team to the charity of their choice
A Good Deeds Cup Championship banner to hang in the team's home arena
The team's name engraved on the Good Deeds Cup
Examples of Good Deeds:
Visit an animal shelter
Spend time as a team at a retirement home
Raise money for charity collecting bottles and cans
Visit sick kids at a hospital
Volunteer at a food bank
Shovel neighbourhood driveways or rake leaves
Come up with your own good deed
Hockey Canada and Chevrolet, along with the Chevrolet Hockey Ambassadors Caroline Ouellette and Mitch Marner, review each entry to determine the top 10 finalists. Then Canadians have a chance to vote for the three finalists. The winner will be selected by a panel from Hockey Canada and Chevrolet.
Good Luck Peewees!