CHEVROLET GOOD DEEDS CUP CHAMPIONS
---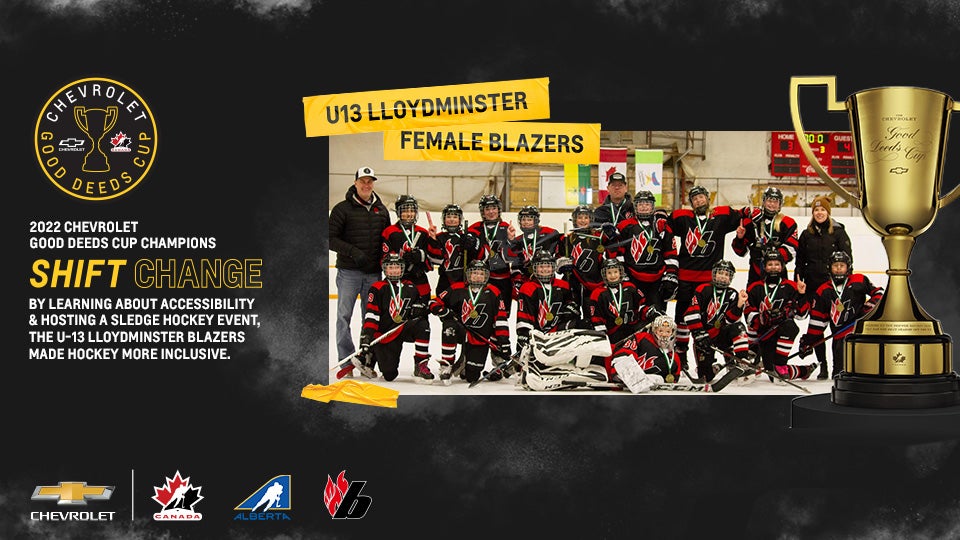 The U13 female Lloydminster Blazers are the 2022 Chevrolet Good Deeds Cup champions!
This season, Chevrolet challenged teams to complete a Good Deed within the community that helped to make hockey more inclusive to people from all backgrounds and abilities. The Blazers decided to focus their efforts on ensuring that their local arenas would be built in a manner that would make them accessible for everyone in the community.
The idea to promote accessibility was prompted by the inability of a parent volunteer who uses a wheelchair to access the timekeeper box or find unobstructed views to watch the games. The team got to work developing a presentation and delivered it to the local city council to ensure that the new arenas being built included accessibility for fans and for local para-hockey teams such as see-through rink boards.
To demonstrate their passion and the need for accessible arenas, the team hosted a 'try para-hockey' event. This event brought attention to the sport, who can participate and ensured their message to make the new arenas accessible was heard by the community.
Their dedication to making hockey and recreation more inclusive for everyone will be felt in the years to come with their donation of $100,000 to Inclusion Lloydminster.
The donation to Inclusion Lloydminster will allow the organization to continue to support children and adults with developmental disabilities and their families. Inclusion Lloydminster's vision is to ensure everyone is included and made to feel a part of the community. They will work with the Blazers to ensure the community and hockey is made more accessible and inclusive for all.
Thank you to all the minor hockey players, coaches, team volunteers and fans who submitted Good Deeds and voted during the season to help Shift Change towards inclusivity in hockey.
---
2021-22 CHEVROLET GOOD DEEDS CUP YEAR IN REVIEW
This year, we challenged minor hockey teams across Canada to Shift Change. We asked them to go out into the community and complete a Good Deed that helped bring inclusivity to the game of hockey – and did they deliver!
The 12 Regional Finalists all made their communities proud.
With the support of coaches and parents, teams submitted videos that demonstrated their Good Deed. The Good Deeds this season included teaching new Canadians to skate, building outdoor rinks for the community, donating hockey equipment to an Indigenous community in need and wearing pink hoodies to bring awareness of racism directed at teammates.
ABOUT
The Chevrolet Good Deeds Cup seeks to inspire young Canadians to do good by transforming the positive values learned through hockey into Good Deeds within their communities. Along with our partners at Hockey Canada, Chevrolet's goal is to help develop hockey players off the ice.
Over the past six years, we have challenged over 10,000 hockey players across the country to go out and do Good Deeds in their communities. These teams have made an extraordinary impact with over 1000 Good Deeds done and $550,000 donated to well-deserving charities.
This season, we shifted the focus of the Chevrolet Good Deeds Cup to make hockey more inclusive than ever. We asked teams to complete Good Deeds in their communities that get people from all backgrounds and abilities into the game.
Our champion has been named for this season, so please continue with your Good Deeds until we kick off the 2022-23 Chevrolet Good Deeds cup in the Fall of 2022.