Sledge Hockey is an innovative team sport that incorporates the same rules and discipline structure as regular ice hockey. Sledge Hockey players sit on specially designed sleds with skate blades under the seat and use two sticks, not only to pass, stick-handle and shoot the puck, but also to propel and maneuver their sleds.
Developed in Canada, players sit on special aluminum sledges with regulation skate blades. Canada is the recognized international leader in the development of the sport of Sledge Hockey and equipment for players.
Many countries now seek the coaching advice, organizational planning, equipment, and design expertise of our players, coaches and tournament officials.
Sledge Hockey sticks are fiber glass laminated with angled picks attached to one end.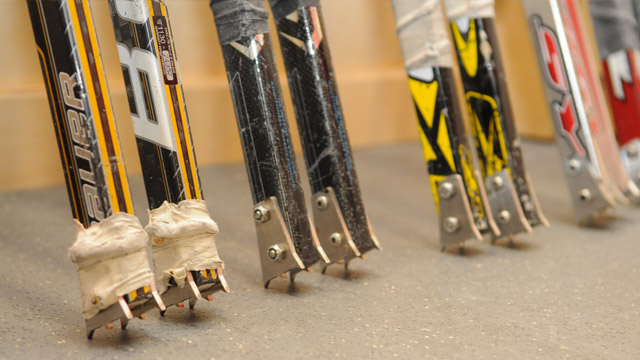 Links to Sledge Hockey Equipment Manufacturers:
Canwin Sports
(Ottawa, Ont)
Manufacturer of sledges and sticks
Legend Sticks
(Newmarket, Ont)
Manufacturer of sticks
Unique Inventions Inc.
(Peterborough Ont)
Manufacturer of sledges and retailer of Legend Sticks