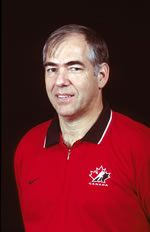 Ken Lowe comes to the 2002 Olympic team having served Canada on two other occasions, the 1994 World Championship in Milan, Italy and the 1996 World Cup of Hockey.
Lowe is a veteran in the field of Athletic Training. Before joining the Edmonton Oilers of the NHL in 1989, he worked with the Edmonton Eskimos Football Club of the Canadian Football League for seven seasons. In 23 years, Lowe has been part of three championship teams including the Edmonton Oilers 1990 Stanley Cup Team, and two Grey Cup championships with the Edmonton Eskimos (1982 and 1987).
The native of Lachute, Quebec, holds a Master of Arts Degree specializing in Athletic Training and Conditioning from the University of Alberta and an Honours Science Degree in Bio Physical Education from Concordia University.
Ken, the older brother of Assistant Executive Director, Kevin Lowe, lives in Edmonton, Alberta, with his wife, Marianne and their two daughters, Amanda and Melissa.