Bio. Info.
Height, Weight:
5'9 (174 cm), 170 lbs (72 kg)
Born :
August 12, 1978
Hometown :
Shaunavon, Saskatchewan
1996-97 Club :
Olympic Oval High Performance Program
Hockey Background

1998 National Champion with the Calgary Oval X-Treme Team
1997 National Champion with the Edmonton Chimos
Third place with Team Alberta at the 1995 Esso Senior Women's Nationals, scoring 6 goals and 4 assists in six games
Most valuable player in gold medal game, 1991 Canada Winter Games, and member of Gold Medal winning team
Played boys 'AA' bantam hockey with the Northwest Bruins in Calgary.

National Team Involvement

Member of the Silver Medal team at the 1998 Olympic Games in Nagano, Japan
(2 goals and 6 assists in 6 games)
Named to the 1998 Olympic Team on December 9, 1997
Member of the team 2nd at the 1997 3-Nations Cup in Lake Placid, NY
Member of the Gold Medal team at the 1997 World Championship in Kitchener, Ontario
(4 goals and 5 assists in 5 games)
Member of the Gold Medal team at the 1996 3-Nations Cup in Ottawa, Ontario
Member of the Gold Medal team at the 1996 Pacific Rim in Richmond, BC
Member of the Gold Medal team at the 1995 Pacific Rim in San Jose, California
Member of the Gold Medal team at the 1994 World Championship in Lake Placid, NY
(1 assist in 3 games)

Occupation

1st year University of Calgary, General Science Program

Points of Interest

Cousin of Doug Wickenheiser, first overall pick in 1980 NHL draft by the Montreal Canadiens
1995 World Junior Softball Championships in Normal, Illinois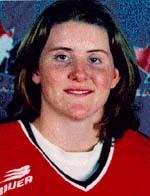 "FEW ATHLETES GET THE CHANCE TO REPRESENT THEIR COUNTRY, PLAYING THE GAME THEY LOVE; IT IS AN HONOUR TO BE PART OF A TEAM WITH SUCH CHARACTER AND CLASS"
Individual Statistics

Competition

G

A

Pim

1998 Olympic Games

2

6

4

1997 3-Nations Cup

3

5

12

1997 World Championship

4

5

12

1996 3-Nations Cup

1996 Pacific Rim

5

4

12

1995 Pacific Rim

3

6

8

1994 World Championship

0

1

4
Favorites
Other Sports:
Basketball, fastball
Female Athlete:
France St. Louis
Male Athlete:
Johann Olav Koss
NHL Team:
New York Rangers
NHL PLayer:
Mark Messier / Wayne Gretzky
Food:
Yogurt / Granola
Drink:
Apple juice
Country Visited:
Germany
Hobby:
Mountain biking, reading, golf
Actress:
Meg Ryan
Actor:
Encino Man
TV Show:
Seinfeld / Friends
Singer / Band:
Funsion / Chantal Kreviazuk