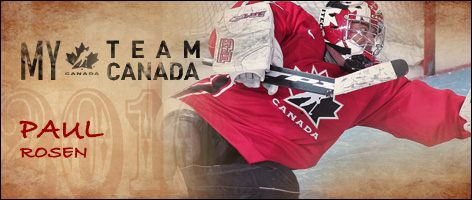 My Team Canada - Paul Rosen : 02/18/2009
One of the world's top sledge hockey goaltenders, Paul Rosen has backstopped Canada to wins at the 2006 Paralympic Winter Games, 2008 IPC Sledge Hockey World Championship and 2007 and 2008 World Sledge Hockey Challenges. While many of his teammates are in their early 20s, or younger, Rosen got his start at a young age, debuting with the national team in 2001 at the ripe old age of 40 and becoming the oldest Paralympic rookie in history at age 41 in 2002. Proving he could be a two-sport star, Rosen was a member of Canada's national sitting volleyball team at the 2007 Parapanamerican Games.
Forwards
Defense

Sidney Crosby
Ryan Getzlaf
Dany Heatley
Jarome Iginla
Vincent Lecavalier
Milan Lucic
Rick Nash
Corey Perry
Mike Richards
Patrick Sharp
Eric Staal
Joe Thornton
Jonathan Toews

Jay Bouwmeester
Dan Boyle
Brian Campbell
Mike Green
Duncan Keith
Dion Phaneuf
Marc Staal

Goaltenders

Martin Brodeur
Roberto Luongo
Carey Price
Goaltenders: Brodeur is still the number one goaltender in the world and doesn't appear ready to give up his spot anytime soon, but Luongo is always ready to go and could take over the No. 1 job at a moment's notice. With two veterans ahead of him Price will be along for the ride, getting experience for 2014.
Defense: These seven defencemen give Canada toughness, quickness and brains. There are so many great defencemen in this country, it was so tough to choose – but these are my seven. The toughest to leave off the list was Luke Schenn – he will be a big star in 2014.
Forwards: These forwards are all world-class hockey players, and choosing them was difficult. I know there are a lot of incredible players that have been left off, but only 13 could make the cut. The toughest to leave off the list was Marc Savard – he is having a great year and could easily make the roster, but he just missed.