There is a lot to see in and around Camrose! Whether you are keen about hiking through our parks or want to discover the history of Camrose, you will find useful information on this page.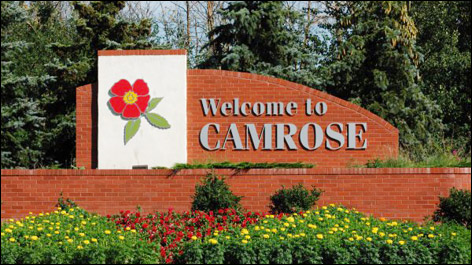 Camrose Aquatic Center 4400 - 57 Street
Camrose Aquatic Centre offers many swimming and aqua-aerobic classes. You can also enjoy the public swim, lane swim, water slide and hot tub. Spray park (opens May 21st and is free). Toonie Swims every Tuesday evening or phone 780.672.9909 to find regular rates and swim times.
Tabb Lanes Bowling Alley 5101 – 52 Ave, 780.672.5711
12 Lanes - 5 Pin, 4 Lanes - 10 Pin, Automatic Scoring, Fully Licensed Lounge with VLT's.
Geocaching
Geocaching is a high-tech treasure hunting game played throughout the world by adventure seekers equipped with GPS devices. The basic idea is to locate hidden containers, called geocaches outdoors and then share your experiences online. There are over 120 geocaches within Camrose County, ranging from historical sites to backwoods hikes.
Our Visitor Information Centre rents GPS units for $5.00 a day plus a deposit. Geocaching Beginner introductory information is available at the centre.
780.672.4217 or www.tourismcamrose.com or www.geocaching.com
Take a ride on the Camrose Mirror Lake Express Train
Every, Tuesday and Thursday 5:20pm until dusk starting
From May 25th until September 2nd at the Bill Fowler Visitor Information Centre.
Camrose Golf Course
http://ab-camrose.civicplus.com/index.aspx?NID=163
5105 – 66 St. 780.672.2691
Established in 1922, the Camrose Golf Course is an 18 hole public course that offers all amenities required by both the recreational golfer and the golfer seeking additional challenges to their game. Offering a pro-shop, locker rooms, a full service restaurant and lounge, our southern mansion style clubhouse serves as the starting point for your golf experience.
Our tree-lined fairways situated along the banks of Stoney Creek provide a variety of challenges for the seasoned golfer while remaining very playable for beginners. Course enhancements over the past few years have contributed to increased popularity with an ever growing market, as more golfers rediscover what we have to offer.
Whistle Stop Golf Course and Campground www.whistlestopgolf.com 780.672.6490
18 Hole Golf course, driving rage, licensed clubhouse with banquet facilities and 33 site campground.
Silver Creek Golf Course and Campground - www.silvercreekgolfcourse.com
780.855.3982 - Located 15 minutes south of Camrose on Hwy 21
Silver Creek golf course has 27 holes to challenge all level of competitors. Silver Creek is a well maintained and challenging course. It possesses excellent length and has a driving range and putting greens.
A highlight of Silver Creek is the clubhouse. The building was once a barn, built in 1912, and is furnished with antiques from by gone years. The clubhouse offers food service, a licensed lounge, and caters to tournaments and family reunions. The pro shop is well stocked with golfing attire, clubs, balls, etc. rental equipment and power carts. Silver Creek has an excellent campground with power and water service. Large groups and family reunions are welcome.
Choi's Driving Range Box 1601 Camrose, AB T4V 1X6 780.672.5580
Camrose Exhibition Drive RV Campground - www.camroservpark.com
780.678.2888
The RV Park, located just off Highway 13 East on the CRE grounds adjacent to the Camrose Resort Casino, will provide a great place for campers to park and attend events and activities or explore the many interesting sites in and around the Camrose area and Boomtown Trail. Whether your stay is just overnight or several days, the country charm and hospitality will certainly make your visit an enjoyable one.
JoJo's Corn Maze & 18 hole mini-golf - www.jojosmazecraze.ca
780 672-2436
Besides lots of fun and fresh air, Jojo's provides picnic shelters, BBQ and fire pits for your enjoyment. There is a small concession on site with cold and hot drinks, hot dogs, ice cream and novelties. While you are here, you can visit with all our furry and feathered friends. Our bale maze and straw pit are a hit with the older kids. The toonie train will surely please the little ones as it weaves its way through the corn. We have plenty of parking and YES, there are bathroom facilities!
Parks - http://www.camrose.ca/index.aspx?NID=166 Take a walk, have a picnic, or just enjoy the outdoors at one of the many parks in and around Camrose. View our detailed list of urban parks available online and at the Visitor Information Centre. Hiking - http://www.camrose.ca/index.aspx?NID=178 Use the Urban Parks Brochure, and take a walk through the scenic Camrose trail system.
The Waskahegan Trail - www.waskahegantrail.ca
The Waskahegan Trail is a walking/hiking trail that runs through Camrose County. It is 309 km and runs through a mix of public and private land. Before using the trail you must contact the association through the above website.
Camrose Main Street Centre – www.downtowncamrose.com 4949-50 St. 780.672.5191 Rediscover the past, and take a walk through Historic Downtown Camrose. Since 1999, the Camrose Main Street Project has been dedicated to restoring the store front facades to their original glory.
Camrose and District Centennial Museum – www.camrosemuseum.ca 48th Ave. and 53 St. 780.672.3298 With eight historic buildings and hundreds of artifacts, The Centennial Museum offers an interesting taste of old Camrose. Admission is free, but donations are appreciated. The Museum is open from Victoria Day weekend to Labor Day weekend (winter months by appointment), Tuesday through Sunday.
Camrose Railway Station & Tea Room - canadiannorthern.ca/Camrose 4407-47 Ave. 780.672.3099 Open from May through September, the Railway Museum offers its visitors a window into the history of the railway. It features fascinating displays and fun activities. Candler Art Gallery – www.candlerartgalery.com
5002-50 St. 780.672.8401
The Candler Art Gallery is a full service gallery supporting the public in Camrose and area since 1978. One hour from downtown Edmonton, the gallery makes its' home in the historical first general store of the city of Camrose in the heart of the Prairie Parklands. The relaxed and open atmosphere offers visual arts to all.
Whether you are choosing from the original works of exceptional local and national artists, our variety of reproductions, artists' materials to enjoy yourself, or the wide selection of custom framing choices - the experience will be fulfilling and memorable.
Visitor Information – www.camrosechamber.ca 5402-48th Ave. 780.672.4217.
Overlooking the beautiful Mirror Lake, the Bill Fowler Centre in Camrose, provides information, souvenirs, GPS rentals, a picnic area and ice cream stand too Camrose visitors.
Chuck MacLean Arts Centre
780. 672.9949
The Chuck MacLean Arts Centre is periodically involved in exhibiting traveling art shows. The Centre also offers art workshops and classes. For information on their latest shows or events, please call the Chuck MacLean Arts Centre.
Duggan Cinemas - http://www.rainbowcinemas.ca/A/index.php?theatre=Camrose
6601-48 Ave. 780.608.2144
Duggan Cinema's offers five screens showing daily matinees and evening showing. Open seven days a week and highlighting cheap Tuesdays.
Camrose Resort Casino – www.camroseresortcasino.com
3201-48 Ave. 780.679.0904
Camrose Resort Casino offers a full sized casino that offers gaming, live entertainment dining and a lounge.
Silvercreek Paintball – www.silvercreekpaintball.ca
78.855.2247
Silver Creek Paintball is dedicated to creating a positive, safe and fun paintball experience to people of all ages. Silver Creek Paintball Ltd. opened in 2003. As to date, we offer 8 playing fields. We provide high quality fields in a safe and clean environment. We have fire pits and BBQs available free of charge. All games are refereed to ensure that safety is #1.
LIVE MUSIC
Alice Hotel - www.alicehotel.ca
5078 50 Street 780.672.2124
The Alice is a landmark in the community. Originally built in 1928 as a high end hotel; it has seen many changes over the years, now offering live entertainment in our Pump House bar.
Merchants Tea & Coffee House
4857-50 Street 780.672.0057
Merchants Tea & Coffee House hosts live music every Friday, September through May at 8:00 pm.
Scalliwags
4919 47 Street 780.672.5411
Scalliwags has someone going on all the time from Open Mike Wednesdays to Karaoke Friday.
Players Club
5017-51 Street 780. 679.2245
Concerts are held regularly at the Players Club. For information on upcoming concerts, please call the Players Club.
Rose City Roots – www.rosecityroots.ca