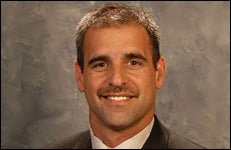 Tom Anastos, recognized by The Hockey News in each of the past four years on the list of the 100 most influential and powerful people in the sport (No. 86 in 2009), is in his 13th season as the Commissioner of the CCHA, having been named to the post on March 18, 1998. Anastos' commitment to growing the sport has resulted in an annual statewide celebration known as Hockey Day in Michigan. Television has also been a focal point for the CCHA under Anastos; the CCHA was the first hockey conference to sign television agreements with CBS College Sports (formerly CSTV) and Toronto-based Leafs TV, as well as the NHL Network.
Prior to his appointment, Anastos served as president of the North American Hockey League, a Tier II junior league, for four seasons. During that time, the NAHL attracted strong ownership groups and developed into one of the top leagues for college-bound players in the United States. An active member of USA Hockey, Anastos is one of two NCAA representatives on the organization's board of directors. He is also a member of USA Hockey's Junior Council, as well as the International Council. Anastos also serves on the board of directors for OneGoal.
Anastos was a four-year letter winner at Michigan State (1981-85) and graduated with a bachelor's degree in construction management. Anastos, a 2000 inductee into his hometown Dearborn, Mich., Sports Hall of Fame, played junior hockey for the Paddock Pools Saints of the NAHL and was the first player ever drafted from the league by an NHL team when the Montreal Canadiens selected him in 1981. After a season in the Canadiens organization, he joined the coaching staff at the University of Michigan-Dearborn and served as head coach from 1987-90, compiling a 68-37-7 record. Anastos returned to his alma mater as an assistant coach to Ron Mason from 1990-92.
Source: USA Hockey