Canadians into gold medal match-up against Americans after 8-1 win over Russia at women's worlds
THE CANADIAN PRESS

OTTAWA, Ont. – Canada advanced to the gold medal game of the 2013 IIHF Ice Hockey Women's World Championship with an 8-1 semifinal win over Russia on Monday night.
Marie-Philip Poulin (Beauceville, Que./Boston University, HE) scored a pair of goals to lead the defending champions, who face the United States for the gold medal Tuesday at SBP Arena.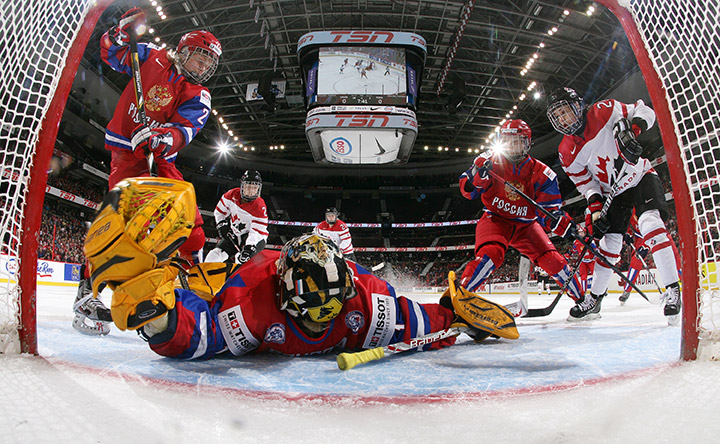 The Canadian and American women will clash for world championship gold for a 15th time. Canada has won 10 world titles, but the U.S. has won three of the last four.
Canada wrested the world title in overtime from the U.S. last year in Burlington, Vt., so the Americans would very much like to reclaim it on Canadian ice.
The Canadians opened this year's championship with a 3-2 win in a shootout over the U.S., despite trailing 2-0 into the third period.
Haley Irwin (Thunder Bay, Ont./Montreal, CWHL), Natalie Spooner (Scarborough, Ont./Toronto, CWHL), Jennifer Wakefield (Pickering, Ont./Toronto, CWHL), Meghan Agosta-Marciano (Ruthven, Ont./Montreal, CWHL) and Rebecca Johnston (Sudbury, Ont./Toronto, CWHL) scored for the host country in the semifinal, with assistant captain Jayna Hefford (Kingston, Ont./Brampton, CWHL) scoring short-handed for the second time in the tournament.
Shannon Szabados (Edmonton, Alta./Northern Alberta Institute of Technology) made 17 saves for the win in front of 7,255 fans. Russia's Anna Prugova stopped 31 of 37 shots over two periods before she was replaced by Yulia Leskina, who made 10 saves.
Captain Hayley Wickenheiser (Shaunavon, Sask./University of Calgary, CIS) returned to Canada's lineup after missing two games with a back injury. She played fewer shifts once her team had firm control of the game.
Svetlana Tkachyova scored the lone goal for Russia, which meets Finland for the bronze medal Tuesday. The U.S. was held scoreless for 53 minutes in their semifinal against Finland, but won 3-0.
Germany defeated Switzerland 5-3 for fifth place. Sweden won its best-of-three relegation series against the Czech Republic with a 4-0 victory to finish seventh. The Czechs drop to the second-tier world championship in 2015.
In the last international hockey semifinal between Canada and Russia at SBP Arena, Canada's Jordan Eberle scored with six seconds remaining in regulation to tie up the semifinal of the 2009 IIHF World Junior Championship.
The women's semifinal wasn't nearly as dramatic, although it took until the final minute of the first period for Irwin to put Canada on the scoreboard.
Trailing 4-0, Russia pushed back midway through the second period. Svetlana Tkachyova's shot through traffic beat Szabados over her right shoulder, but Hefford quickly restored the four-goal cushion with her short-handed goal.
Russia's stated goal is to win women's hockey bronze at the 2014 Olympic Winter Games in Sochi, Russia. The Russian Ice Hockey Federation finally began putting more resources into women's hockey when Sochi won its Olympic bid.
Former NHL player Alexei Yashin was appointed the team's general manager in December.
But Canada remains far ahead of the Russians in speed, fitness, execution of systems and goaltending. Prugova allowed a couple of soft goals in the second period. Spooner beat her with a sharp-angled shot over her shoulder and Wakefield scored with a blast from the blue-line.
---
THE MOMENT: Canada @ Russia – Monday, April 8

by Jamie Shinkewski
OTTAWA, Ont. – It was a milestone night for a pair of Canadians in their 8-1 semifinal victory over Russia at SBP Arena.
With just under five minutes left in the second period, Marie-Philip Poulin walked over the blue line, hit the top of the circle, and let go a bullet of a shot that beat Russian goaltender Anna Prugova over her right pad.
The pass came from veteran Jayna Hefford, who was playing in her 250th career international game for Canada's National Women's Team.
On that same goal, Tessa Bonhomme also recorded her 50th career point with Team Canada.
It took the defenceman 95 games to reach that mark, tallying 10 goals and 40 assists along the way.
Poulin has also been having a tournament to remember. She has set a new personal best with six goals in this world championship.
The last time a Canadian player scored six goals in a championship was in 2007, when Hayley Wickenheiser and IIHF Hall of Famer Danielle Goyette both reached that mark.
It was the sixth of eight goals on the night. A truly unimportant goal for the outcome of the game, but it was a milestone "moment" for the trio of Canadian girls.
Game Information/Renseignements sur le match
Game #/No. de match
19
Round/Ronde
Semifinal
Arena/Aréna
SBP Arena

Location/Lieu
Ottawa, Ont.

Date
Mon. Apr. 8, 2013

Time/Heure
7:30 p.m. ET

| Box Score/Compte | 1 | 2 | 3 | Total |
| --- | --- | --- | --- | --- |
| CAN | 1 | 5 | 2 | 8 |
| RUS | 0 | 1 | 0 | 1 |
Goals & Penalties/Buts et pénalités
First Period
Goals/Buts :
19:13 CAN Haley Irwin (Meaghan Mikkelson, Shannon Szabados)

Penalties/Pénaltés :
07:59 RUS Yekaterina Pashkevich (Cross Checking/Double-échec)
19:33 CAN Sarah Vaillancourt (Roughing/Rudesse)


Second Period
Goals/Buts :
02:03 CAN Natalie Spooner (Gillian Apps, Sarah Vaillanacourt)
02:55 CAN Marie-Philip Poulin (Brianne Jenner)
04:29 CAN Jennifer Wakefield (Catherine Ward, Laura Fortino)
10:56 RUS Svetlana Tkachyova (Tatyana Burina, Yekaterina Lebedeva)
12:18 CAN Jayna Hefford (Marie-Philip Poulin) SH/AN
15:56 CAN Marie-Philip Poulin (Jayna Hefford, Tessa Bonhomme)

Penalties/Pénaltés :
08:54 CAN Courtney Birchard (Slashing/Coup de bâton)
12:10 CAN Haley Irwin (Hooking/Accrocher)
16:21 CAN Jayna Hefford (Hooking/Accrocher)
17:43 RUS Galina Skiba (Hooking/Accrocher)

Third Period
Goals/Buts :
02:16 CAN Meghan Agosta-Marciano (Jennifer Wakefield)
02:40 CAN Rebecca Johnston (Catherine Ward, Meaghan Mikkelson)

Penalties/Pénaltés :
13:54 RUS Yekaterina Solovyova (Hooking/Accrocher)
18:48 CAN Meaghan Mikkelson (Body-checking/Mise en échec corporelle)


Goaltenders/Gardien(ne)s de but
CAN
Shannon Szabados

RUS
Anna Prugova (out 3rd/00:00)
Yulia Leskina (in 3rd/00:00)

| Shots on Goal/Tirs au but | 1 | 2 | 3 | Total |
| --- | --- | --- | --- | --- |
| CAN | 20 | 17 | 12 | 49 |
| RUS | 4 | 12 | 2 | 18 |