Canada's National Women's Team downs Finland 8-0 for worlds semifinal berth; more than 18,000 fans fill SBP Arena to smash single-game attendance record

THE CANADIAN PRESS
OTTAWA, Ont. – Meghan Agosta-Marciano (Ruthven, Ont./Montreal, CWHL) scored a hat trick to pace Canada to an 8-0 win over Finland at the 2013 IIHF Ice Hockey Women's World Championship on Friday night, in front of a loud crowd of 18,013 fans who filled SBP Arena and smashed a single-game record for attendance at a female game.
Brianne Jenner (Oakville, Ont./Cornell University, ECAC) contributed a pair of goals, while Bailey Bram (Ste. Anne, Man./Brampton, CWHL) scored her first international goal. Both Jennifer Wakefield (Pickering, Ont./Toronto, CWHL) and Sarah Vaillancourt (Sherbrooke, Que./Montreal, CWHL) also contributed to the scoreboard for the host country.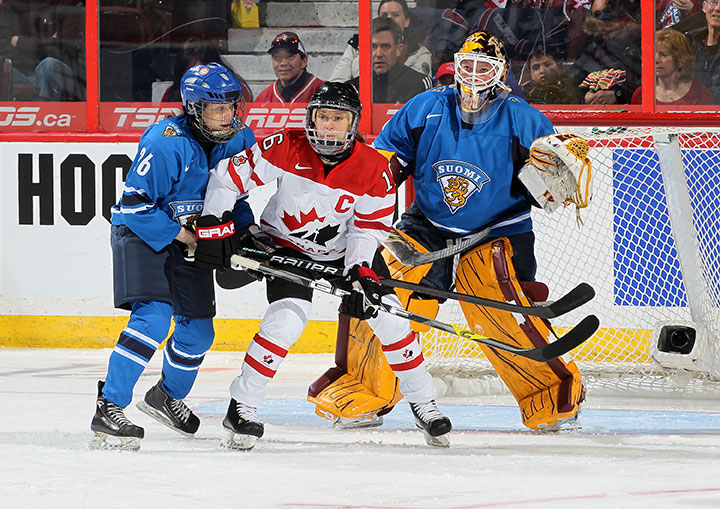 With the victory, Canada finished first in Pool A with eight points, ahead of the U.S. with seven.
Marie-Philip Poulin (Beauceville, Que./Boston University, HE), Catherine Ward (Montreal, Que./Montreal, CWHL) and Haley Irwin (Thunder Bay, Ont,/Montreal, CWHL) each had two assists for the defending champions.
Shannon Szabados (Edmonton, Alta./ Northern Alberta Institute of Technology, ACAC) earned the shutout with 16 saves.
Finnish goaltender Noora Raty made 30 saves on 36 shots before she was replaced by Meeri Raisanen in the third period. Raisanen allowed two goals on seven shots.
In is the second year for this tournament format, the top four countries in the world are grouped in Pool A and the fifth to eighth placed countries are in Pool B.
Canada and the United States get byes to Monday's semifinals as the top two teams in their group. Finland was third with three points and Switzerland fourth with zero points in Pool A.
Russia went undefeated to top Pool B and Germany was second with four points. Russia faces the Swiss in one quarter-final and the Finns take on Germany in the other Saturday, with the winners advancing to the semifinals.
The U.S shut out Switzerland 5-0 in Friday's other Pool A game. In Pool B games, Russia blanked Sweden 4-0 and the Germans doubled the Czech Republic 6-3.
Sweden, the 2006 Olympic Winter Games silver medallists, and the Czech Republic were the bottom two teams in Pool B, falling to a best-of-three relegation round.
Canada was without captain Hayley Wickenheiser (Shaunavon, Sask./University of Calgary, CIS) for a second straight game. Canada's all-time leading scorer suffered an upper-body injury in a 3-2 shootout win over the U.S. to open the tournament Tuesday.
She left that game in the second period and did not play in her team's 13-0 win over the Swiss the following night.
"We're encouraged. She's improving,'' head coach Dan Church said earlier Friday. "I would expect her to target Monday. We feel pretty good about that. (It's) still day to day, but she's progressing.''
Finland has never beaten Canada, although there have been some closer games in recent years. Raty plays for the NCAA Division 1 champion the University of Minnesota Golden Gophers, and was a finalist for the award that goes to the NCAA's top player this season.
The Canadians pounded Raty with 50 shots at the world championships two years ago in Zurich, Switzerland, yet won by a score of just 2-0.
But Finland's goaltender and defensive unit did not hold up under Canada's onslaught Friday.
Trailing 3-0 in the second period, Finland's best chance to get into the game was Venla Hovi's back-to-back scoring chances and a two-man advantage for a minute and 50 seconds.
After Szabados stopped Hovi on a breakaway, the Finns had another opportunity on a turnover. Hovi thought she scored, but the Canadian net was pushed off its moorings and the referee waved it off. The Finns were unable to convert a five-on-three, with both Lauriane Rougeau (Beaconsfield, Que./Cornell University, ECAC) and Ward serving minors.
Agosta-Marciano scored her first of three goals with a minute to go in the second period and again less than two minutes into the third to make it 5-0. The Finns pulled Raty after Vaillancourt's goal at 4:26. Wakefield and Agosta-Marciano quickly scored on Raty's replacement, Raisanen.
The longer the Finns and Raty can keep Canada from scoring, the more confidence they gain. So Bram's first career goal for Canada's National Women's Team at 14:25 of the first period was a shot across Finland's bow. Jenner scored a pair before the period ended for her third and fourth goals of the tournament.
Over 300 girls' hockey teams have descended upon Ottawa for the Ontario Women's Hockey Association provincial championships, which contributed to Friday's game setting a single-game record for attendance at a female hockey game.
Ottawa held the previous record of 16,347. set Jan. 1, 2010, when Canada defeated the U.S. 3-2 in a shootout during a pre-Olympic game.
Montreal's Caroline Ouellette (Montreal, Que./Montreal, CWHL) also didn't play against the Swiss because of an upper-body injury, but returned to the lineup Friday to play her 200th career game for Canada.
She's the third player in history to reach that mark. Jayna Hefford (Kingston, Ont./Brampton, CWHL) is a game away from 250 and became the all-time leader in this tournament ahead of Wickenheiser at 247.
"To get to 200 international games with our national team, it's going to get harder and harder to get to that level with the quality of players we have coming through the under-18 and under-22 programs,'' Church said. "To keep your position on this team for that length of time is pretty special.''
---
THE MOMENT: Finland @ Canada – Friday, April 5
by Chris Kallan
OTTAWA, Ont. – On a night when SBP Arena was jammed to the rafters and rocking with the largest single-game crowd in women's ice hockey history.
On a night when fans – largely comprised of female players competing in the Ontario Women's Hockey Association provincial championships - jubilantly performed The Wave.
On a night when former Canadian hockey icon Cassie Campbell-Pascall told the crowd during the first intermission: "Don't let any dumb boys tell you that girls shouldn't play hockey."
On a night when Canada shut out Finland 8-0 to wrap up top spot in its group at the 2013 IIHF Ice Hockey Women's World Championship.
On a night when Stompin' Tom Connors belted out the infamous The Good Old Hockey Game song multiple times, and fans patriotically sang the Canadian national anthem at game's end.
Goosebumps.
Shivers down your spine.
Bailey Bram, a 22-year-old forward who hails from the tiny rural community of about 1,500 in Sainte-Anne-des-Chenes, Man., scored her first international goal for Canada's National Women's Team.
The game-winner, no less.
A rebound from near the slot at the 14:25 mark of the opening period against one of the best goaltenders in the world, Noora Raty.
In front of a record crowd of 18,013 – smashing the previous mark of 16,347, which was also achieved at SBP Arena on January 1, 2010 versus the United States, and surpassing that of even the 2010 Vancouver Olympic Winter Games – cheering wildly and sharing in this truly historic moment in women's hockey.
Now that's pretty cool.
Game Information/Renseignements sur le match
Game #/No. de match
12
Round/Ronde
Preliminary
Arena/Aréna
SBP Arena

Location/Lieu
Ottawa, Ont.

Date
Fri. Apr. 5, 2013

Time/Heure
7:30 p.m. ET

| Box Score/Compte | 1 | 2 | 3 | Total |
| --- | --- | --- | --- | --- |
| CAN | 3 | 1 | 4 | 8 |
| FIN | 0 | 0 | 0 | 0 |
Goals & Penalties/Buts et pénalités
First Period
Goals/Buts :
14:25 CAN Bailey Bram (Caroline Ouellette, Catherine Ward)
16:03 CAN Brianne Jenner (Courtney Birchard, Marie-Philip Poulin)
18:06 CAN Brianne Jenner (Jayna Hefford, Marie-Philip Poulin)

Penalties/Pénaltés :
08:11 CAN Jocelyne Larocque (Interference/Obstruction)
08:38 FIN Rosa Lindstedt (Tripping/Faire trébucher)
08:57 FIN Mira Jalosuo (Slashing/Coup de bâton)


Second Period
Goals/Buts :
19:00 CAN Meghan Agosta-Marciano (Haley Irwin, Sarah Vaillancourt)

Penalties/Pénaltés :
04:24 FIN Annina Rajahuhta (Tripping/Faire trébucher)
07:01 CAN Lauriane Rougeau (Tripping/Faire trébucher)
07:08 CAN Catherine Ward (High Sticking/Bâton élevé)
12:48 CAN Courtney Birchard (Interference/Obstruction)

Third Period
Goals/Buts :
01:38 CAN Meghan Agosta-Marciano (Haley Irwin, Catherine Ward)
04:26 CAN Sarah Vaillancourt (Meghan Agosta-Marciano, Tessa Bonhomme)
05:47 CAN Jennifer Wakefield (Rebecca Johnston)
06:52 CAN Meghan Agosta-Marciano (Sarah Vaillancourt, Courtney Birchard)

Penalties/Pénaltés :
02:26 FIN Anne Tuomanen (Hooking/Accrocher)
13:49 CAN Brianne Jenner (Hooking/Accrocher)
14:24 CAN Lauriane Rougeau (Tripping/Faire trébucher)
18:29 CAN Meaghan Mikkelson (Body-checking/Mise en échec corporelle)

Goaltenders/Gardien(ne)s de but
CAN
Shannon Szabados

FIN
Noora Raty (out 3rd/04:26)
Meeri Raisanen (in 3rd/04:27)

| Shots on Goal/Tirs au but | 1 | 2 | 3 | Total |
| --- | --- | --- | --- | --- |
| CAN | 21 | 12 | 10 | 43 |
| FIN | 5 | 7 | 4 | 16 |