Canada rolls along; Swiss overwhelmed to the tune of 13-0
by Andrew Podnieks, IIHF.com
Canada outshot Switzerland, 79-16.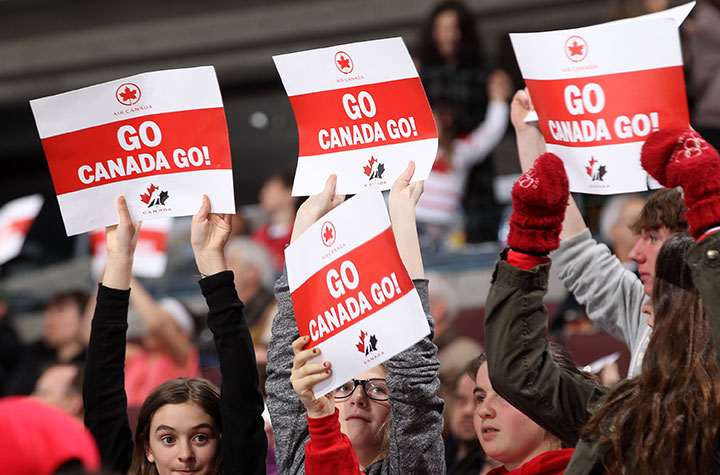 But perhaps the bigger story this night was the absence of three players from the game. Swiss coach Rene Kammerer opted to rest goalie Florence Schelling, starting Sophie Anthamatten instead. Although the move was counter-intuitive, Anthamaten was excellent and kept the score even remotely close.
For Canada, captain Hayley Wickeneheiser (Shaunavon, Sask./University of Calgary, CIS) and power forward Caroline Ouellette (Montreal, Que./Montreal, CWHL) were both scratches after suffering injuries in the team's first game. Jayna Hefford (Kingston, Ont./Brampton, CWHL) acted as caption tonight.
"Those two are a big part of our team and we were playing for them tonight," Marie-Philip Poulin (Beauceville, Que./Boston University, HE) said. "A couple of players scored great goals for us. We had a meeting with the coaches, talking about taking care of the details, and that's what we did tonight. We got a lot of shots on net."
Poulin joins Danielle Goyette, Angela James, and Laura Schuler as the only Canadians to score four goals in a Women's Worlds game.
"It's always an honour," Hefford said of her captaincy. "To be recognized as a leader by the team is nice, but we have so many leaders on this team it doesn't change a lot."
Canada hammered 28 shots at Anthamatten in the opening 20 minutes, scoring the only two goals. Jennifer Wakefield opened the scoring at 4:40 when she barrelled down the left wing. She was stopped by Anthamatten but picked up her own rebound and flicked it in the open side.
Eight minutes later, Poulin made it 2-0 on a goalscorer's play. She carried the puck in over the blue line, outwaited the defence as she moved into the slot, and snapped a great shot over the goalie's shoulder.
While the first might have been close on the scoreboard, the second wasn't. Canada pummelled the Swiss to the tune of six more goals of all shapes and sizes. There was Rebecca Johnston (Sudbury, Ont./Toronto, CWHL)'s wicked wrister on a power-play screen; a short-handed beauty from Hefford; a highlight-reel gem from Brianne Jenner (Oakville, Ont./Cornell University, ECAC), to name but half the period's tallies.
Canada finishes preliminary-round play with a game against Finland on Friday while the Swiss play the Americans earlier that day.
"It's always tough," Hefford said of playing such a lop-sided game. "The challenge is to make sure we don't get into bad habits. It's easy to take long shifts or do things that won't help us down the road. We had to stay disciplined and do the little things well."
---
THE MOMENT: Canada @ Switzerland – Wednesday, April 3
by Jamie Shinkewski
OTTAWA, Ont. - Marie-Philip Poulin set a new career best for goals in a women's world championship Wednesday night, in Canada's 13-0 victory over Switzerland at SBP Arena.
It was the largest margin that Canada has ever beaten Switzerland by at a world championship.
It also marks the first time Poulin, of Beauceville, Que., has scored four goals in a world championship tournament, let alone in a single game. In each of the past two world championships, Poulin scored three goals total during the events.
For a "moment," a very long moment, it did not seem like Poulin was going to get credit for her third goal of the night.
Poulin took a pass from Jayna Hefford and made a move to her backhand, rifling a shot that went off the back crossbar and bounced quickly out of the net.
The celebration had already begun, but the referee did not signal a goal. Instead, play continued for almost two minutes before the play was able to go to review.
Sure enough, the replay revealed what the 6,277 fans in attendance had also seen on the play, and Poulin was credited with her third of four goals on the evening.
With three other beautiful goals, it sure was a "moment" to remember for No. 29 in red.
Game Information/Renseignements sur le match
Game #/No. de match
8
Round/Ronde
Preliminary
Arena/Aréna
SBP Arena

Location/Lieu
Ottawa, Ont.

Date
Wed. Apr. 3, 2013

Time/Heure
7:30 p.m. ET

| Box Score/Compte | 1 | 2 | 3 | Total |
| --- | --- | --- | --- | --- |
| CAN | 2 | 6 | 5 | 13 |
| SUI | 0 | 0 | 0 | 0 |
Goals & Penalties/Buts et pénalités
First Period
Goals/Buts :
04:40 CAN Jennifer Wakefield
12:48 CAN Marie-Philip Poulin (Laura Fortino)

Penalties/Pénaltés :
08:01 CAN Catherine Ward (Body-checking/Mise en échec corporelle)
10:38 SUI Isabel Waidacher (Tripping/Faire trébucher)


Second Period
Goals/Buts :
03:49 CAN Rebecca Johnston (Catherine Ward, Jennifer Wakefield) PP/AN
05:30 CAN Jayna Hefford (Marie-Philip Poulin, Jocelyne Larocque) SH/AN
08:11 CAN Natalie Spooner (Rebecca Johnston)
13:32 CAN Brianne Jenner
17:46 CAN Sarah Vaillancourt (Haley Irwin, Lauriane Rougeau)
19:58 CAN Brianne Jenner (Jennifer Wakefield, Jocelyne Larocque)

Penalties/Pénaltés :
02:18 SUI Mariko Dale (Hooking/Accrocher)
04:56 CAN Catherine Ward (Checking from Behind/ Mise en échec par-derrière)
04:56 CAN Catherine Ward (10-Minute Misconduct/10 Minutes d'inconduite)
10:05 SUI Julia Marty (Cross Checking/Double-échec)
14:53 CAN Meaghan Mikkelson (Interference/Obstruction)

Third Period
Goals/Buts :
06:23 CAN Haley Irwin (Meghan Agosta-Marciano) PP/AN
07:37 CAN Marie-Philip Poulin (Jayna Hefford)
10:44 CAN Marie-Philip Poulin (Jayna Hefford)
15:42 CAN Meaghan Mikkelson (Bailey Bram, Gillian Apps)
16:45 CAN Marie-Philip Poulin (Tessa Bonhomme, Brianne Jenner)

Penalties/Pénaltés :
04:39 SUI Phoebe Stanz (High Sticking/Bâton élevé)
19:26 CAN Lauriane Rougeau (Body-checking/Mise en échec corporelle)


Goaltenders/Gardiennes de but

CAN
Charline Labonté

SUI
Sophie Anthamatten
Dominique Slongo (in 3rd/07:38)

| Shots on Goal/Tirs au but | 1 | 2 | 3 | Total |
| --- | --- | --- | --- | --- |
| CAN | 28 | 26 | 25 | 79 |
| SUI | 10 | 5 | 1 | 16 |