Rookie Reflections:
A 2013 IIHF Ice Hockey Women's World Championship Blog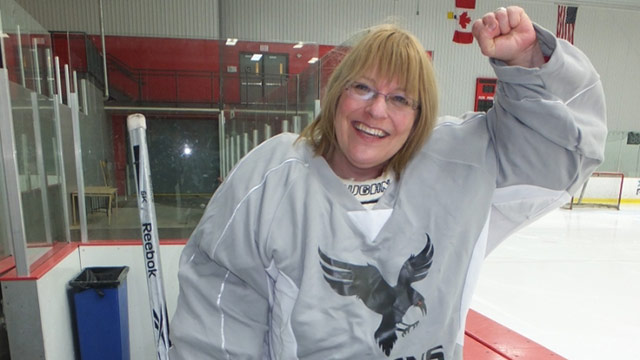 FRIDAY, MARCH 1: THE PUCK STOPS HERE!?
by Tracy Gagnon
photos by Ian Hunter
Have you ever wondered what it would be like to get hit hard with a hockey puck?
If you play hockey, you probably already know. But if you're a rookie, like me, and have watched a goalie get pelted over and over by sizzling shots, you might have just thought, "Gee, I bet that hurts."
I am a coward by nature. I don't like to get hit with stuff. On the other hand, I am insatiably curious about everything. Just like a cat, curiosity always wins out and I always find myself way out of my comfort zone, doing something crazy just for the experience.
Thus, I found myself recently at Carleton University's Ice House getting hit with pucks. I simply had to know what it felt like.
But let me start at the beginning. I contacted old friend Shelley Coolidge, head coach of the Carleton University Raven's women's hockey team, which competes in the CIS (Canadian Interuniversity Sport), and she invited me to a practice. Here's what happened:
My time in goal is finally here and I am excited. Reaching for the Ice House door, fear grips my heart. Excitement too, but I have to admit, it's mostly fear. What have I gotten myself into this time?
Roger Dixon, front desk staff at the Ice House and my first point of contact, gives me my first piece of advice: "Face the puck straight on or it's going to hurt." He explains that by cowering in the corner of the net, which I had fully intended to do, I am more likely to get hit in unprotected parts, like the sides of the torso.
Cowering game plan thwarted, I march gallantly into the dressing room and announce, "I'm here. Suit me up." The girls point to a heap of goalie equipment. I walk over and carefully pluck something from the pile, like it's a highly toxic endangered species.
"The Jill goes on first," someone says.
"The what!?"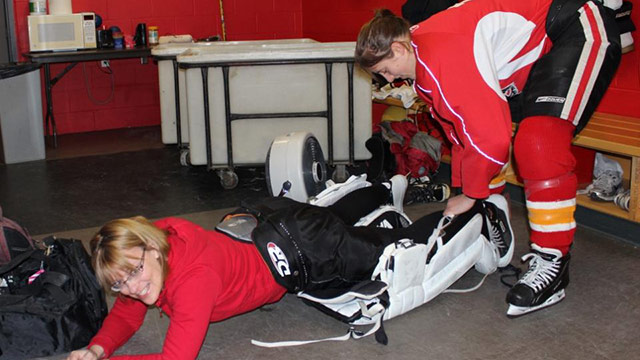 I learn two things in this moment. Firstly, that the tall girl I'm speaking to is Kelsey Evershed, who plays forward for the Ravens. She's a high scorer and the person who is about to hit me with hockey pucks. Secondly, a Jill is the corresponding piece of equipment to a Jock for boys and covers, well, sensitive anatomy.
A Jill looks a lot like bicycling shorts. I stretch them over my tights. Kelsey then instructs me to put on the hockey pants hanging on the hook. I'm beginning to feel a little silly as I pull the short pants up and reef the suspenders over my shoulders. They're like baggy lederhosen or clown pants. I look down at my burgeoning body. I feel enormous. A little like Bib, the Michelin Man.
"Skates are next," I'm prompted like a three-year-old dressing myself for the first time.
I show her my hockey skates. "I brought my own," I say proudly. No figure skates for this girl!
She directs me to goalie skates. Imagine! Skates just for goalies. They look like regular hockey skates, except for an extra piece of plastic around the toe. She says they'll protect my feet while in net better than my skates. How much protection do my feet need against a rubber puck, anyway?
Then I remember, I haven't put on the giant leg pads yet – skates before giant leg pads? How exactly is this going to work? Kelsey's bigger than I am so I don't argue.
I lace up my borrowed goalie skates, already with enough hockey equipment to make it an uncomfortable endeavour.
"Lie down on top of the pads," Kelsey says.
"On the floor?" I wonder. Her looks tells me, "where else!?"
I do her bidding and she somehow attaches the skates to the pads. Then she's snapping and buttoning and attaching the pads onto my legs.
I truly do not know how I am going to stand up. I flail like a floundering fish, mouth opening and closing as I try to catch my breath in this get-up. I find a solution. I rock to and fro until I can grab the bench behind me and pull myself to my feet. There, I'm ready for the ice!
Not quite. There is the little matter of a chest protector. I understand this element intuitively. Protect "the girls" at all cost. But this is a strange contraption. It's like a stuffed shirt with holes in the armpits and elbow pads – half source of protection, half torture device.
And on top of that? The Ravens jersey. Aided by Kelsey, I struggle into it and I am now standing there, feeling accomplished but less comfortable in my own skin than I ever have. But wait, there's more!
The discomfort continues as I squish my head (avec glasses) into the helmet and robotically place the gloves on my hands. Half an hour after I began the procedure, I am ready! I waddle to the door, clasp a hockey stick between my flippers and waddle out to the ice.
Kelsey tells me and I repeat the mantra, "If you're going to fall, fall forward." As I place one careful foot onto the ice and then the other, I hold onto the boards with a death grip. The team cheers me on, so I throw caution to the wind and robot-walk to centre ice.
Kelsey has other plans. She waves me over to the far end of the ice. "Way over there?" I think. I then use my stick as a crutch and robot-walk to the other end of the rink. Fall forward. Fall forward. Fall forward.
I made it! I'm geared up. I'm in nets. I'm ready for action.
"You're holding the stick wrong," Kelsey says. She patiently shows me how to hold the stick in front of me, hand grasping the wood in the front, left hand ready to scoop the puck.
She skates away and takes a few easy shots to help me get the feel of it. I know goalies move back and forth a lot, but I can't make my feet move. Grabbing the puck out of the air with the glove is, alas, a pipe dream.
Then a man who I noticed earlier talking to the girls at the other end of the rink skates towards me. Kelsey tells me he's goalie coach Tom Dempsey. Good, I could use some tips.
"Uh, you've got your pads on the wrong legs. If you want a good picture, you'll want to change them," he says.
I laugh, "That's just good comedy!" Good picture or a cheap laugh? I'll go with the cheap laugh every time! Wrong Legs Gagnon will keep the pads where they are.
He skates away – no more tips. I'm guessing he recognized there was no point.
After a few more shots, I taunt Kelsey, "Is that all you got!?"
"Okay," she replies. "Are you ready for a slap shot?"
"Bring it on!"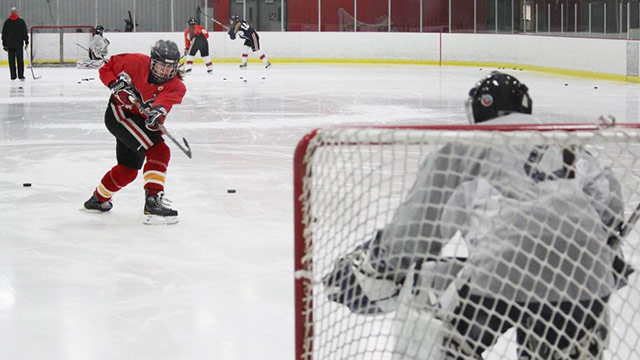 Her first shot hits me square in the belly. I feel it a little. She takes another shot and it hits the leg pad. No problem. I can't help but giggle. This is fun!
With another shot, she hits me in the belly again. Felt that one a little more. And then … my ears are ringing. She's hit me square in the face mask. That hurt!
Kelsey apologizes and asks if I'm okay. "Okay?! Are you kidding?! This is what I came here for! I love this!"
Kelsey continues to pummel me. I continue to giggle. Then my photographer, Ian Hunter, pulls the plug. His parking meter has run out and he has to leave.
Sadly, my time in nets is done. I pose for Ian as I come off the ice victoriously and head back to the change room to peel off the goalie layers. This was so fun, but I'm under no illusion: I'm unlikely to be called up by Canada's National Women's Team.
As I walk out of the change room I call out, "Thanks girls, it's been a blast and I promise I'll never try out for the Ravens!"
Your Hockey Rookie,
Tracy
P.S. Thanks to Shelley Coolidge and Ravens women's hockey for allowing me into your world, if only for a little while. Thanks especially to Kelsey Evershed for helping me through my experience. Thanks to Ian Hunter for his great pictures.
---
About Rookie Reflections: Tracy Gagnon is an Ottawa, Ont., resident and a media volunteer for the 2013 IIHF Ice Hockey Women's World Championship. A self-admitted hockey newbie, Tracy and her fellow volunteers, who are generously giving their energy and time to make this event a success, will take us behind the scenes at SBP Arena in Ottawa, Ont., the Nepean Sportsplex and everywhere in between for the inside scoop on what goes into hosting a major world championship in the nation's capital – all from the eyes of a total rookie.