Rookie Reflections - April 6, 2013
Rookie Reflections:
A 2013 IIHF Ice Hockey Women's World Championship Blog
SATURDAY, APRIL 6: SCREAMING PYLON
by Kaarina Stiff, guest blogger
Watching the 2013 IIHF Ice Hockey Women's World Championship reminds me of just how far women's hockey has come.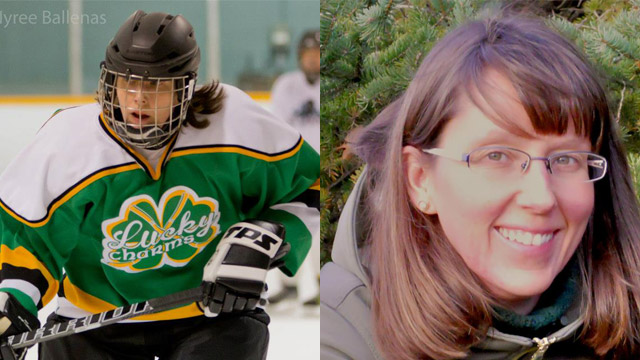 It never occurred to me that I could play hockey. I was 34 years old when I came home from work one day and notified my husband that I was joining a women's recreational hockey league. We had been together for nine years, and he didn't see it coming.
"Do you even know how to skate?" he asked.
The last time I had laced up skates was in university. I volunteered for a children's March break day camp at Carleton University here in Ottawa, and I escorted a group of unruly seven-year-olds to a local rink.
"If I can haul myself around the ice with a pack of screaming kids hanging off my arms, I think I can manage a hockey stick," I said.
I had been inspired. I was a rabid Senators fan with the basement décor to prove it. Then, standing by the microwave at the office one noon hour, I heard a co-worker talking about tomorrow night's game.
"The Sens don't play tomorrow night, do they?" I asked.
"No," she said. "I do." I was confused. We were office workers. Bureaucrats. And women.
Her face lit up like a scoreboard when she described it. She skates, she shoots, and she scores! She described the league: the positive atmosphere, the friendships, and the beer.
As a kid, I never played hockey. Girls in my east Toronto neighbourhood just didn't do that. My dad bought me figure skates when I was six, and I learned how to skate in circles at an outdoor rink. By the time I was 11 years old, I could chase boys at the indoor arena on Friday nights, when admission and a hot chocolate cost a buck.
Even after moving to Ottawa, with the world-famous canal, skating didn't interest me. A few years later, I heard about adult women's hockey.
The next time I watched a Senators game, I imagined myself in a Daniel Alfredsson jersey, curling around the face-off circle. There would be a learning curve, yes, but learn I would. I snagged the last spot in the league, and had three days to buy equipment before my first game.
I soon realized that learning to play hockey as an adult brings certain challenges. Like fear, for example. Of falling. Or not being able to get up. It doesn't matter that I was armoured like a turtle, I was afraid of hurting myself.
If they had been handing out nicknames that season, mine might have been "Pylon." I fell flat on my face every time I touched the puck, and I didn't know how to stop. But I could follow instructions. I learned how to make a nuisance of myself in the defensive zone, planting myself with my backside facing my opponent at the blue line. I learned to park myself beside the net in the offensive zone with my stick on the ice to deflect juicy rebounds. I cheered from the bench, banging my stick on the boards, and I screamed at the top of my lungs when we scored.
At 40, I now play three days a week. I still harbour latent fears of dislocating a limb, but I skate a little smoother and even score a goal from time to time. My teammates are among my best friends, my husband is our coach, and I can't imagine my life without hockey. And now I realize that until I gave hockey a try, it never occurred to me what I was missing.
This past week, as I've had the good fortune to watch the best female hockey players from all around the world, I hope that a new generation of girls and young women are inspired to play the game to its fullest.
And I will scream from the stands, soaking up all that this world-class tournament has to offer.
---
About Rookie Reflections: Kaarina Stiff is an Ottawa, Ont., resident who is guest blogging for Rookie Reflections. She is a publications volunteer for the 2013 IIHF Ice Hockey Women's World Championship, a public servant by day, and spends most of her spare time playing recreational hockey and writing. Kaarina and her fellow volunteers, who are generously giving their energy and time to make this event a success, are taking us behind the scenes at SBP Arena in Ottawa, Ont., the Nepean Sportsplex and everywhere in between for the inside scoop on what goes into hosting a major world championship in the nation's capital.