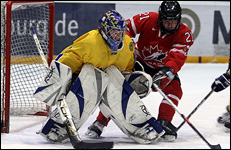 CANADA 1 – SWEDEN 2
GOLD MEDAL | TUE. JAN. 6
Meghan Agosta opened the scoring early in the second period but Sweden scored the game's final two goals to score a 2-1 win in the gold medal game, the first time in seven years that Canada has not taken home the tournament title. Canada saw its 11-game tournament winning streak snapped.
CANADA 3 - GERMANY 0
SEMI-FINAL | MON. JAN. 5
Vicki Bendus, Haley Irwin and Bailey Bram scored the goals and Christina Kessler made 20 saves for the shutout as Canada advanced to the gold medal game, and kept its hopes for a seventh straight title alive, with a victory over the host Germans.
CANADA 11 – RUSSIA 0
PRELIMINARY | SUN. JAN. 4
Rebecca Johnston had a natural hat trick and added an assist and 14 players recorded at least a point as Canada moved into the semifinals at the 2009 MLP Cup with an 11-0 win over Russia on Sunday. Courtney Birchard added four assists in the victory.
CANADA 3 – FINLAND 0
PRELIMINARY | FRI. JAN. 2
Canada opened defence of its 2009 MLP Cup with a 3-0 blanking of Finland on Friday in Ravensburg, GER. Canadian captain Meghan Agosta had a pair of goals in the victory, while linemates Rebecca Johnston and Haley Irwin had two assists apiece.
CANADA 7 – SWITZERLAND 0
EXHIBITION | WED. DEC. 31
Captain Meghan Agosta had a hat trick and added an assist and Jennifer Wakefield finished with four helpers as Canada scored a 7-0 win over Switzerland's National Women's Team in Grusch, SUI, the final tune-up before the start of the 2009 MLP Cup.
CANADA 8 – SWITZERLAND 1
EXHIBITION | MON. DEC. 29
Canada opened preparations for defence of its MLP Cup title with an 8-1 victory over Switzerland's National Women's Team in Chur, SUI. Natalie Spooner finished with two goals and two assists, while Brittaney Maschmeyer pitched in with three helpers.
NATIONAL WOMEN'S U22 TEAM
ROSTER NAMED FOR 2009 MLP CUP
Twenty-one of the 22 players from the August three-game series against the United States return, including Olympic gold medalist Meghan Agosta, as Canada's National Women's Under-22 Team chases a seventh-consecutive gold medal at the 2009 MLP Cup. » more