UNITED STATES 4 - CANADA 5 (OT)
GOLD MEDAL | SAT. APR. 3
Canadian captain Jessica Campbell tipped home the game-winner early in overtime as Canada claimed its first women's U18 gold medal with an extra-time win over the Americans. The Canadians fought back from 1-0, 3-1 and 4-2 deficits to take home the top prize. Laurie Kingsbury, Christine Bestland, Mélodie Daoust and Jenna McParland also scored for Canada.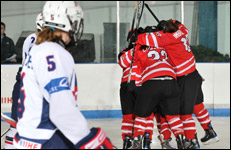 OLYMPIC AND WORLD CHAMPIONS
TO BE HONOURED IN EDMONTON
Hockey Canada's Olympic gold medalists and the women's under-18 world champions will be honoured at a special event at Commonwealth Stadium as part of the Hockey Canada Foundation's gala and golf. » more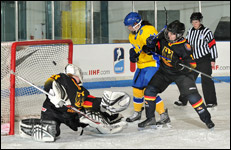 SWEDEN 7 - GERMANY 3
BRONZE MEDAL | SAT. APR. 3
Rebecca Stenberg had a hat trick in the first period and Lisa Johansson scored two goals of her own as Sweden claimed the women's U18 bronze medal for the second year in a row with a one-sided win over Germany.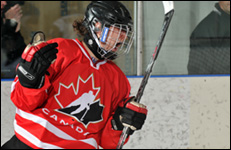 CANADA 10 – GERMANY 0
SEMIFINAL | FRI. APR. 2
Jessica Campbell and Jillian Saulnier scored two goals each during a seven-goal third period as Canada advanced to play for gold for the third year in a row with its second double-digit win over Germany in six days.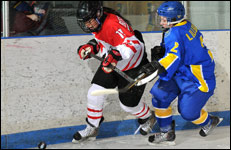 CANADA 8 – SWEDEN 0
PRELIMINARY | TUE. MAR. 30
Brigette Lacquette scored once and added three assists and eight different players scored goals as Canada wrapped up first place in Group B and an automatic berth in the semifinals by blanking the Swedes.
GERMANY 0 – CANADA 15
PRELIMINARY | SUN. MAR. 28
Canada's offence got back on track in a big way, striking for fifteen goals in a win over the Germans. Jessica Campbell scored twice and added four assists in the win, while 11 different Canadians recorded goals.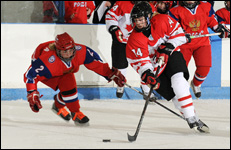 CANADA 6 – RUSSIA 3
PRELIMINARY | SAT. MAR. 27
Brigette Lacquette scored once and added two assists as Canada opened the U18 Worlds by knocking off a pesky Russian side. Jillian Saulnier, Mélodie Daoust and Sarah Davis finished with a goal and a helper each.