Pounder's Perspective – Friday, February 21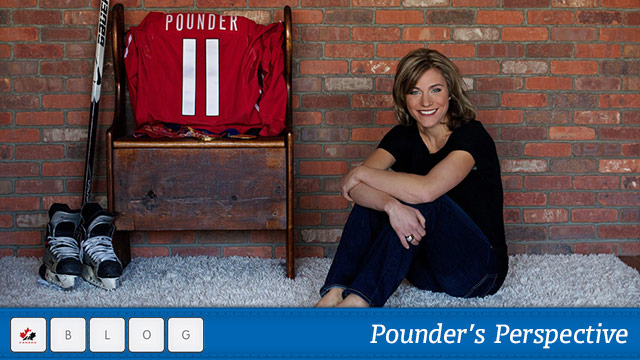 3:26 to go … it is a moment that will live in the memories of our Canadian women forever. It is a very short period of time that changed lives. How many people turned off their television in defeat? How many kept it on with a flicker of hope? How many yelled at the official who interfered with Catherine Ward? How many held their breath when the puck hit the post? How many cried when Marie-Philip Poulin scored the Golden Goal … again? How many told their children to never give up? From coast to coast, we were inspired by the inner strength and courage to FIGHT!
3:26 to go … the bench erupted as Brianne Jenner raised her arms in celebration. A team that once seemed disjointed was now linked arm in arm with one common goal. The energy they projected jumped out of the television and popped me in the face. It was the same energy I felt in 2002, that certain something that you can't explain, but you know it's special. I felt like crying. This was the energy of champions.
3:26 to go … it reminds me of when Simon Whitfield threw his cap off during the final stretch of his Olympic triathlon. It was as if he was having an inner battle with himself, questioning whether he had anything left. Then, off came the cap. A decision was made … a decision to give everything he had and go to a place where very few go. He found something 'extra,' that certain strength that is deep within us. Our Canadian women threw their cap off; their final leg was nothing short of miraculous.
3:26 to go … the moment that girls, boys, moms, dads, sisters, brothers, aunts, uncles, grandmas and grandpas all cheered in unison – GO CANADA GO!
3:26 to go … the time it took to ignite hope and inspire others to find their own fight.
3:26 to go … WOW!
Thanks, ladies!