EVAN TSCHUMI SCORES TWICE; MIDGET FLAMES SKATE AWAY WITH WIN
CALGARY, Alta. – The Midget AAA Calgary Flames started and ended strong at this weekend's Icebreaker Tournament at the Markin MacPhail Centre, beating the SEAC Tigers 4-1 in their final game Sunday.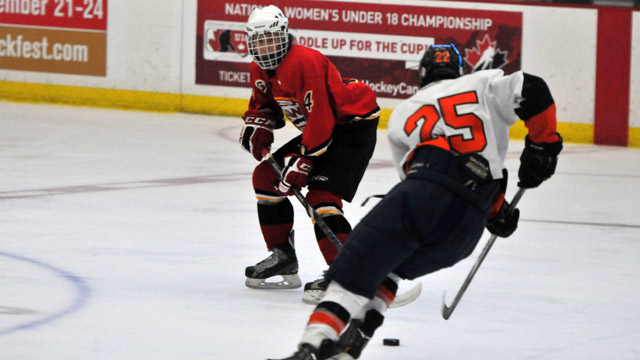 It was a small taste of revenge for the Flames, who fell 6-5 to the Tigers in overtime Saturday in a heated on-ice battle that continued Sunday. Earlier in the tournament, Calgary was also edged out by the Strathmore Bisons 4-3 on Friday, but did beat Canada's National Women's Team 3-2 to kick off the tournament Thursday night. SEAC also suffered two losses in the tournament, falling to Canada 5-1 on Friday and 4-2 to the Strathmore Bisons on Thursday.
The Calgary-SEAC re-match proved to be just as intense as the original, with penalties again handed back and forth through all three periods in a highly physical on-ice battle. But the Flames managed to get on the board early in the game, with Dondre Watson finding the back of the SEAC net at 3:26 in the first. Fellow forward Carter Czaikowski was able to follow suit by capitalizing on a power play, making it 2-0 for the Flames at 6:29 in the period.
Calgary carried its lead into the second and the puck flew up and down the ice through much of the period, but being sent to the box was again an issue for both teams. It wasn't until 18:07 on a power play of its own that SEAC was finally able to narrow the gap on a goal from Michael Doneff, making it 2-1, albeit for a short period of time. Calgary regained its two-goal lead when Evan Tschumi scored his first of two on the game in the last 25 seconds of the middle frame.
The two Alberta Midget Hockey League teams continued to push, rub and shove into the third, but Tschumi's second goal at 16:57 in the period sealed the 4-1 final for Calgary. A late game time-out wasn't enough to get SEAC in the game, and the Flames snagged the bragging rights over the Tigers this time around.
This weekend's Icebreaker Tournament has been a warm-up to Team Canada's exhibition schedule for the 2013-14 season, which includes more than 30 games against Midget AAA teams from the Alberta Midget Hockey League. These games are pivotal as Canada's National Women's Team prepares for the 2014 Olympic Winter Games in Sochi, Russia. Get the full schedule at www.hockeycanada.ca/nwt.
Game Information/Renseignements sur le match
Game #/No. de match
7
Round/Ronde
Icebreaker
Arena/Aréna
Markin MacPhail Centre – Rink A
Location/Lieu
Calgary, Alta.

Date
Sunday, September 22, 2013

Time/Heure
13:00 MT

| Box Score/Compte | 1 | 2 | 3 | Total |
| --- | --- | --- | --- | --- |
| CGYF | 2 | 1 | 1 | 4 |
| SEAC | 0 | 1 | 0 | 1 |
Goals & Penalties/Buts et pénalités
First Period/Première période
Goals/Buts :
03:26 CGYF Dondre Watson (Bryson Traptow, Sam Young)
06:29 CGYF Carter Czaikowski (Mark Rassell) PP/AN

Penalties/Pénalités :
06:27 SEAC Jordan Taupert (Head Contact/Contact avec la tête)
07:49 SEAC Tash Bowles (Cross-checking/

Double-

é

chec

)
08:11 CGYF Evan Tschumi (Hooking/Accrocher)
09:53 CGYF Carter Czaikowski (Cross-checking/

Double-

é

chec

)
11:58 SEAC Brody Hailwood (Interference/Obstruction)
13:34 CGYF Nolan Kurylo (Roughing/Rudesse)
13:34 SEAC Erik Kardash (Head Contact/Contact avec la tête)
13:34 SEAC Erik Kardash (Head Contact/Contact avec la tête)
Second Period/Deuxième période
Goals/Buts :
18:07 SEAC Michael Doneff (Jordan Taupert) PP/AN
19:35 CGYF Evan Tschumi (Curtis Ceccanese, Carter Czaikowski)

Penalties/Pénalités :
01:16 SEAC Ryan Grant (Check from Behind/Mise en échec par derrière)
04:00 CGYF Austin Wong (Slashing/

Coup de bâton

)
06:44 SEAC Ryland Bjorndahl (Head Contact/Contact avec la tête)
06:44 SEAC Ryland Bjorndahl (Head Contact/Contact avec la tête)
08:42 CGYF Sam Young (Charging/Assaut)
14:42 CGYF Taran Mathieson (Slashing/

Coup de bâton

)
14:42 CGYF Taran Mathieson (Game Misconduct/Extrême inconduite)
17:12 CGYF Dondre Watson (Holding/Retenir)
18:30 SEAC Cole Bohnet (Tripping/Faire trébucher)
Third Period/Troisième période
Goals/Buts :
16:57 CGYF Evan Tschumi (Nolan Kurylo, Ryland Bjorndahl)

Penalties/Pénalités :
02:11 SEAC Austin Wong (Cross-checking/

Double-

é

chec

)
06:15 CGYF Evan Tschumi (Boarding/Donner de la bande)
06:15 SEAC Jordan Taupert (Head Contact/Contact avec la tête)
06:15 SEAC Bench/Banc
08:27 SEAC Cody Verge (Head Contact/Contact avec la tête)
08:27 SEAC Cody Verge (Head Contact/Contact avec la tête)
11:23 CGYF Bench/Banc (Too Many Players/Trop du joueurs)
18:02 CGYF Erik Kardash (Interference/Obstruction)
Goaltenders/Gardiens de but
CGYF
Riley Morris
SEAC
Dan Maier; Kyler Komistek (in 2nd/00:00)
| Shots on Goal/Tirs au but | 1 | 2 | 3 | Total |
| --- | --- | --- | --- | --- |
| CGYF | 11 | 10 | 13 | 34 |
| SEAC | 8 | 5 | 3 | 16 |