Strathmore Bisons 4 - Calgary Flames 3
BISONS EDGE FLAMES 4-3 FOR SECOND STRAIGHT WIN AT ICEBREAKER
CALGARY, Alta. – Make that two straight for the Strathmore Bisons.

Tyler Sharuga opened the scoring midway through the first Friday evening, while Matthew Forchuk closed it off with the game-winner late in the third, to give Strathmore the 4-3 edge over the Calgary Flames - and its second straight win at this weekend's Icebreaker Tournament at the Markin MacPhail Centre.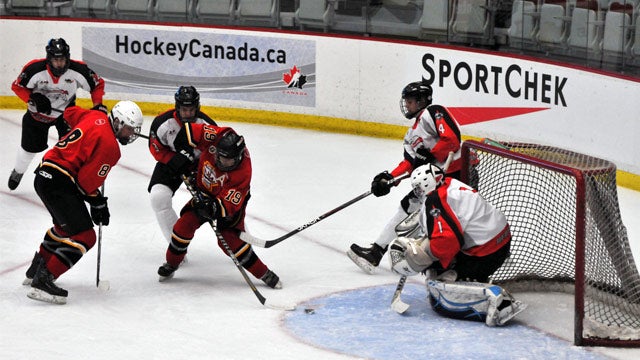 The tournament is being hosted by Canada's National Women's Team and features three teams from the Alberta Midget Hockey League. Sharuga kicked off Friday's scoring at 11:44 in the first, with help from Noah Bigland and Troy Van Tetering.

The Calgary Flames (1-1) put up a good fight on Day 2, however, with Curtis Ceccanese scoring a shorthanded goal just over a minute into the second to tie it up. That gave the Flames the momentum they needed to steal the lead, with Bryson Traptow putting a power-play marker into the back of the net to make it 2-1 at 3:57 in the middle frame.
But that would be the last lead of the game for the Flames. Clay Murray added another on the score sheet for the Strathmore Bisons (2-0) on a power play at 14:54 in the second to even it out again going into intermission.
An unassisted marker from William Conley early in the third gave the edge back to Strathmore, and despite another tying goal from Taran Mathieson of the Flames, the game belonged to the Bisons, with Matthew Forchuk answering back at 17:31 for the 4-3 final.
The Calgary Flames next face the SEAC Tigers from Medicine Hat on Saturday at 12 p.m. MT, while the Strathmore Bisons will look for their third straight win against Team Canada at 3 p.m. MT on Day 3 of the Icebreaker Tournament at Hockey Canada's home arena in Calgary.
Canada's National Women's Team will continue taking on Midget AAA teams from across the province throughout the 2013-14 season, in preparation for the 2014 Olympic Winter Games in Sochi, Russia. Follow all the Team Canada action live from the rink at www.twitter.com/hc_women.
Game Information/Renseignements sur le match
Game #/No. de match
3
Round/Ronde
Icebreaker
Arena/Aréna
Markin MacPhail Centre – Rink A
Location/Lieu
Calgary, Alta.

Date
Friday, September 20, 2013

Time/Heure
06:00 MT

| Box Score/Compte | 1 | 2 | 3 | Total |
| --- | --- | --- | --- | --- |
| STR | 1 | 1 | 2 | 4 |
| CGYF | 0 | 2 | 1 | 3 |
Goals & Penalties/Buts et pénalités
First Period/Première période
Goals/Buts :
11:44 STR Taylor Sharuga (Noah Bigland, Troy Van Tetering)

Penalties/Pénalités :
04:06 STR Mason McCarty (Head Contact/Contact avec la tête)
06:20 STR Tristan Thompson (Roughing/Rudesse)
06:20 CGYF Cole Davis (Cross-checking/

Double-

é

chec

)
07:53 CGYF Sam Young (Roughing/Rudesse)
14:31 STR Jack Vergouwen (Interference/Obstruction)
17:31 CGYF Mark Rassell (Hooking/Accrocher)
19:54 CGYF Jackson Riddell (Tripping/Faire trébucher)
Second Period/Deuxième période
Goals/Buts :
01:11 CGYF Curtis Ceccanese (Patrick Lyster) SH/DN
03:57 CGYF Bryson Traptow (Dondre Watson) PP/AN
14:54 STR Clay Murray (Zachary Giroux) PP/AN

Penalties/Pénalités :
02:31 STR Tyler Sharuga (Boarding/Donner de la bande)
10:01 STR Brayden Biccum (Head Contact/Contact avec la tête)
10:01 STR Brayden Biccum (Head Contact/Contact avec la tête)
14:36 CGYF Taran Mathieson (Cross-checking

/Double-

é

chec

)
14:36 CGYF Taran Matheson (Head Contact/Contact avec la tête)
19:01 STR Mason McCarty (Interference/Obstruction)
Third Period/Troisième période
Goals/Buts :
02:20 STR William Conley
16:19 CGYF Taran Mathieson
17:31 STR Matthew Forchuk (Ryan Zeniuk, Shane Fraser)

Penalties/Pénalités :
10:23 STR Jack Vergouwen (Kneeing/Donner du genou)
Goaltenders/Gardiennes de but
STR
Austin Beauchamp; Carter Seminuk (in 2nd/10:01)
CGYF
Matt Huber; Josh Bolding (in 2nd/10:01)
| Shots on Goal/Tirs au but | 1 | 2 | 3 | Total |
| --- | --- | --- | --- | --- |
| STR | 7 | 10 | 4 | 21 |
| CGYF | 7 | 11 | 3 | 21 |