FLAMES USE THREE-GOAL BURST TO BEAT CANADIAN WOMEN AT ICEBREAKER
CALGARY, Alta. – Jennifer Wakefield (Pickering, Ont./Toronto, CWHL) and Brigette Lacquette (Waterhen, Man./University of Minnesota Duluth, WCHA) scored goals, but Canada's National Women's Team dropped a 3-2 decision to the AMHL's Calgary Flames in the Icebreaker Tournament opener for both on Thursday night.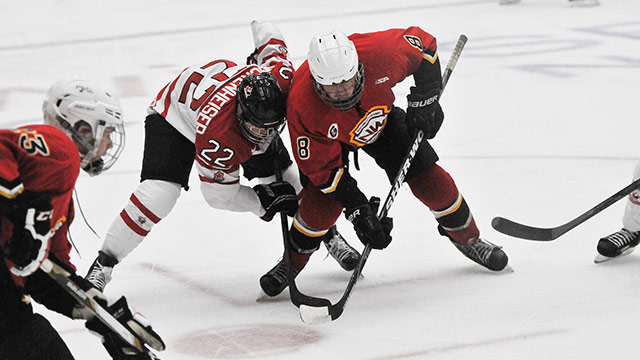 The tournament includes the national side and a trio of Alberta Midget Hockey League teams, and is a preview of Canada's National Women's Team Midget Series, a 26-game schedule to help Team Canada prepare for the 2014 Olympic Winter Games.
Wakefield opened the scoring for Canada (0-1) just past the eight-minute mark, driving to the net and jamming home the rebound of a Rebecca Johnston (Sudbury, Ont./Toronto, CWHL) shot.
It was the lone goal in a first period that saw the Canadians outshoot the Flames 13-7.
Calgary (1-0) equalized 2:28 into the second period off the stick of Dondre Watson, and took the lead for good six minutes later when Zach Finlay converted a penalty shot, going low to the blocker side past Canadian netminder Geneviève Lacasse (Kingston, Ont./Boston, CWHL).
The insurance goal came midway through the middle frame, with Curtis Ceccanese redirecting a Watson feed past Lacasse for the 3-1 goal.
Lacquette got one back for Canada late in the second period, hammering a point shot off the post and in just one second after a Canadian power play had ended, but that would be as close as the women's side would get.
Both teams directed six shots on goal in the third period; overall, Canada held a 25-21 advantage.
Austin Hannaford made 23 saves to pick up the win for the Flames, while Lacasse finished with 18 stops.
Canada makes its second attempt at win No. 1 on Friday night when it faces the SEAC Tigers in the late game (9 p.m. MT), while the Flames will meet the Strathmore Bisons in a battle of 1-0 teams in the early contest (6 p.m. MT).
Game Information/Renseignements sur le match
Game #/No. de match
2
Round/Ronde
Icebreaker
Arena/Aréna
Markin MacPhail Centre – Rink A
Location/Lieu
Calgary, Alta.

Date
Thursday, September 19, 2013

Time/Heure
20:30 MT

| Box Score/Compte | 1 | 2 | 3 | Total |
| --- | --- | --- | --- | --- |
| CAN | 1 | 1 | 0 | 2 |
| CGYF | 0 | 3 | 0 | 3 |
Goals & Penalties/Buts et pénalités
First Period/Première période
Goals/Buts :
08:03 CAN Jennifer Wakefield (Rebecca Johnston)

Penalties/Pénalités :
16:49 CAN Jenelle Kohanchuk (Hooking/Accrocher)
Second Period/Deuxième période
Goals/Buts :
02:28 CGYF Dondre Watson
08:40 CGYF Zach Finlay PS/TP SH/DN
10:10 CGYF Curtis Ceccanese (Dondre Watson)
15:31 CAN Brigette Lacquette (Hayley Wickenheiser)

Penalties/Pénalités :
04:24 CAN Meaghan Mikkelson (Interference/Obstruction)
06:41 CGYF Dondre Watson (Roughing/Rudesse)
10:42 CGYF Evan Tschumi (Cross-checking/Double-échec)
13:30 CGYF Evan Tschumi (Boarding/Donner de la bande)
Third Period/Troisième période
Goals/Buts :
None/Aucun

Penalties/Pénalités :
08:23 CAN Gillian Apps (Roughing/Rudesse)
08:23 CGYF Alex Cheveldave (Slashing/Coup de bâton)
12:41 CAN Jocelyne Larocque (Interference/Obstruction)
Goaltenders/Gardien(ne)s de but
CAN
Geneviève Lacasse
CGYF
Austin Hannaford
| Shots on Goal/Tirs au but | 1 | 2 | 3 | Total |
| --- | --- | --- | --- | --- |
| CAN | 13 | 6 | 6 | 25 |
| CGYF | 7 | 8 | 6 | 21 |