LESSONS LEARNED IN TEAM CANADA'S 6-3 LOSS TO LEDUC OIL KINGS
by Kristen Lipscombe
LEDUC, Alta. – Canada's National Women's Team started out strong in Saturday night's road game against Leduc, but had run out of gas by the time the final buzzer sounded, with the AMHL's Oil Kings scoring three straight goals in the last 10 minutes, en route to an eventual 6-3 win over the ladies in red and white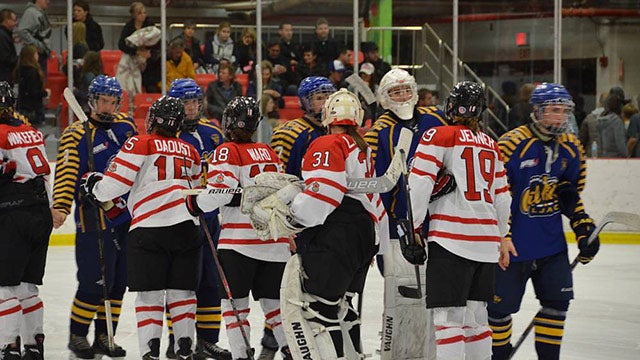 Leduc's sixth and final goal was an empty-netter from Justin Young with 26 seconds left on the clock. Young also assisted goals by Noah Gregor and Tristan Starzynski late in the third to seal the win for his Alberta Midget Hockey League team.
Forward Haley Irwin (Thunder Bay, Ont./Montreal, CWHL), who also put down multiple points on the score sheet, including Canada's second goal of the game late in the middle frame on a rebound, and an assist on a power-play marker from Rebecca Johnston (Sudbury, Ont./Toronto, CWHL) early in the third, said not all was lost in what was the seventh game of Canada's National Women's Team Midget Series.
"We all came out on the same page," Irwin said of Team Canada's post-game discussion in the dressing room. "We've already learned from it, and we're more than ready to go for the next game."
Canada continues its road trip with a game against the St. Albert Raiders on Monday, Oct. 28, with the puck dropping at 7:45 p.m. MT at the Northstar Hyundai Arena in St. Albert, Alta. That's followed by another away game Wed, Oct. 30 against the Edmonton Knights of Columbus Pats, with a start time of 8:15 p.m. MT at Bill Hunter Arena.
Follow Canada's National Women's Team as it continues to play Midget AAA teams across Alberta, as parts of its Road to Sochi 2014, at www.hockeycanada.ca/nwt, www.facebook.com/hockeycanada and www.twitter.com/hc_women.
---
Game Information/Renseignements sur le match
Game #/Match no

7
Round/Ronde
Midget Series
Arena/Aréna
Leduc Recreation Centre

Location/Lieu
Leduc, Alta.

Date
Saturday, October 26, 2013

Time/Heure
21:00 MT
| Box Score/Compte | 1 | 2 | 3 | Total |
| --- | --- | --- | --- | --- |
| CAN | 1 | 1 | 1 | 3 |
| LED | 1 | 2 | 3 | 6 |
Goals & Penalties/Buts et pénalités
First Period/Première période
Goals/Buts :
12:50 LED Curtis Miske (Tanner Younghans) PP/AN
13:05 CAN Meghan Agosta-Marciano (Jennifer Wakefield, Catherine Ward)

Penalties/Pénalités :
05:03 CAN Bench/Banc (Too Many Players/Trop de joueuses)
07:48 CAN Bailey Bram (Hooking/Accrocher)
12:37 CAN Caroline Ouellette (Tripping/Faire trébucher)
18:24 LED Dalton Hamaliuk (Body-checking/Mise en échec corporelle)
Second Period/Deuxième période
Goals/Buts :
02:03 LED Riley Cardinal
16:41 CAN Haley Irwin (Brianne Jenner)
19:16 LED Riley McGonigal (Graydon Smith)

Penalties/Pénalités :
00:24 LED Noah Gregor (Delay of Game/Retarder le match)
12:02 CAN Tessa Bonhomme (Hooking/Accrocher)
17:13 CAN Jocelyne Larocque (Hooking/Accrocher)
Third Period/Troisième période
Goals/Buts :
01:59 CAN Rebecca Johnston (Haley Irwin, Brianne Jenner) PP/AN
10:44 LED Tristan Starzynski (Justin Young, Noah Gregor)
18:48 LED Noah Gregor (Justin Young, Gordon Ballhorn)
19:34 LED Justin Young (Noah Gregor)

Penalties/Pénalités :
00:32 LED Nicholas Schneider (Delay of Game/Retarder le match)
02:22 CAN Jocelyne Laroqcue (Tripping/Faire trébucher)
Goaltenders/Gardien(ne)s de but
CAN
Genevieve Lacasse
LED
Nicholas Schneider; Joey Desrosiers (in 2nd/10:00)

| Shots on Goal/Tirs au but | 1 | 2 | 3 | Total |
| --- | --- | --- | --- | --- |
| CAN | 9 | 8 | 10 | 27 |
| LED | 14 | 11 | 10 | 35 |