KOHANCHUK SCORES GAME-WINNER TO GIVE CANADA 4-3 "EDGE" IN EXHIBITION GAME
CALGARY, Alta. – Jenelle Kohanchuk (Winnipeg, Man./Boston University, HE) sealed the deal with a third period goal Thursday night to help give Canada the 4-3 win over the Edge Mountaineers in the first of two exhibition games this week against the boys' prep team from the Calgary sport school.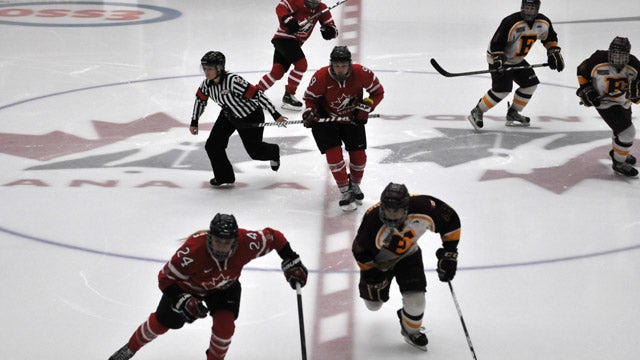 It was an evenly matched game that saw Canada's National Women's Team and the Edge School for Athletes trade goals throughout, with some great saves from red and white netminder Genevieve Lacasse (Kingston, Ont./Boston, CWHL) and Edge goaltender Malcolm Walilko, quick puck movement at both ends of the ice and some stellar shots from both teams through all three periods of play.
Although the win went to Team Canada, it was Edge to get it started early in the game, with Taro Hirose cracking the scoreboard at just 1:13 into the opening frame. An Edge penalty gave Canada the chance to keep the game close though, with blueliner Catherine Ward (Montreal, Que./Montreal, CWHL) letting a beauty point shot go at 7:19 in the first to tie it up, with a little help from Caroline Ouellette (Montreal, Que./Montreal, CWHL) and Tara Watchorn (Newcastle, Ont./Alberta, CWHL). Jayna Hefford (Kingston, Ont./Brampton, CWHL) gave Canada a 2-1 lead less than five minutes later, but the Edge replied quickly on a goal from Hayden Ursulak to keep it even going into intermission.
The back-and-forth action continued into the second, with Canada again earning a lead on another defenceman marker from Laura Fortino (Hamilton, Ont./Brampton, CWHL) midway through the period, and Jeff Rose scoring an unassisted one for the Edge to tie it up again, this time at three-apiece after 40 minutes. Both teams riddled the opposition's net with shots in the third in attempts to break the tie in the game's final minutes, but in the end it was Kohanchuk to cap it off at 11:25 in the period, with the helper going to Jocelyne Larocque (Ste. Anne, Man./Alberta, CWHL) and Canada getting the 4-3 "edge" over the boys' prep Mountaineers.
The two teams face off again in exhibition action this Sunday, Oct. 6 at 4:45 p.m. MT. Follow all the action at www.hockeycanada.ca/nwt, www.facebook.com/hockeycanada and www.twitter.com/hc_women.
Game Information/Renseignements sur le match
Game #/Match no

-
Round/Ronde
Exhibition
Arena/Aréna
Markin MacPhail Centre – Rink A
Location/Lieu
Calgary, Alta.

Date
Thursday, October 3, 2013

Time/Heure
17:15 MT
| Box Score/Compte | 1 | 2 | 3 | Total |
| --- | --- | --- | --- | --- |
| CAN | 2 | 1 | 1 | 4 |
| EDGE | 2 | 1 | 0 | 3 |
Goals & Penalties/Buts et pénalités
First Period/Première période
Goals/Buts :
01:13 EDGE Taro Hirose (Austin Ehret)
07:19 CAN Catherine Ward (Tara Watchorn, Caroline Ouellette) PP/AN
12:12 CAN Jayna Hefford (Laura Fortino)
13:45 EDGE Hayden Ursulak (Aidan Keane)

Penalties/Pénalités :
07:12 EDGE Hayden Ursulak (Interference/Obstruction)
17:22 EDGE Quinn Mosby (Hooking/Accrocher)
Second Period/Deuxième période
Goals/Buts :
10:01 CAN Laura Fortino (Bailey Bram)
16:09 EDGE Jeff Rose

Penalties/Pénalités :
01:19 CAN Lauriane Rougeau (Hooking/Accrocher)
08:38 EDGE Kurtis Woodhouse (Slashing/Coup de bâton)
16:41 EDGE Conner Wilson (Body-checking/Mise en échec corporelle)
17:24 CAN Jayna Hefford (Slashing/Coup de bâton)
Third Period/Troisième période
Goals/Buts :
11:25 CAN Jenelle Kohanchuk (Jocelyne Larocque)

Penalties/Pénalités :
08:13 CAN Courtney Birchard (Body-checking/Mise en échec corporelle)
17:28 CAN Courtney Birchard (Body-checking/Mise en échec corporelle)
Goaltenders/Gardiens de but
CAN
Genevieve Lacasse
EDGE
Malcolm Walilko

| Shots on Goal/Tirs au but | 1 | 2 | 3 | Total |
| --- | --- | --- | --- | --- |
| CAN | 9 | 9 | 10 | 28 |
| EDGE | 3 | 6 | 10 | 19 |