Agosta-Marciano scores game-winner in Canada's 3-2 "character win" over Edmonton SSAC Athletics
by Kristen Lipscombe
EDMONTON, Alta. – It has been a long haul recently for Canada's National Women's Team, which had just returned to its home rink in Calgary after playing four games in five days at the 2013 4 Nations Cup in Lake Placid, N.Y., only to hop right back on the road for Alberta Midget Hockey League action to play two games in three days this week.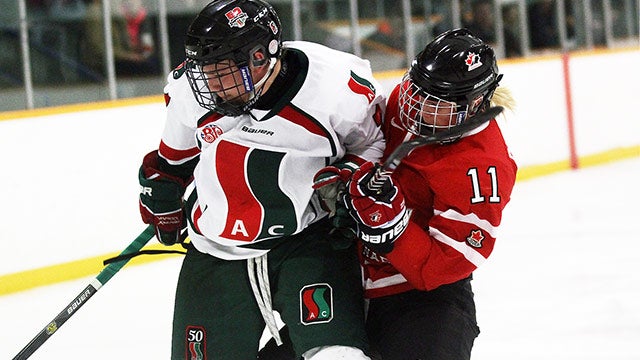 But the women in red and white know all too well that challenges such as these are important steps on the Road to Sochi 2014, a much longer journey that requires strength of character on and off the ice.
And that's why they weren't skating away with a second straight Midget Series loss Friday night inside Bill Hunter Arena, where Meghan Agosta-Marciano (Ruthven, Ont./Montreal, CWHL) scored the game-winning goal with less than four minutes left on the clock to help her team edge the Edmonton SSAC Athletics 3-2 in a comeback win that got Canada back on track.
"It was a great character win," Agosta-Marciano said after the game. "It's at the end of a long road trip, and we found a way. We got the job done. It was a matter of getting that win, and we did it as a team."
But it was Edmonton SSAC kicking off the scoring soon after the first puck was dropped, with Chad McCann putting one past Canadian netminder Charline Labonté (Boisbriand, Que./Montreal, CWHL) just 40 seconds into the game.
Canada picked up the pace in the second, however, with Caroline Ouellette (Montreal, Que./Montreal, CWHL) assisting fellow veteran forward Hayley Wickenheiser (Shaunavon, Sask./University of Calgary, CIS) to tie it up at 1-1 about four minutes into the period. Yet despite several power play opportunities in the middle frame, the red and white just couldn't seem to break that tie.
The play continued up and down the ice into the third, with Brianne Jenner (Oakville, Ont./Cornell University, ECAC) making it 2-1 at 11:58 in the period, but Edmonton SSAC replied quickly with one from Josh Hayward at 13:46 to even the score again.
But Agosta-Marciano and her teammates weren't about to let any more goals against, and dug away as the last few minutes ticked down on the clock until they sent that puck into the back of Edmonton's net once again.
"The puck was near the net (and) Spooner and Wakefield and I, we made a nice play," Agosta-Marciano said. "The puck was right on the goal line, and I just tapped it in."
That goal at 16:09 in the final frame was enough to give Canada a 3-2 lead, and within a few minutes, the win they wanted before getting back on the bus for the long trip back to Calgary.
"The third period was our best period all night," Agosta-Marciano said. "We emptied the tank, and we tried to do the little things to try to win the hockey game, and we did."
Team Canada is back on the road for two games next week in more Midget AAA action, including Tuesday, Nov. 19 against Fort Saskatchewan at the Jubilee Recreation Centre and Thursday, Nov. 21 against Lloydminster at the Centennial Civic Centre. Follow all the NWT action this season at twitter.com/hc_women, www.facebook.com/hockeycanada and on Hockey Canada's official website at www.hockeycanada.ca/nwt.
Game Information/Renseignements sur le match
Game #/Match no

11
Round/Ronde
Midget Series
Arena/Aréna
Bill Hunter Arena

Location/Lieu
Edmonton, Alta.

Date
Friday, November 15, 2013

Time/Heure
20:15 MT
| Box Score/Compte | 1 | 2 | 3 | Total |
| --- | --- | --- | --- | --- |
| CAN | 0 | 2 | 1 | 3 |
| EDM SSAC | 1 | 0 | 1 | 2 |
Goals & Penalties/Buts et pénalités
First Period/Première période
Goals/Buts :
00:40 EDM SSAC Chad McCann (Quinn Greenly)

Penalties/Pénalités :
09:36 EDM SSAC Brock Rezansoff (Hooking/Accrocher)
Second Period/Deuxième période
Goals/Buts :
03:56 CAN Hayley Wickenheiser (Caroline Ouellette)

Penalties/Pénalités :
06:35 EDM SSAC Peter Tomaras (Slashing/Retenir)
07:58 EDM SSAC Jake Schutz (Delay of Game/Retarder le match)
11:30 EDM SSAC Erik Donald (Delay of Game/Retarder le match)
13:41 CAN Jocelyne Larocque (Holding/Retenir)
18:37 CAN Jocelyne Larocque (Slashing/Coup de bâton)
Third Period/Troisième période
Goals/Buts :
11:58 CAN Brianne Jenner (Rebecca Johnston)
13:46 EDM SSAC Josh Hayward (Zach Drever) SH/DN
16:09 CAN Meghan Agosta-Marciano (Natalie Spooner, Jennifer Wakefield)

Penalties/Pénalités :
03:20 EDM SSAC Matthew Bruyer (Tripping/Faire trébucher)
Goaltenders/Gardien(ne)s de but
CAN
Charline Labonté
EDM SSAC

Ryan Larochelle; Stuart Skinner (in 2nd/10:40)
| Shots on Goal/Tirs au but | 1 | 2 | 3 | Total |
| --- | --- | --- | --- | --- |
| CAN | 11 | 9 | 19 | 39 |
| EDM SSAC | 6 | 9 | 13 | 28 |