Veteran Hefford scores twice, but despite strong offence Canada falls to Lethbridge
by Kristen Lipscombe
LETHBRIDGE, Alta. – It was a Kingston, Ont., strong game Wednesday night, with Canada's National Women's Team veteran Jayna Hefford (Kingston, Ont./Brampton, CWHL) scoring twice and goaltender Geneviève Lacasse (Kingston, Ont./Boston, CWHL) facing 31 shots to keep the red and white in the game.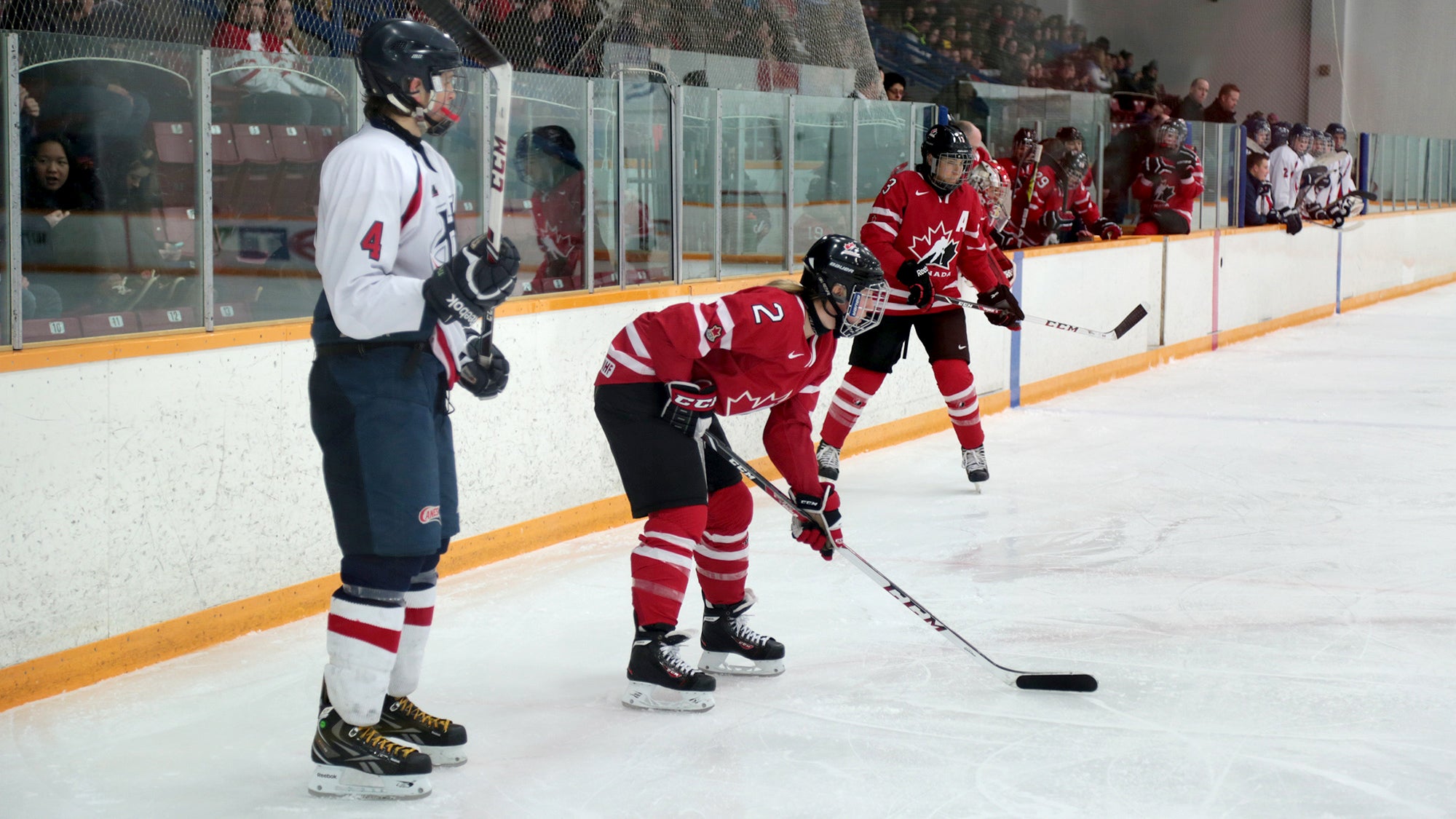 But despite impressive offensive pressure, including 43 shots from Team Canada, and some truly stellar saves from a steady, solid Lacasse between the posts, the women just weren't able to stop the Lethbridge Hurricanes from skating away with a 4-2 Midget Series win in front of a thrilled local crowd that packed Nicholas Sheran Arena.
"I thought we did a lot of good things," Hefford said following the game. "I think we executed a lot of things we've been working on in the last week. It's always disappointing to lose, and frustrating to lose, but to outshoot the other team (22 to 10) in the third period and really make a push ... we can take away some good things."
Hefford's first goal came at 4:23 in the second period, on an assist from fellow Canada's National Women's Team veteran Caroline Ouellette (Montreal, Que./Montreal, CWHL), to give Canada a short-lived 1-0 lead.
"The first one, just putting the puck on net, it's something we talked about the entire first period," Hefford said. "The rebound came right back at me, and I made sure that I got that back on net again, so that was just a good bounce."
Hefford also scored a power-play marker at 10:37 in the third, this time on assists from Hayley Wickenheiser (Shaunavon, Sask./University of Calgary, CIS) and Catherine Ward (Montreal, Que./Montreal, CWHL) to narrow the gap to 3-2 and create some late game excitement for the Canadian ladies.
"The second one, five-on-three, Ward gave me a pass I simply couldn't miss," Hefford said. "It was a play we'd been working on ... so it was nice to see us capitalize on it."
"Great game today Heffy, you're my hero," netminder Shannon Szabados (Edmonton, Alta./Northern Alberta Institute of Technology, ACAC) said to her teammate as she strolled by following the post-game interview.
Hefford said Team Canada "is in a good place right now," as Sochi 2014 inches closer. "Every shift, every play makes a difference ... we've got to build off the good things we did tonight."
To stay-up-to-date on Canada's National Women's Team on its final stretch on the Road to Sochi, check out Hockey Canada's official website at www.hockeycanada.ca/nwt and follow Team Canada on social media at twitter.com/hc_women and www.facebook.com/hockeycanada.
Game Information/Renseignements sur le match
Game #/Match no

22
Round/Ronde
Midget Series
Arena/Aréna
Nicholas Sheran Ice Centre
Location/Lieu
Lethbridge, Alta.
Date
Wednesday, January 8, 2014
Time/Heure
20:00 MT
| Box Score/Compte | 1 | 2 | 3 | Total |
| --- | --- | --- | --- | --- |
| CAN | 0 | 1 | 1 | 2 |
| LET | 0 | 1 | 3 | 4 |
Goals & Penalties/Buts et pénalités
First Period/Première période
Goals/Buts :
None/Aucun

Penalties/Pénalités :
04:41 CAN Jennifer Wakefield (Hooking/Accrocher)

Second Period/Deuxième période
Goals/Buts :
04:23 CAN Jayna Hefford (Caroline Ouellette)
08:55 LET Mackenzie Karl (Tanner Shirakawa , Kody McDonald)

Penalties/Pénalités :
05:55 LET Laramie Kostelansky (Body-checking/Mise en échec corporelle)
06:41 CAN Caroline Ouellette (Interference/Obstruction)
19:32 LET Kody McDonald (Tripping/Faire trébucher)

Third Period/Troisième période
Goals/Buts :
02:06 LET Austyn Moser (Mackenzie Karl) PP/AN
07:12 LET Taylor Gatto (Parker Wakaruk, Taner Miller) PP/AN
10:37 CAN Jayna Hefford (Catherine Ward, Hayley Wickenheiser) PP/AN
17:12 LET Parker Wakaruk (Kody McDonald, Brendon Benson)

Penalties/Pénalités :
01:48 CAN Jennifer Wakefield (Hooking/Accrocher)
05:58 CAN Catherine Ward (Tripping/Faire trébucher)
09:09 LET Tanner Shirakawa (Delay of Game/Retarder le match)
10:20 LET Parker Wakaruk (Cross-checking/Double-échec)
11:15 LET Devin Ruff (Tripping/Faire trébucher)
14:36 CAN Catherine Ward (Interference/Obstruction)

Goaltenders/Gardien(ne)s de but
CAN
Geneviève Lacasse
LET
Bobby Gathercole
| Shots on Goal/Tirs au but | 1 | 2 | 3 | Total |
| --- | --- | --- | --- | --- |
| CAN | 9 | 12 | 22 | 43 |
| LET | 8 | 13 | 10 | 31 |