Canadian women "getting better and better"; edged just 3-2 by province's top Midget AAA team
by Kristen Lipscombe
SHERWOOD PARK, Alta. – Canada's National Women's Team coach Danielle Goyette says the women in red and white are "getting better and better" - and a closely played game that saw her squad edged just 3-2 on Sunday night by the Sherwood Park Kings, the top Midget boys' team in the province, is proof positive of that fact.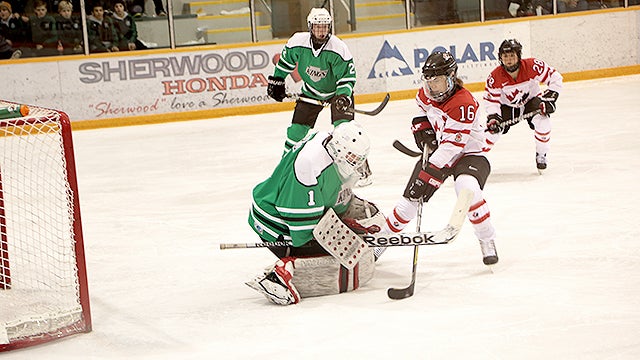 "It's not fun to lose, but I feel tonight like we played a good game," Goyette said shortly after the final buzzer sounded, and Team Canada posed on the ice with the Alberta Midget Hockey League team as a "thank you" for both the hospitality, and important competition leading up to the 2014 Olympic Winter Games in Sochi, Russia.
"A shot on net (could) have maybe changed the game," she said. "We had three games in four nights, and not easy games, pretty high calibre like this (one).
"It shows that we're going in the right direction and it's just going to make us better," Goyette said.
Canada kicked off the first period looking confident and strong, despite an early power-play goal from Sherwood Park's Luke Kempf to give the opposition a 1-0 lead. But the ladies in red and white drove the net hard, with Meghan Agosta-Marciano (Ruthven, Ont./Montreal, CWHL) assisting Jennifer Wakefield (Pickering, Ont./Toronto, CWHL) at 13:51 in the period to tie it up at one-apiece.
That was followed up by Brianne Jenner (Oakville, Ont./Cornell University, ECAC) setting up Natalie Spooner (Scarborough, Ont./Toronto, CWHL), who fed Rebecca Johnston (Sudbury, Ont./Toronto, CWHL) in the final 37 seconds of the period to give Canada a 2-1 lead going into the intermission.
Geneviève Lacasse (Kingston, Ont./Boston, CWHL) made some stellar saves throughout, but goals from Evan Bowden and Cameron Reagan early in the second gave Sherwood Park a quick comeback and sealed the deal at 3-2 in favour of the team that currently sits atop the Alberta Midget Hockey League standings.
The Canadians continued to create some solid offensive chances in the third, with local girls' hockey teams eagerly chanting "Go, Canada, Go" until the dying seconds of the game, but time ran out on the clock before the red and white had a chance to score once again. It was a packed house at Sherwood Park Arena on Sunday evening, with fans decked out in both Kings and Team Canada colours to watch the exciting action unfold on the ice.
To stay-up-to-date on Canada's National Women's Team exhibition action this season, against Alberta Midget Hockey League teams and the United States, leading up to the 2014 Olympic Winter Games, check out Hockey Canada's official website at www.hockeycanada.ca/nwt and follow Team Canada on social media at twitter.com/hc_women and www.facebook.com/hockeycanada.
Game Information/Renseignements sur le match
Game #/Match no

21
Round/Ronde
Midget Series
Arena/Aréna
Sherwood Park Arena
Location/Lieu
Sherwood Park, Alta.
Date
Sunday, December 15, 2013
Time/Heure
18:00 MT

| Box Score/Compte | 1 | 2 | 3 | Total |
| --- | --- | --- | --- | --- |
| CAN | 2 | 0 | 0 | 2 |
| SP | 1 | 2 | 0 | 3 |
Goals & Penalties/Buts et pénalités
First Period/Première période
Goals/Buts :
08:41 SP Luke Kempf (Brandon Biro, Sam Steel) PP/AN
13:51 CAN Jennifer Wakefield (Meghan Agosta-Marciano)
19:23 CAN Rebecca Johnston (Natalie Spooner, Brianne Jenner)

Penalties/Pénalités :
06:57 CAN Jennifer Wakefield (Hooking/Accrocher)
10:38 SP (Slashing/Coup de bâton)
13:41 CAN Meaghan Mikkelson (Tripping/Faire trébucher)
Second Period/Deuxième période
Goals/Buts :
03:27 SP Evan Bowden (Colby McAuley, Tyler Maltby)
04:48 SP Cameron Reagan

Penalties/Pénalités :
07:13 SP Colby McAuley (Delay of Game/Retarder le match)
19:38 SP Tyler Maltby (Holding/Retenir)
14:21 CAN Gillian Apps (Elbowing/Donner du coude)
Third Period/Troisième période
Goals/Buts :
None/Aucun

Penalties/Pénalités :
07:42 SP Danton Davis (Hooking/Accrocher)
Goaltenders/Gardien(ne)s de but
CAN
Geneviève Lacasse
SP

Travis Child
| Shots on Goal/Tirs au but | 1 | 2 | 3 | Total |
| --- | --- | --- | --- | --- |
| CAN | 2 | 9 | 15 | 26 |
| SP | 10 | 11 | 12 | 33 |