Apps and Daoust notch two points apiece; Szabados earns shutout in much-needed win over Northstars
by Kristen Lipscombe
CALGARY, Alta. – Canada's National Women's Team got what it needed from Wednesday night's game against the Calgary Northstars – a much-needed 4-0 shutout win that will give the red and white an important confidence boost before heading into next week's game against the United States.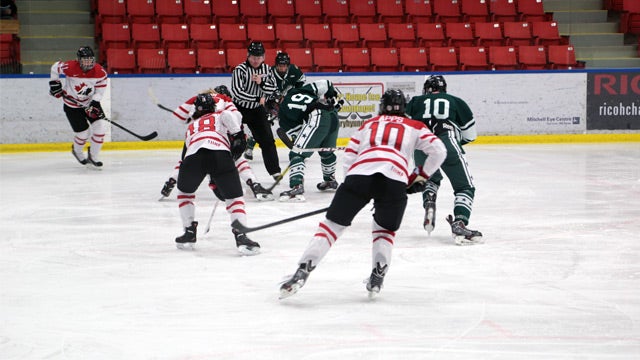 The impressive victory comes after a difficult long stretch of five straight losses in Midget Series action. Canada has just one more practice run against an Alberta Midget Hockey League team, versus the Calgary Flames next Monday, Dec. 9 at Father David Bauer Olympic Arena, before facing the U.S. on Thursday, Dec. 12 at the Markin MacPhail Centre.
Shannon Szabados (Edmonton, Alta./Northern Alberta Institute of Technology, ACAC) was steadfast and strong between the posts Wednesday, making 33 saves en route to the shutout win. Canada was also helped by an early lead in the game held at Max Bell Centre, home arena for the Calgary Northstars, with three of the four goals scored in the first period.
Mélodie Daoust (Valleyfield, Que./McGill University, CIS) opened the scoring midway through the first on an assist from Vicki Bendus (Wasaga Beach, Ont./Brampton, CWHL), kicking off Canada's quick scoring streak.
"It was actually kind of a funny goal. Bendus just passed it to me in the middle and I kind of took a shot, and it went on the defence's pad and flipped into the net," Daoust said following the game. "Any shot and goal counts, but that's how it happened."
Either way, Daoust's goal certainly got Canada's National Women's Team moving in Wednesday's game. Just over three minutes later, Gillian Apps (Unionville, Ont./Brampton, CWHL) made it 2-0 with help from forward Bailey Bram (Ste. Anne, Man./Brampton, CWHL) and blue-liner Tara Watchorn (Newcastle, Ont./Calgary, CWHL).
Apps and Daoust then worked together to help produce another goal less than 30 seconds later, with both assisting Jennifer Wakefield (Pickering, Ont./Toronto, CWHL) for a 3-0 lead after the first frame.
"It was a low-zone play," Daoust recalled. "I walked up and Wakefield was coming through the middle of the ice, and I passed it to her and she just tipped it into the net, so that was a pretty goal from her."
Daoust said the early lead helped Canada "build momentum" throughout the game. Canada kept up the fast pace throughout the second period, and continue to come out strong in the third. The fourth and final goal of the night came with 32 seconds left on the clock, when Caroline Ouellette (Montreal, Que./Montreal, CWHL) fed fellow National Women's Team veteran Jayna Hefford (Kingston, Ont./Brampton, CWHL), who sealed the 4-0 shutout win over the Calgary Northstars.
"Szabados played amazing tonight," Daoust said. "She saved a couple of goals for us."
Daoust said she and her teammates "still need to work on some things," especially with another game against the United States just around the corner. The puck drops next Thursday at 7 p.m. MT.
"We just need to build on what we learned today and be ready for next game."
Before they face the U.S., however, the Canadian ladies first have to take on the AMHL's Calgary Flames next Monday, Dec. 9. That match-up is set to start at 7:30 p.m. MT. The ongoing series against AMHL games serves as important preparation for international names, including exhibition games against the U.S. but more importantly, the upcoming 2014 Olympic Winter Games in Sochi, Russia.
Follow all the National Women's Team action this season at twitter.com/hc_women, www.facebook.com/hockeycanada and on Hockey Canada's official website at www.hockeycanada.ca/nwt.
Game Information/Renseignements sur le match
Game #/Match no

18
Round/Ronde
Midget Series
Arena/Aréna
Max Bell Arena
Location/Lieu
Calgary, Alta.
Date
Wednesday, December 4, 2013

Time/Heure
19:15 MT
| Box Score/Compte | 1 | 2 | 3 | Total |
| --- | --- | --- | --- | --- |
| CAN | 3 | 0 | 1 | 4 |
| CGYN | 0 | 0 | 0 | 0 |
Goals & Penalties/Buts et pénalités
First Period/Première période
Goals/Buts :
10:44 CAN Mélodie Daoust (Vicki Bendus)
13:56 CAN Gillian Apps (Bailey Bram, Tara Watchorn)
14:23 CAN Jennifer Wakefield (Mélodie Daoust, Gillian Apps)

Penalties/Pénalités :
19:11 CGYN Josh Logel (Boarding/Donner de la bande)
Second Period/Deuxième période
Goals/Buts :
None/Aucun

Penalties/Pénalités :
03:41 CAN Jennifer Wakefield (Slashing/Coup de bâton)
06:58 CGYN Ethan Schultz (Tripping/Faire trébucher)
Third Period/Troisième période
Goals/Buts :
19:28 CAN Jayna Hefford (Caroline Ouellette)

Penalties/Pénalités :
06:50 CGYN Daniel Stone (Tripping/Faire trébucher)
07:53 CGYN Devin Nemes (Tripping/Faire trébucher)
08:40 CAN Jayna Hefford (Hooking/Accrocher)
15:32 CGYN Austin Strand (Slashing/Coup de bâton)
Goaltenders/Gardien(ne)s de but
CAN
Shannon Szabados
CGYN
Derek Mazil
| Shots on Goal/Tirs au but | 1 | 2 | 3 | Total |
| --- | --- | --- | --- | --- |
| CAN | 20 | 8 | 14 | 42 |
| CGYN | 17 | 13 | 3 | 33 |