JOHNSTON, WICKENHEISER SCORE TWICE; LABONTÉ EARNS HOMETOWN WIN
TO HELP CANADA BEAT U.S. 6-3 IN SECOND SERIES GAME

BOISBRIAND, Que. – Charline Labonté couldn't have asked for a better homecoming.
The Boisbriand, Que., native got the start in net in front of her hometown Thursday night at the Centre d'Excellence Sports Rousseau, where Canada's National Women's Team defeated the United States 6-3 in pre-Olympic action.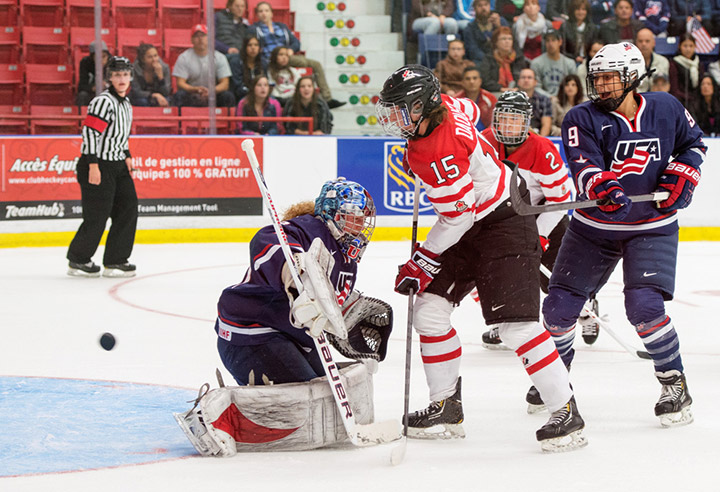 "It's incredible," Labonté said. "I couldn't have asked for more. To bring the Canadian team here against the Americans, I knew people would answer the call. We immediately felt their support.
"I couldn't have asked for anything better. It was worthy of Boisbriand."
Labonté allowed three goals on 27 shots on the night.
The game was the second of six encounters between the teams before the start of the Olympic Winter Games in Sochi, Russia, in February.
The Canadians took the first game last Saturday, Oct. 12 in Burlington, Vt., 3-2. The game ended in a small brawl, when a U.S. player ran into Canadian goaltender Shannon Szabados (Edmonton, Alta./Northern Alberta Institute of Technology, ACAC) late in the third period.
Veteran captain Hayley Wickenheiser (Shaunavon, Sask./University of Calgary, CIS), who's been a member of Canada's National Women's Team since 1994 when she was only 15 years old, scored two goals on the night.
Wickenheiser believed her team responded well to early pressure by the Americans.
"We came out really strong and we had a great start and a lot of energy," Wickenheiser said. "They tried to take some physical liberties early on and they got away with a few things early in the game. But then we came back and we just played a pretty physical game."
Canada's head coach Dan Church called Wickenheiser "one of our leaders," on and off the ice.
Rebecca Johnston (Sudbury, Ont./Toronto, CWHL) who also put two up on the board, opened the high-scoring affair with her first goal of this exhibition series at 8:59 of the first period.
Haley Irwin (Thunder Bay, Ont./Montreal, CWHL) started the play, patiently holding the puck for several seconds in the American zone before firing on net. Johnston jumped on the rebound.
"I was at the right place at the right time," Johnston said. "It kind of popped out right at me and I just shot it quickly."
Wickenheiser doubled the Canadians' lead less than a minute later, while her team was playing short-handed.
Brianna Decker got one back for the Americans before Wickenheiser put her second of the game past a helpless Jessie Vetter on a 5-on-3 power play.
Johnston scored her second marker, the eventual game-winner, early in the second period. She was behind the net when it happened, banking a pass off a defender's skate and into the net.
Caroline Ouellette (Montreal, Que./Montreal, CWHL) also scored midway through the second period to put the Canadians up 5-1.
Jocelyne Lamoureux and Kendall Coyne scored consolation goals for the U.S., before Jayna Hefford (Kingston, Ont./Brampton, CWHL) notched a back-handed goal that quelled any attempt at a comeback at 15:47 of the third period.
Vetter, who started in net for the Americans, made 10 saves in the first period. She was replaced by Molly Schaus, who stopped seven of 10 shots she faced. The United States out-shot Canada 24-23 overall.
Canada is the three-time defending Olympic champion. Two of those victories, in 2002 and 2010, came against the Americans. Canada and the U.S. face off again in pre-Olympic action Dec. 12 in Calgary, Alta., where the women in red and white are currently based for the 2013-14 season, at Hockey Canada's home arena the Markin MacPhail Centre, located within WinSport Canada Athetic & Ice Complex facilities in Canada Olympic Park.
Follow all the Canada's National Women's Team action leading up to and during Sochi 2014 at www.facebook.com/hockeycanada, www.twitter.com/hc_women and www.hockeycanada.ca/nwt.
Game Information/Renseignements sur le match
Game #/Match no

2
Round/Ronde
-
Arena/Aréna
Centre d'excellence Sports Rousseau

Location/Lieu
Boisbriand, Que.

Date
Thursday, October 17, 2013

Time/Heure
19:30 ET
| Box Score/Compte | 1 | 2 | 3 | Total |
| --- | --- | --- | --- | --- |
| CAN | 3 | 2 | 1 | 6 |
| USA | 1 | 1 | 1 | 3 |
Goals & Penalties/Buts et pénalités
First Period/Première période
Goals/Buts :
08:59 CAN Rebecca Johnston (Haley Irwin)
09:53 CAN Hayley Wickenheiser (Caroline Ouellette, Jocelyne Larocque) SH/DN
10:32 USA Brianna Decker (Jincy Dunne, Megan Bozek) PP/AN
18:38 CAN Hayley Wickenheiser (Jayna Hefford, Jocelyne Larocque) PP/AN

Penalties/Pénalités :
05:02 CAN Laura Fortino (Body-checking/Mise en échec corporelle)
09:42 CAN Bailey Bram (Slashing/Coup de bâton)
17:11 USA Meghan Duggan (Roughing/Rudesse)
17:29 USA Megan Bozek (Cross-checking/Double-échec)
Second Period/Deuxième période
Goals/Buts :
00:53 CAN Rebecca Johnston
12:15 CAN Caroline Ouellette SH/DN
19:00 USA Jocelyne Lamoureux (Kendall Coyne, Kacey Bellamy) PP/AN

Penalties/Pénalités :
04:45 CAN Melodie Daoust (Tripping/Faire trébucher)
07:31 CAN Jennifer Wakefield (Interference/Obstruction)
10:29 CAN Hayley Wickenheiser (Tripping/Faire trébucher)
13:07 CAN Jennifer Wakefield (Tripping/Faire trébucher)
17:13 CAN Haley Irwin (Roughing/Rudesse)
19:52 USA Jocelyne Lamoureux (Delay of Game/Retarder le match)
Third Period/Troisième période
Goals/Buts :
15:19 USA Kendall Coyne (Annie Pankowski, Kacey Bellamy) PP/AN
15:44 CAN Jayna Hefford

Penalties/Pénalités :
02:04 USA Lisa Chesson (Tripping/Faire trébucher)
03:36 CAN Bench/Banc (Too Many Players/Trop de joueuses)
09:51 USA Kendall Coyne (Holding/Retenir)
13:49 CAN Brigette Lacquette (Cross-checking/Double-échec)
Goaltenders/Gardiennes de but
CAN
Charline Labonte
USA
Jessie Vetter; Molly Shaus (in 2nd/00:00)

| Shots on Goal/Tirs au but | 1 | 2 | 3 | Total |
| --- | --- | --- | --- | --- |
| CAN | 13 | 7 | 9 | 29 |
| USA | 8 | 7 | 12 | 27 |