Kelli Stack leads Americans past Canada 3-2 in women's hockey exhibition

Toronto, Ont. – Kelli Stack had a goal and two assists as the United States edged Canada 3-2 on Monday night at the Air Canada Centre.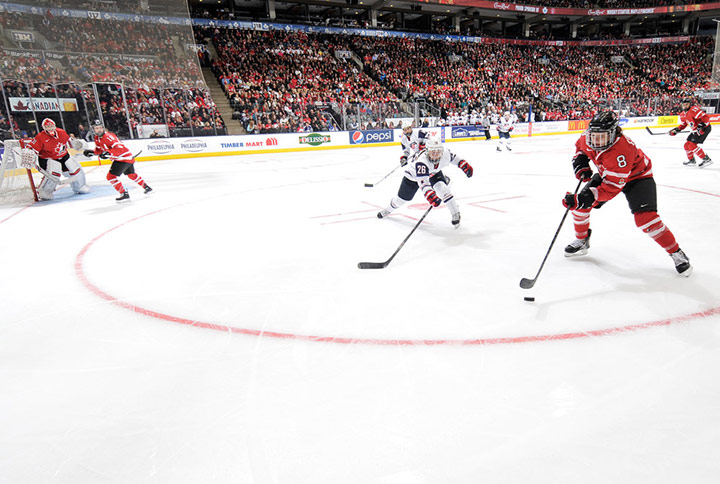 The win was the Americans' fourth straight win in the six-game exhibition series against the Canadians.
It was the final match-up between the two women's hockey powers ahead of the 2014 Olympic Winter Games in Sochi, Russia.
Canada's National Women's Team has lost three consecutive games to the U.S. under the guidance of newly appointed head coach Kevin Dineen. He took over on Dec. 17 after former head coach Dan Church resigned.
Stack, Hilary Knight and Megan Bozek all scored as the Americans opened up a 3-0 lead in the second period much to the disappointment of the announced crowd of 17, 227 at the home arena for the Maple Leafs.
Natalie Spooner (Scarborough, Ont./Toronto, CWHL) got Canada on the board with 34 seconds left in the middle period.
Canada's Brianne Jenner (Oakville, Ont./Cornell University, ECAC) cut the U.S. lead to 3-2 with a short-handed goal at 1:57 of the third.
Despite out-shooting the Americans 9-5 in the third period, Canada could not find the equalizer.
Canadian starter Geneviève Lacasse (Kingston, Ont./Boston, CWHL) made 27 saves in the loss, while Molly Schaus stopped 25 shots for the U.S.
The U.S. opened the scoring 2:32 into the second, as Knight re-directed a Stack feed between the pads of Lacasse.
With Jenner off for hooking, Alex Carpenter found Stack all alone in the slot; Stack beat Lacasse giving the Americans a 2-0 lead.
The U.S. appeared to take a 3-0 lead at 16:05 of the second period, when Knight knocked a loose puck out of mid-air past Lacasse; however, video review showed Knight knocked the puck down with a high stick and the goal was disallowed.
Less than a minute later, the U.S. made it 3-0.
With Canadian captain Hayley Wickenheiser (Shaunavon, Ont./University of Calgary, CIS) off for holding, Megan Bozek's point shot beat a screened Lacasse.
Canada got on the board at 19:26 as Spooner beat Schaus on a partial break.
Jenner got Canada to within one, putting home her own rebound after initially hitting the post.
Canadian defenceman Tara Watchorn (Pickering, Ont./Calgary, CWHL) who didn't play in Saturday's loss because of an unspecified injury, returned to action and was paired with Catherine Ward (Montreal, Que./Montreal, CWHL).
Follow Canada's National Women's Team at www.hockeycanada.ca/nwt, www.facebook.com/hockeycanada and www.twitter.com/hc_women.
- - -
Game Information/Renseignements sur le match
Game #/Match no

6
Round/Ronde
-
Arena/Aréna
Air Canada Centre
Location/Lieu
Toronto, Ont.
Date
Monday, December 30, 2013
Time/Heure
19:00
| Box Score/Compte | 1 | 2 | 3 | Total |
| --- | --- | --- | --- | --- |
| CAN | 0 | 1 | 1 | 2 |
| USA | 0 | 3 | 0 | 3 |
Goals & Penalties/Buts et pénalités
First Period/Première période
Goals/Buts :
None/Aucun

Penalties/Pénalités :
05:33 CAN Catherine Ward (Tripping/Faire trébucher)
12:25 USA Meghan Duggan (Roughing/Rudesse)
13:38 USA Hilary Knight (Tripping/Faire trébucher)
16:22 CAN Marie-Philip Poulin (Body-checking/Mise en échec corporelle)
Second Period/Deuxième période
Goals/Buts :
02:32 USA Hilary Knight (Kelli Stack, Meghan Duggan)
03:23 USA Kelli Stack (Alex Carpenter) PP/AN
16:54 USA Megan Bozek (Kelli Stack) PP/AN
19:26 CAN Natalie Spooner (Haley Irwin)

Penalties/Pénalités :
00:23 USA Meghan Duggan (Charging/Assaut)
03:11 CAN Brianne Jenner (Hooking/Accrocher)
03:47 CAN Tara Watchorn (Body-checking/Mise en échec corporelle)
08:01 CAN Jocelyne Larocque (Cross-checking/Double-échec)
11:11 USA Anne Schleper (Body-checking/Mise en échec corporelle)
14:40 CAN Meghan Agosta-Marciano (Tripping/Faire trébucher)
CAN Hayley Wickenheiser (Holding/Retenir)
Third Period/Troisième période
Goals/Buts :
01:57 CAN Brianne Jenner (Caroline Ouellette) SH/DN

Penalties/Pénalités :
01:13 CAN Meghan Agosta-Marciano
15:35 USA Bench/Banc (Too many plsyers/Trop de joueuses)
07:52 USA Megan Bozek (Hooking/Accrocher)
Goaltenders/Gardiennes de but
CAN
Genevieve Lacasse
USA
Molly Schaus
| Shots on Goal/Tirs au but | 1 | 2 | 3 | Total |
| --- | --- | --- | --- | --- |
| CAN | 10 | 8 | 9 | 27 |
| USA | 9 | 16 | 10 | 30 |